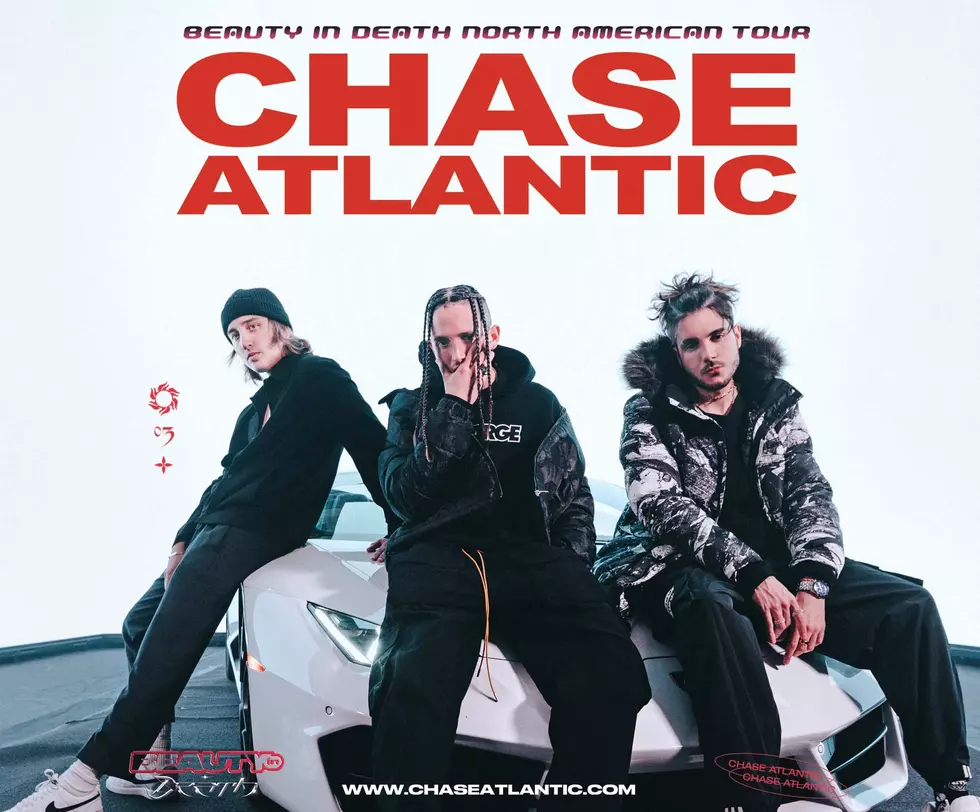 Chase Atlantic announce BEAUTY IN DEATH tour with exclusive presale
[Image courtesy of Chase Atlantic]
Chase Atlantic have announced their North American Beauty In Death tour. Launching in October, the group will visit over two dozen cities during the run.
Alternative Press and Live Nation have partnered to offer a special presale for the tour. Launching Thursday, June 24 at 10 a.m. local time, the sale will run until 10 p.m. local time. To participate, visit here and use the password ALTPRESS.
Featured as cover artists on AltPress' 100 Artists You Need To Know issue, Chase Atlantic have made a name for themselves on the strength of their unique hip-hop-influenced form of alternative music. On tracks such as "SLIDE," "EMPTY" and "MOLLY," the group construct a vaulting sound that pushes their music to new heights.
The group will hit the road this fall in support of their new record, BEAUTY IN DEATH, released earlier this year. While the group were affected by COVID-19 like any other artist, they had already committed to recording their new album before the pandemic hit. As a result, they were afforded a chance to focus on their craft and carefully refine the perfect sound.
In an interview with AltPress, Christian Anthony spoke about the themes explored on the album.
"In a way, it's a reflection of the juxtaposition between beauty and death, a flower losing its petals and how it can still have that beauty to it," Anthony says. "This past year, everybody has been faced with mortality right in front of us, the idea that we're not bulletproof and that life can be fragile. It's about finding the beauty in that, like the way people have been put in quarantine but come together and become closer, developing new relationships. There's also the beauty of the outside. We have these gardens, and we've been watching them throughout the year, growing beautiful white flowers and watching the petals fall and seeing the beautiful flower they create on the ground. It's about finding beauty in the death of things and the cycle of life."
Now, Chase Atlantic will finally have the chance to perform their new album for in-person fans. AltPress and Live Nation have partnered to bring fans an exclusive presale for the tour. The sale launches June 24 at 10 a.m. local time and runs until 10 p.m. local time. Tickets will go on sale for the general public Friday, June 18 at 10 a.m. local time.
In order to participate in the presale, visit here and use the password ALTPRESS.
You can read our exclusive Q&A with the group below.
[Image courtesy of Chase Atlantic][/caption]
Live music was heavily disrupted by COVID-19. What does it mean to be launching a tour after those delays?
Honestly, it was nice to take a little break, to take a step back and really appreciate the long journey these past few years have been. We spent three years touring almost nonstop and living out of a suitcase. This has been a chance to rest, get back into creating music and experience concerts in a new way with livestreaming. This break has just made us very eager to get back into doing what we love. With BEAUTY IN DEATH being released during COVID, we are very excited to get back on the road.
You also released your latest album in the middle of the pandemic. Can you talk about what it was like to record an LP during this period?
Just before the pandemic started, we all moved into a house together in Los Angeles. We set up three studios in each of our rooms and used the lockdown time to improve our production skills as well as our writing abilities. When we lived in Australia, all of our music—including most songs from our debut album—were produced, recorded and mixed in a bedroom. For us, it was just about going back to our roots. I think [this] created a more authentic and raw approach to the record.
You recently teased a new drop on Twitter, after fans turned out in droves to use the "SLIDE" sound on TikTok. What should fans expect from the upcoming release?
The upcoming release has a lot of excitement already buzzing around it, with approximately 25,000 presaves so far. I think it's safe to say the fans are really anticipating this one! It's high energy. Mixed in with the overall aesthetic of the track, [it makes] for a classic Chase banger.
What are your expectations for your performances across the U.S. and Canada, and what do you hope to accomplish with the tour?
I think these upcoming performances are going to be the best shows we've put on in our lives. With BEAUTY IN DEATH out in the world, it's safe to say that the energy is going to be absolutely insane—especially with the new repertoire. We know the fam is ready to rage, and we couldn't be more excited to give them that opportunity after such a long time without live music. 
What should fans expect from your upcoming run?
The best fucking show they've ever seen in their lives. We're only going to keep progressing and getting better in all aspects. I hope they're all ready to let wild and match the energy that's about to be brought right to their front doors!
Chase Atlantic
Beauty In Death tour
10/01 – Lawrence, KS @ Granada Theater
10/02 – Minneapolis, MN @ The Fillmore Minneapolis
10/04 – Denver, CO @ Summit
10/06 – Seattle, WA @ The Showbox
10/08 – San Francisco, CA @ The Regency Ballroom
10/10 – Los Angeles, CA @ The Wiltern
10/12 – San Diego, CA @ SOMA
10/13 – Phoenix, AZ @ The Van Buren
10/15 – San Antonio, TX @ The Aztec Theater
10/17 – Austin, TX @ Empire Control Room & Garage
10/18 – Dallas, TX @ House of Blues
10/19 – Houston, TX @ House of Blues
10/23 – Orlando, FL @ Plaza Live
10/24 – Fort Lauderdale, FL @ Revolution
10/26 – Nashville, TN @ Brooklyn Bowl
10/27 – Atlanta, GA @ Tabernacle
10/29 – Charlotte, NC @ Underground
10/31 – Richmond, VA @ Canal Club
11/01 – Philadelphia, PA @ Theatre of Living Arts
11/02 – Norfolk, VA @ The NorVa
11/04 – Brooklyn, NY @ Brooklyn Steel
11/05 – Silver Spring, MD @ The Fillmore - Silver Spring
11/08 – Boston, MA @ Big Night Live
11/10 – Chicago, IL @ Riviera Theatre
11/12 – Cincinnati, OH @ Bogarts
11/14 – Columbus, OH @ Newport Music Hall
11/15 – Detroit, MI @ St. Andrew's Hall
11/16 – Toronto, ON @ Phoenix Concert Theatre