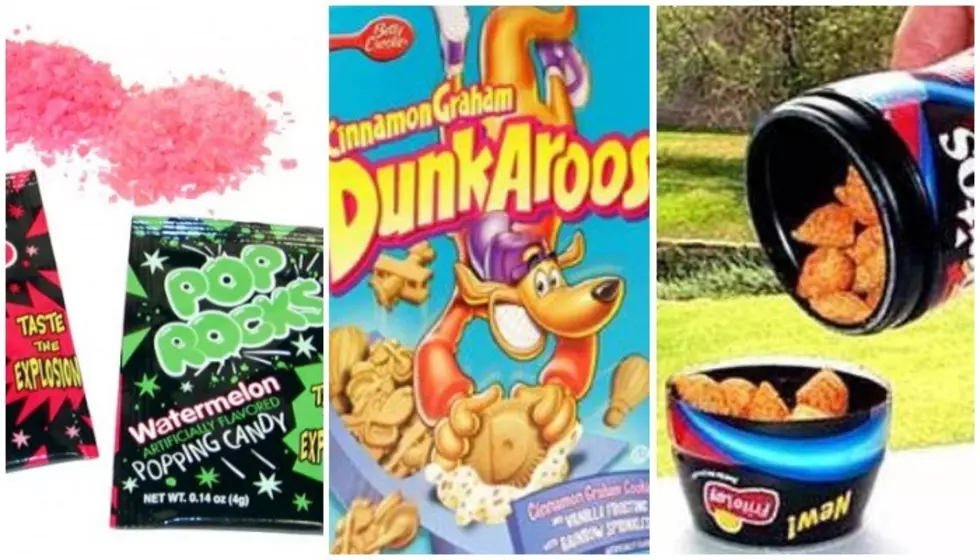 10 snacks from your childhood you probably forgot about
Nothing takes you back to your childhood like a bite of your favorite snack. In the '90s and '00s, grocery stores and gas stations everywhere had their shelves stocked with some truly iconic snacks that will hold a special place in our hearts forever. 
Because we're nostalgic and can't help ourselves, we've rounded up 10 of the best throwback snacks to give you a blast from the past and probably make you hungry. You can check those out below. 
1. Dunkaroos
This is the king of all throwback snacks, and last month, we learned this famous treat is making a return to stores. The '90s snack is not only tasty but a fun activity, too, and you probably remember everyone in the cafeteria trying to trade you something from their lunch to get their hands on this snack. 
2. Doritos 3D
The '90s called, and they want to know if you remember this iconic product. It was like a Dorito and a Bugle had a baby and made this crunchy treat. We definitely were guilty of dumping the entire container directly into our mouths, and we aren't ashamed. 
3. Pop Rocks
Pop Rocks are the most punk-rock snack there ever was. These candies are loud and full of flavor, and luckily, they haven't been pulled off the shelves, so we can still enjoy them today. 
4. Fruit Roll-Ups Stackerz 
This is probably one of those snacks you forgot about, but now that we mentioned it, we've tapped into a deep part of your memory you didn't know you had. Even though the original Fruit Roll-Ups or Fruit By The Foot snacks were better, these were an interesting take on a gummy snack that we definitely wouldn't say no to if it was offered to us.
5. Gripz
This was like a high-tech snack when it first came out. It took the flavors we love of snacks such as Cheez-Its and Chips Ahoy and put them into bite-size form. Honestly, Gripz just gets points for being extremely convenient. 
6. Heinz EZ Squirt Ketchup 
Honestly, this stuff has and always will look nasty, but purple ketchup just seems like a rite of passage in 2000. It was weird and unappetizing, but we definitely made our parents buy it for us anyway. 
7. Bug Pops
This is also a snack that totally would exist in the '90s. They were popsicles filled with gummy bugs, and they tasted 10 times better than regular freeze pops. Plus, they were Lion King themed, so that made us want them even more. 
8. Altoid Sours
This is the king of throwback mints. These little treats weren't even mints, but we always had them in our bags and would hand them out to anyone and everyone who wanted one. They were super sour and sugary, and we probably ate 20 a day at our peak. 
9. Planters Cheez Balls
Our go-to beach snack every time, these just hit differently. They passed the criteria for making our fingers bright orange, and they were the perfect amount of cheesy and crunchy. Our mouths are watering now thinking about these. 
10. Black Cherry Vanilla Coke 
This beverage had a lot going on, and we liked it that way. It was the perfect refreshing drink after devouring several of the snacks on this list back to back. 
What's your favorite throwback snack? Sound off in the comments below!