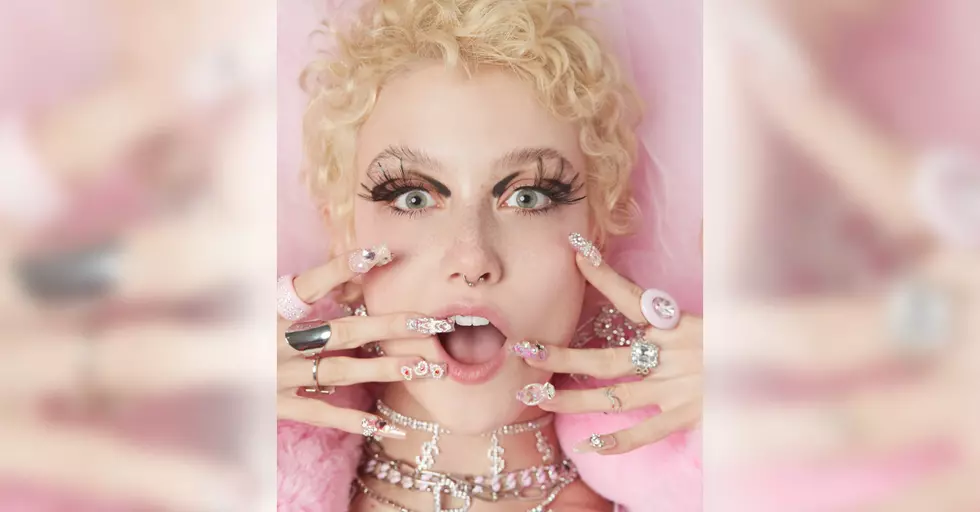 With SUCKERPUNCH, chloe moriondo embraces self-reflection and a pop star attitude
[Photo by Kenneth Cappello]
chloe moriondo is the next big alt-pop star to watch. moriondo, who uses she/they pronouns, makes catchy, kitschy and quirky hyperpop songs in the vein of Charli XCX with a Gen Z twist and a little bit of inspiration from Britney Spears. 
The 20-year-old Detroit native might have started out making sweet indie covers with a ukulele in tow, but she's since pivoted to wild, earworm hyperpop bops. These days, moriondo boasts more than 3 million subscribers and 200 million video views, who tune into see bright pink music videos and hear spicy, silly and sweet lyrics. 
Read more: 10 best "Teenage Dirtbag" covers

The Detroit, Michigan native released their first studio album, Blood Bunny, in 2021, following by the EP puppy luv in April 2022. On Oct. 7, moriondo followed up Blood Bunny with SUCKERPUNCH, a catchy, campy look at pop culture and growing up in the public eye. But behind the glossy pop facade is a deeper look at their insecurities and vulnerabilities. 
We chatted with the hyperpop star over Zoom from her brand-new apartment just outside of Detroit about growing up on YouTube, pop star inspiration and what fans can expect from the upcoming tour. And yes, they're just as bubbly and warm as you'd expect from watching their videos, with lots to say about the concept of fame, embracing change and their ever-evolving style and sound.
You grew up in Detroit and have stayed local. Did you ever consider moving to New York or LA? 
I initially did really want to just get to LA immediately because I love it there. I get a lot done there, and a lot always happens. I wanted to stay experiencing the seasons for a while, how I experienced them at home. And I didn't want my first movie to be across the country. That's getting away in small doses right now. 
You first shot to fame making YouTube videos in 2014 at only 11. What was it like growing up on YouTube? 
It definitely has been a whirlwind. My teenage years have gone by in a blink. I started doing YouTube and music publicly when I was 11 or 12. A lot of the [early] videos are embarrassing. One of my first is still up, which I think is humbling, and I'm never going to take it down. It was a remix of the cup song — a cover of someone else's song mixed with a bunch of other things.
I didn't feel the pressure of that, though, until 16ish. I started getting people actually watching my videos around that period. By then, I'd been posting for a long time and had a small community of 500 people who were watching my videos and commenting and replying all the time. And then it was tens of thousands.
I was having a lot of fun and being treated really well, respectfully, as a kid. But it was a lot of pressure to be a young teenager, and making content for the world as my job. I'm realizing that now, but it felt natural and fast and normal then. Being a kid and having that many people looking at you and talking about your appearance and how you're changing was stressful. You learn to deal with that as time goes on. I'm thankful that I got to spend my teenage years starting to honestly live my dream. I've only ever wanted to do music as my job.
What does it feel like looking back on those early videos now?  
It's hard to put myself back in that headspace. It was all because I liked the songs, and I wanted to share my renditions of them. A lot of the time, I make fun of and kind of hate my past, but I'm trying to be a lot gentler with them nowadays because I think her heart was in the right place every time she was making a silly little YouTube video that might have been a little crazy or maybe not my best work. But I feel confident when I look back on them. There were a lot of sweet people supporting me from the beginning as well that I can't begin to describe how grateful I am. 
Are you still in touch with some of those supporters from the early years?  
There is one person that occasionally pops up in my notifications that will be like, "Hey, do you remember me?" I'm like, "Yes, I do. Absolutely. Thank you so much for staying here." And their name is Cleo. I remember at least that was their username. When I started, I literally had no one for many, many a month, many years. It was weird and slow, but it was fun for me, and I was doing what I wanted, so it's nice to look back on it. 
Pivoting to the new album, a lot of it is a reflection on pop culture. You have one song where you talk about Christina and Britney. What was it like for you seeing these pop stars at such a young age while you were growing up and making music? 
I have always been incredibly inspired by the popular music that I listened to growing up on the radio. That always inspired me to be very confident and upfront about what I wanted and how I wanted to sing and what I wanted to write. I definitely didn't get super influenced stylistically in my own music until recently. I was buying these songs on my iPod Nano and then roller skating in my neighborhood. Growing up, I liked pop music. Specifically artists like Lady Gaga, Kesha, Britney Spears, Katy Perry. That's what I looked up to.
Who are some of the musical inspirations for this album? 
Early 2000, early 2010s pop music inspired this album in so many ways, as well as newer music that evokes that same feeling for me. That nostalgic feeling — like "Piece of Me" by Britney Spears was a huge inspo, and it was fun. And "California Gurls" by Katy Perry was a big one as well. I love Charli XCX. I've been inspired by a lot of Charli. I was also listening to Fame Monster by Lady Gaga, my favorite pop album of all time.
A lot of this album is exploring the concept of fame. Did you go in thinking you wanted to talk about that? 
Going into this album, I had a vision of wanting to embody this pop star attitude and make new pop songs that I never thought I'd be able to create, but always wanted to. A lot of this was subconscious. A lot of it was making songs that I liked because I wanted to make a pop song, and I wanted to make this sort of character and this sort of story. I made all of these songs just because I wanted to, and I wanted to be a pop star. So I started making songs that made me feel like a pop star, and I did it. I think anyone can be one. 
That's a cool, weird, underlying theme of the album that I didn't realize was going to exist until after making it, and then sitting with it for a while and living with it and rehearsing it. The album has so many pieces of me, in terms of teenage girlhood and what growing up in the music industry felt like and what ideas it planted in my head and how I wanted to work with them and create stories with so many layers to it that I'm in love with. I hope a lot of people enjoy peeling them back or maybe just enjoying it as a whole.
I feel like you do both in this album. It has profound lyrics over boppy beats.  
I try my best to make my lyrics as authentically me still and meaningful as possible. They don't always have to be the most serious songs to still be meaningful. I'm having a lot more fun when I'm making music freely and not worrying about whether it's serious enough or if I'm doing exactly what people will want to hear in this verse.
And it looks, at least on Instagram, like you've been having a lot of fun experimenting with your look, especially around this album. Has that been fun?  
I love experimenting with visuals and with the way I look. I changed a lot over the past year, and even the past five years have been crazy because I've gone from 15 to 20. I change a lot visually and physically whenever I want to, and then it makes me look like a different person to other people, which is cool and fun. More people should experiment with their looks and with things that excite them and make them feel cool and confident every day. 
It's so much fun, and I like how it matches the music.
We curated this album very carefully. It's special to me, and it makes me happy when people like the glitter and the visual. 
So, what can people expect for this upcoming tour?
It's going to be crazy. It's going to be huge. There'll be some nostalgia, some normalcy to it, but otherwise, it's going to be so fun, so high energy. I'm excited for the outfits that we planned. Everything about it — the sound, the lights, the transitions. I'm hoping that it's a good surprise for people because it's incredibly surprising if you expected to hear a ukulele.
What has the reaction been like online to your ever-evolving sound? It looks like your fans are excited to go with you in this direction.  
I'm incredibly lucky to have the greatest community of people in the world supporting my music and supporting me as a person, which is mind-boggling. I would be nowhere without them, and I would feel so weird and insecure about releasing this stuff if no one was reacting to it and talking to me about it and being excited about it.
I don't know exactly how it is for other artists and their audiences, but I hope to God that every artist gets to feel this way with the people that they're playing these shows, too, because I know that at least at every show there will be one person who knows most of the lyrics and be excited and be in an outfit that probably matches mine because they're so cool. 
I was worried about this change of sound because it's so crazy different. I immediately shake that off almost every time because of how sweet and kind they are and how seemingly excited they are to grow with me. A lot of them are evolving as well with me because we're all a similar age a lot of the time. It's really beautiful.