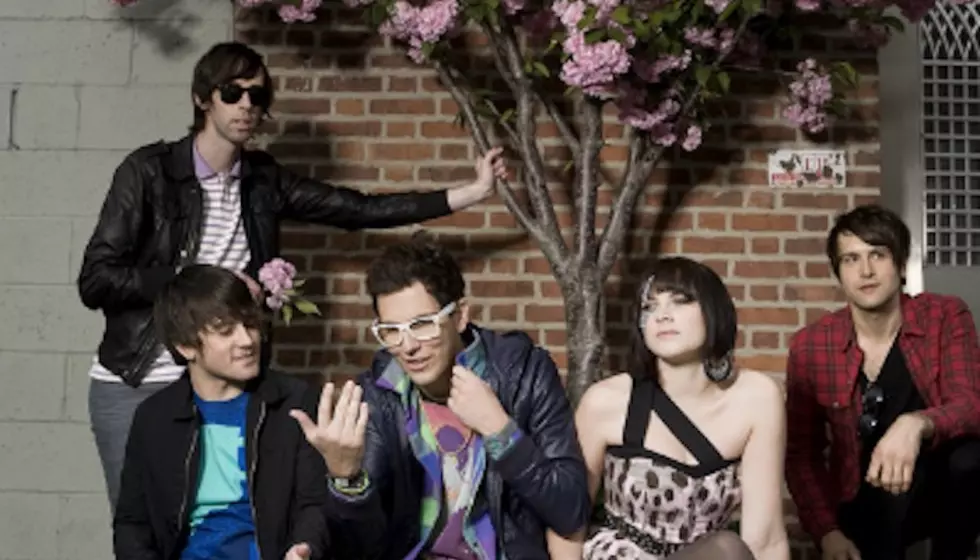 Cobra Starship keytarist Vicky-T wants a reunion as much as you do
[Photo via Spotify]
You would think "reunion" is the most-searched term this year (spoiler alert: it wasn't) with the number of bands regrouping in 2019. As the year aptly renamed 20ninescene quickly comes to a close, one fan asked the question we've all been wondering: What about Cobra Starship?
Twitter user Clodagh Meaney posed the question and received a response from keytarist Victoria "Vicky-T" Asher. Check out the exchange below.
Cobra Starship brought their own brand of neon pop-punk to the scene with debut While The City Sleeps, We Rule The Streets in 2006. They followed it up with 2007's ¡Viva la Cobra! featuring "Guilty Pleasure" and crossed over with 2009 breakout Hot Mess. The latter made frontman Gabe Saporta's Gossip Girl dream come true with a Leighton Meester collab, "Good Girls Go Bad."
The group released their last album, Night Shades, in 2011 followed by final single, "Never Been In Love" featuring Icona Pop in 2014.
Founding members guitarist Ryland Blackinton and bassist Alex Suarez departed from the band in October 2014. A few days later, frontman Saporta announced former A Rocket To The Moon member Eric Halvorsen joined the lineup on bass followed shortly by Andy Barr on guitar. A little over a year later, Cobra Starship announced their official disbanding in November 2015.
With more than four years passing since they called it quits, fans have been anticipating a 20ninescene-inspired comeback including Meaney.
"When the fuck are @CobraStarship going to announce a reunion? Twenty nine SCENE is almost over guys," Meaney tweeted while tagging all of the members.
A little more than a week after posting, Asher stumbled across the tweet and responded with as much excitement as us, stating, "I'm with ya on this."
Sleep On It
the Academy Is...
Bring It (
Snakes On A Plane
)
More on Cobra Starship
Since breaking up in 2015, frontman Gabe Saporta hung up his mic to begin helping other artists launch their respective careers. He teamed up with former TAI guitarist Mike Carden to launch management group TAG Music.
Vicky-T remained in music, releasing her first single "Protect This Love" in 2016. The musician put out her most recent EP, Feeling Myself Without You, earlier this year, which features "Picture To Burn."
Blackinton also remained in the industry, adding writing credits with Kelly Clarkson and the Weeknd. He also worked with former Boys Like Girls frontman Martin Johnson on his debut self-titled full-length under the Night Game, which dropped in 2018.
Shortly after leaving Cobra, Suarez launched a disco-tinged project titled LEFTI, releasing debut EP Somebody in 2016. The musician released most recent single, "4am Taxi, Miami" in October.
Meanwhile, drummer Nate Novarro most recently worked with former the Summer Set frontman Brian Logan Dales on his solo project DALES.
In celebration of their breakthrough album Hot Mess bringing the scene-friendly dance party for a decade, Saporta recently sat down with AltPress to relive the era in his own words. From landing a Gossip Girl cameo to the tongue-in-cheek response to the influence of Fall Out Boy's Pete Wentz.
"We were working in a studio in New York, and they're like, 'Oh, we have to cancel your session tomorrow because one of the Gossip Girls is actually coming in.' I'm like, 'What?' Saporta remembers. "He was like, 'Yeah, we got to move you guys around.' I'm like, 'I'm all right. I'll let you cancel my session if you get her to agree to feature on one of our songs.'
"I said it as a joke, and it ended up becoming a reality. The best song that I had was that, and I thought it would be perfect for that. So that's how it happened. And by the way, I was a huge Gossip Girl fan before that. It was like a joke. Kids would bring me ripped DVDs of Gossip Girl on tour so I could watch it in the bus. I was [also] on it at the very end—the last episode of last season."
You can read that interview in full here.
Would you want to see Cobra Starship reunite? Let us know in the comments below.
[envira-gallery id="197607"]