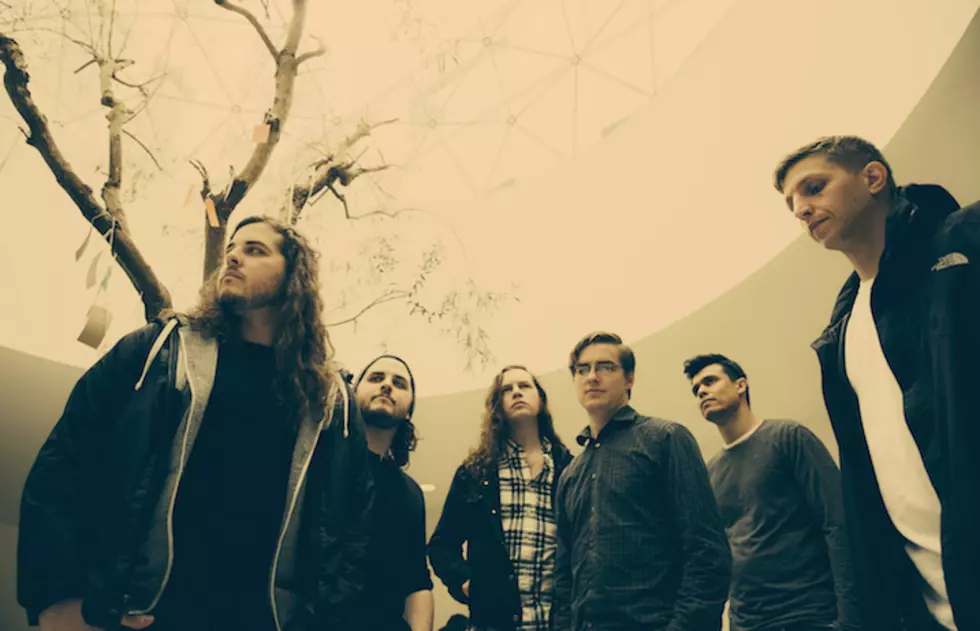 The Contortionist's Michael Lessard talks 'Clairvoyant,' BTBAM and Chris Cornell
[Photo by: Gobinder Jhitta]
The Contortionist redefine what it means for a band to "reimagine" their sound. The band's 2010 full-length debut, Exoplanet, was a record of interplanetary heaviness, combining thick grooves with ethereal hints of what the band's sound would become as their career progressed. When vocalist Michael Lessard joined the band for 2014's Language, it marked a stark change for a band that was already ahead of the curve in their own scene, and saw the band truly coming into their own as a progressive metal act. Of course, it's unfair to label the Contortionist merely as a metal band; as their fourth album, Clairvoyant (out Sept. 15) proves, they've transcended the confines of what they began as and have achieved the creative pinnacle of their career thus far. Lessard was kind enough to chat with AP about the new record and their upcoming tour with Between The Buried And Me.
Read More: The Story So Far debut new song, "Out Of It," announce fall tour with Turnstile, Drug Church
What has the Contortionist been up to this year?

We did a tour in the U.S with Periphery and we did Europe with Periphery [earlier this year]. We took the summer off because that's kind of rare in this industry, and enjoyed that. For me, I do a lot of the video work for the band, so I just wrapped another music video [for "Return To Earth"] and then I also do our studio updates, so I've been working on those as well.
Clairvoyant marks your second record with the Contortionist. Now that you're more established in the band, was the writing process different?

It was different in the sense that we made sure we went out of our way to get extra time to write. Most albums, we've had three months of writing time and then jump in the studio for a month and then that's it. For this album, we pretty much demanded that we got extra time, and the label was more than happy to give it to us, so we actually had a year. We had a year off, and we did one tour within that year; we got a random offer to go out with Dance Gavin Dance, so we did that in the middle of it to kind of break up the vibes. That was the one thing that was different. In terms of writing with everybody, it wasn't too different from Language, just the fact that we had Jordan [Eberhart, bass] and Eric [Guenther, keyboard] in the mix this time full-on writing with us. The hardest part with it is that with the extra time, we just had so much material that deciding on what actually made the album was probably the hardest part.
You guys worked with Jamie King once again to produce Clairvoyant. How was that?

I can't say enough good things about Jamie King. Brilliant mind, brilliant producer, great ear, humble human being and keeps the creative workflow going, which is why we love working with him. As always, he took our ideas and he made them better.
Listening to a song like "Flourish" from Exoplanet and then "Reimagined" on Clairvoyant, it sounds like a completely different band. However, it kind of sounds like this is always the kind of band the Contortionist was meant to be. Would you say that's true?

It's true in the sense that it's what the band is trying to be now. It's hard to tell where we'll go with the next album—we could still go heavy for the next album. It's one of those things where every time we go in to write an album, we really just base what we write off how we feel and what we're into at that time. Two years from now, we might be back into heavy music; maybe playing this type of music will become boring to us and we revert back to heavy stuff, but we're still a heavy band. If you come out to a show, we still play heavy stuff. The notion that we're no longer a heavy band is not correct in the sense of we still play heavy songs every day out on the road. This album might not be heavy as a whole, but we're still a metal band and we still play metal every day. We're also a rock band. I do think that we're very comfortable with the sound we've come into on the later albums, but we'll see where it goes.
What kinds of influences did the band have on this record? Were there any artists in particular?

It's hard to really say because none of us really agree upon music—we all listen to completely different things. There's a few bands we can all find common ground on—we all love Pink Floyd and stuff like that—but I think what makes our writing process successful is that none of us do listen to the same things and all of us find different things interesting with the music. A couple of us love the more shreddy side of music whereas I'm a little more based in composition and disguising the technicality. When you take all those things and mix them together, you get what we end up doing.
What kinds of lyrical themes did you explore on Clairvoyant?

It's more of a melancholy vibe for this album. Where Language was more about growth and moving forward, this album is the opposite of that—more based in death and the darker side of that. It is a continuation of that story [on Language]. Language is very much a personal story to me that is based in metaphor, and this album continues that. Throughout the course of the album, the lyrics become more honest and grounded, and by the end, it's more direct and conversational. That was my approach with this album. Language was vague in a lot of ways; I left it pretty open-ended for the listener to decide, and Clairvoyant begins that way and toward the end, it gets more straight to the point.
The Contortionist are able to fit into a variety of musical settings. What would be a dream tour for you?

For me personally, it'd be Frank Ocean… I'm more based in the pop-side of things than the other guys, so on my dream tour, we'd probably be the insanely odd band out based on my listening interests. I listen to a lot of stuff like Frank Ocean, James Taylor and anything from folk to R&B, but I'd also love to go out with bands like Meshuggah and Circa Survive. And those are bands that we're hoping still aren't too far out of reach that we hope we get to tour with in the near future.
Speaking of "dream tour," you're direct support to BTBAM's Colors tour later this year. Was that an important record for you? Is it surreal to be touring on the 10th anniversary tour of a record that was hugely influential on the style of music that the Contortionist are now pioneers of in their own right?

In some ways it was, because all the bands I've ever been in were always huge into Between The Buried And Me. Between The Buried And Me are such a musical band—their technicality is so intense. Colors changed our scene. But I didn't get more into the progressive side of things until a little later in life. I stumbled into a progressive band called  Last Chance To Reason, and they were still to this day one of the most extreme bands I've ever worked with. That was when I came on to Between The Buried And Me as a band that I listened to. For me, it's an important tour because those guys have become dear friends of ours; they've taken us out many times, and if it wasn't for them, I don't think we'd be where we're at in our career. They've definitely helped bring us up through the ranks.
As a vocalist and a fan of his work, how did the passing of Chris Cornell affect you? Just curious, what are some of your thoughts on artists who struggle with anxiety/depression?

Obviously, it's tragic to hear about anything like that happening to anybody, let alone somebody that had some had so much influence on people and somebody that people look up to. To see him do that, hopefully that doesn't persuade anybody else to take that route. But hopefully it also humanizes people that are put up on this pedestal. In this weird society, where if you have any sort of celebrity [status], people just assume you can take more damage or punishment or harsh criticism than anybody else—and not necessarily that's the case with why he did what he did—but it's one of those things where hopefully it opens people's eyes. Everybody is battling with that, and it's okay to talk to people about it. I hope that's what comes out that situation. It's tragic. I don't know Chris Cornell personally, but obviously I grew up with his music and he influenced me in a lot of ways as a singer, but as far as I know he was a great individual, as well. He ran a campaign to help troubled youth and abused children, so he obviously had a big heart.
Catch the Contortionist on tour:
09/21 – Philadelphia, PA @ Theatre of Living Arts

09/22 – Baltimore, MD @ Baltimore Soundstage

09/23 – New York, NY @ Gramercy Theatre

09/24 – Boston, MA @ Paradise Rock Club

09/26 – Pittsburgh, PA @ Mr. Small's Theatre

09/27 – Cleveland, OH @ The Agora Theatre

09/28 – Pontiac, MI @ Crofoot Ballroom

09/29 – Toronto, ON @ Opera House

09/30 – Chicago, IL @ Bottom Lounge

10/02 – Lawrence, KS @ Granada Theater

10/03 – Denver, CO @ Summit Music Hall

10/04 – Salt Lake City, UT @ The Complex

10/06 – Santa Cruz, CA @ The Catalyst

10/07 – Los Angeles, CA @ El Rey Theatre

10/08 – Pomona, CA @ The Glass House

10/09 – San Diego, CA @ SOMA

10/10 – Phoenix, AZ @ Crescent Ballroom

10/12 – Dallas, TX @ Trees

10/14 – New Orleans, LA @ House of Blues

10/15 – Pensacola, FL @ Vinyl Music Hall

10/17 – Fort Lauderdale, FL @ Culture Room

10/18 – St. Petersburg, FL @ State Theatre

10/19 – Orlando, FL @ The Plaza Live

10/20 – Atlanta, GA @ Masquerade

10/21 – Charlotte, NC @ Neighborhood Theater