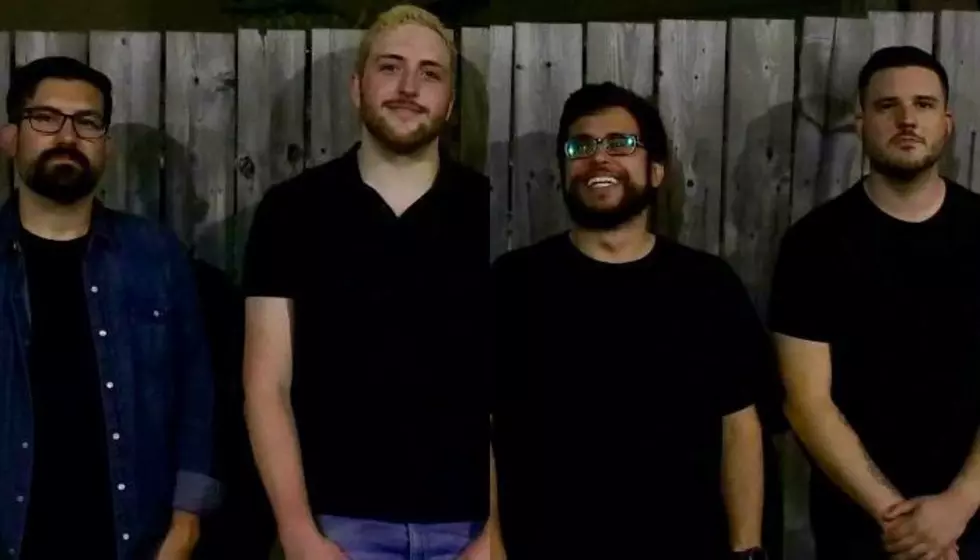 Here's why Counterparts' Alex Re created new emo band You Will Always
[Photo via: Anthony A Media/Anthony Anacleto]
In times when life feels like it's becoming too much, change and reflection are necessary to keep moving forward. With that idea in mind, Counterparts guitarist Alex Re joined bassist Eric Bazinet, drummer Matt Soliveri and guitarist Steve Travale for a new emo project: You Will Always. As the release day of their debut LP, Dependent, Reliant, inches closer, the band are teaming up with Alternative Press to premiere the third single off the upcoming album, "In Fantasy."
Re created You Will Always with the intention of using this project as a different way to express himself. The quartet dropped their first single, "Brutally Honest," early last month. With punk-rock guitar riffs and personal lyrics, the track was used to segue between Counterparts and You Will Always. With their second release, "BKNM928," the group took a more melodic approach but still kept their biting lyrics. 
Read more: See Tim Curry as Dr. Frank-N-Furter for 'Rocky Horror' virtual event
Exploring themes of love and hope, the band's debut LP is an eclectic exploration into Re's own self-reflection. Take a listen to You Will Always' latest single "In Fantasy," featuring Counterparts frontman Brendan Murphy, and see why they decided to branch out into a new sound below. Dependent, Reliant drops Nov. 5 and is available to preorder here. 
You Will Always are very different sonically than Counterparts. What caused you to want to explore a new sound? Are there differences in your writing and performance processes between the two projects? 
The music of You Will Always shares DNA with the music I have written for Counterparts in the past. Anytime I approach writing a song, it's due to an internal desire to express something. I feel an urge to get up, sit down and try to put the proverbial pen to paper. Therefore, the process of writing for either band is very similar. However, the impetus to write for You Will Always was much more than an urge.
I didn't just want to express myself as needed to so I could exorcise my addiction demons and leave that in my past. There were no limits to what I could write or how I could shape our songs. I could write a straightforward punk-rock jam and a slow, ballad-like song with a two-minute jam-out ending, and they could both fall into the parameters of this project. That freedom was very exciting.
"In Fantasy" includes a back-and-forth sequence featuring Brendan Murphy. What was the inspiration behind the track and the decision to include another vocalist? 
Brendan is one of my oldest and best friends, so having him as part of this project was a no-brainer. He was very supportive and encouraging when I told him I was going to start You Will Always, so the least I could do is let him sing, right? That sounds conceited and is definitely a bit of a joke, especially when he was ultimately the one doing me a favor. He really elevated the song. He's secretly a really great singer—not just with the yelling stuff.
I wanted him to use his lesser-known voice on our record, and I wanted to do a vocal trade-off with him, like Taking Back Sunday would have done back in the day. When I approached him to do the part, he was apprehensive initially because he thought I wanted him to come in and scream and yell. Once I admitted that I wanted him to sing, he was completely on board. 
The track is the third single off your upcoming debut LP, Dependent, Reliant. How does it compare to the rest of the songs on the album? 
"Brutally Honest" was our first single. That song was meant to bridge the gap between people that listen to Counterparts and people that could potentially be fans of this new band. "BKNM928" was our second single and was released to show the added dynamics and avenues that this band were able to explore. "In Fantasy" is our third and newest single, which is just meant to be fun.
The lyrical content is a huge bummer, but the sound is a lot of fun. It has a dancey groove, an '80s jingle to it and is a bit more upbeat than some of the other songs on the record. It makes a lot of sense where it's placed on the record as well. It's meant to pick things back up again. The album itself is split into two parts, first half Dependent, second half Reliant. "In Fantasy" kicks off the second half of the record, and I wanted it to pack as much of a punch as possible.  
What do you hope your fans will take away from Dependent, Reliant as well as You Will Always itself?
I went through a lot in the last couple of years of my life. I've made decisions that I have to live with for the rest of my life. I lacked a sense of community, [and] I felt so "off" and so alone all the time. I hope this band can create that sense of community for others and can inspire people to ask for help, to reevaluate things, to be there for one another, to listen to somebody that needs it. This band aren't trying to reinvent any wheel, but we do want to remind people that they are not alone.
It's been an intense year for a lot of people, and as we reach the last few months of 2020, many are hoping next year will be better. Do You Will Always have any future plans for the rest of the year and anything planned for next year as far as livestreams and releases go?
Our drummer Matt and I were just talking about the logistics of doing a big livestreaming event for early next year. We really want to play live shows. Who doesn't? While we can keep our fingers crossed all we want, unfortunately, the world may not catch up in time, so we're planning something like that right now. I also have another 10-song record ready to go. It's the second part of the story [that we] started on Dependent, Reliant. We're so excited about this newer material. It's darker, heavier and more progressive. We're trying to go back to the studio around the end of January to record those songs. Of course, that all depends on the response to Dependent, Reliant.