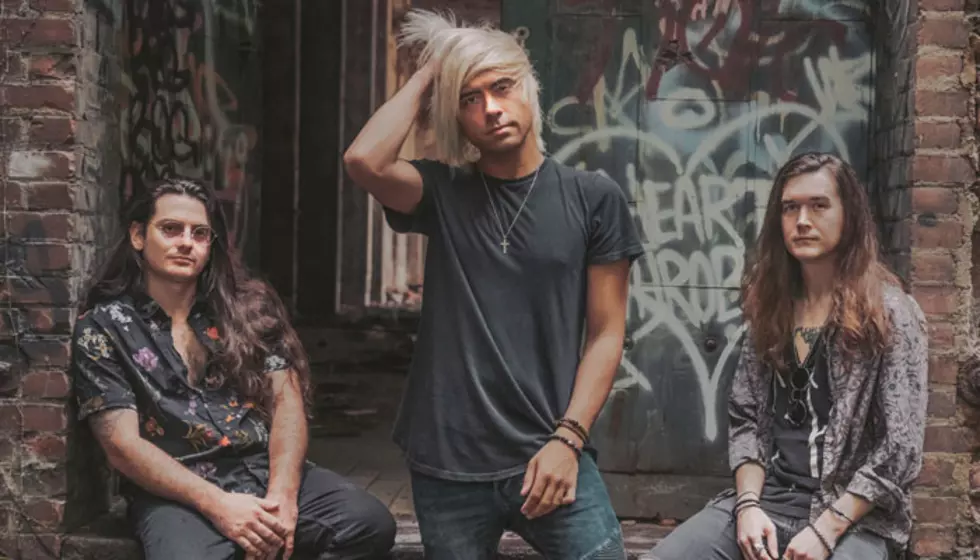 Hear Craig Mabbitt and Morning In May deliver a post-hardcore throwback
Today Cleveland-based post-hardcore/emo unit Morning In May are getting all the double takes with their new single, "Orpheus In Retrospect." The trio were joined by Escape The Fate frontman Craig Mabbitt on the track, thereby adding a bit more octane booster to the band's fury.
MIM frontman Jake Bartolic filled Alternative Press in on the nature of the song, Mabbitt's participation and how every generation needs to be versed in great mythology. And if you identify as "emo" and know nothing of Orpheus and Eurydice, man, you're doing it all wrong.
How did you enlist Craig Mabbitt? What were the conversations like in terms of making the track? Were there things he flat-out refused to do, or did he do more than just email you a finished vocal part? What were MIM's motivations for getting him involved?
JAKE BARTOLIC: Our producer Lenny Morales knew Craig from previous work he's done. As we were discussing a previous track we recorded, he was like, "Yo, by the way, a track with your voice and Craig's would be absolutely insane." I said, "I can make that happen." I messaged him on social media. He got back to me and was super-down.
Craig was more than incredible. He really wanted to capture the vision I had for the song. I sent him the lyrics with some notes I had for how he would attack it, and he more than delivered. They were sitting in the studio, and Craig recorded a vid of them just listening to the song back. It was 3 a.m. in Cleveland, I watched it and just thought life was so unreal. "Craig Mabbitt just sent me a video of him singing on my track."
Our motivation was that his voice is so distinct, and he just sings the way I think an emocore band should sound. It's boyish but powerful, sleek but badass.
The electronic element gives "Orpheus In Retrospect" an epic, cinematic feel. It's not an EDM thing, nor is it a throwback to a vibe like Attack Attack! Did you begin with that sequencer pattern, or was that something you added to give the track some girth?
The first thing written to that song was actually the synth-lead part. We wanted something big and cinematic, like you were listening to the soundtrack of a movie. Like you're listening to The Lord Of The Rings soundtrack but metalcore. Definitely a throwback to the nostalgia vibe we got going on.
What is the song about? At first, it seems like you're trying to navigate a crushed spirit. But with the refrain "Valhalla will have its way," it's like you're signaling a hero status that's eternal. What's the backstory to the track?
The song is about having absolutely nothing and nowhere to go. When you feel like heaven locked you out. Or there's no room in Valhalla. Or oblivion doesn't even want you. Even in death, there's no escape from yourself. It's how you need to pick yourself up from all that cast you aside and still prevail. [The song is] the first installment of the Orpheus and Eurydice story of our concept album. Orpheus lost the love of his life and with it, every feeling, question and the will to go on. Even death couldn't separate his grief.
There are recognizable scene signifiers on the track. With "Orpheus," did you want to create something that was immediate, or did you want to move toward a defining artistic statement?
Orpheus is the protagonist in the concept album. The story of Orpheus and Eurydice speaks volumes to anyone trying to do or be anything in this life. The trial of doubt, heartbreak, never-ending concerns within yourself. I feel it pertains to us all. We've always been "artistic." Well, maybe dramatic and theatrical. But I wanted to create a story that could honestly reach and touch everyone. No more songs about butts. I think it's time we start dealing with ourselves instead of scapegoating.
What are the band's next plans? More singles? Or working toward a full-length? How did the pandemic derail you? Or did the band merely seize the day?
Our future plans are back to the grind touring. We will be unveiling our concept album. The story needs told to a new generation. The pandemic didn't necessarily derail us, more like "re-routed" us. We took the pandemic as a sign to do things a little different. Never stop, never settle, always move forward. We made what we could with what we have.
Check out the lyric video for "Orpheus In Retrospect" below.