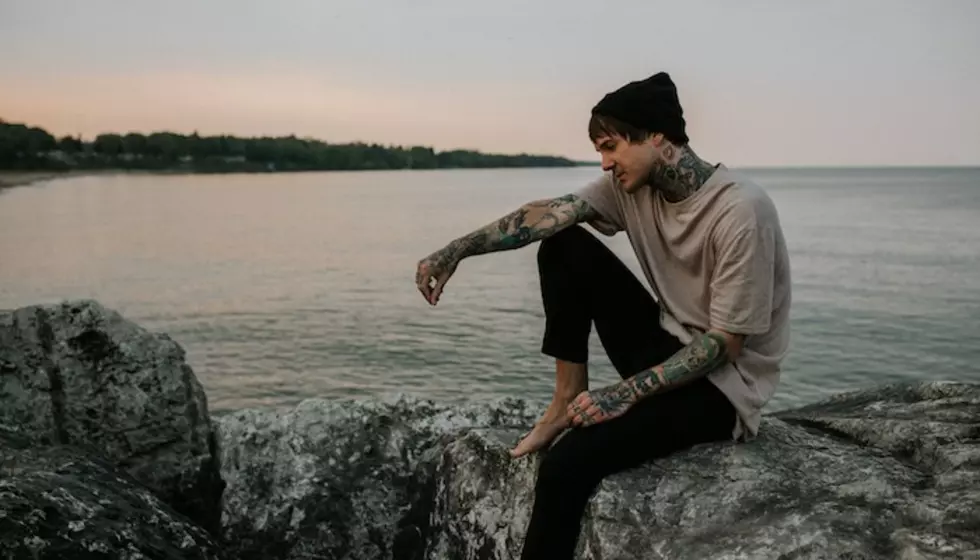 Craig Owens dives into EDM with QUIX, Adventure Club collab track
[Photo by: Wendy Thibodeau]
It's been nearly three years since Craig Owens said Chiodos are over with the debut of his new project, badXchannels. Shifting his focus from emocore to alt-pop, the vocalist has made fast progress in the weird world of cross-genre collaborations. His latest endeavor: joining blossoming producer QUIX and former Chiodos revivalists Adventure Club for an electronica lightning strike in "Life Long After Death."
QUIX has been quickly rising the EDM ranks as of late, but he wasn't shy about the nostalgia that went into the production. 
"Working with Craig's vocals on this track was such a treat, took me back to the good old emo days," he says. "Both drops were equally amazing to work on and we each brought our signature sounds together."
While day one Chiodos fans may scoff at their emo hero breaking bread with DJs, lending his one-of-a-kind pipes turns an already intriguing concept into a home run. Solidifying smooth hooks between booming bass drops and slicing synth, the clashing of music worlds settles into a compelling Pangaea of collaboration. 
AP chatted with Owens about the latest badXchannels and QUIX effort, his pilgrimage from emo to EDM and the recurring whispers of a D.R.U.G.S. and/or Chiodos revival.
I remember last September we were driving through the Rocky Mountains together outside of Denver amid these huge cnyons and towering cliffs that loomed above us. It was breathtaking. You pulled up some tracks on your phone and started playing through the SUV speakers a number of demos and unfinished tracks that you had created that were EDM chill music, as best as I could describe it. I commented on how strong your vocals were, and you said that you felt they were the best they had ever been in your life. It was a completely different direction for you, and these tracks just provided such a perfect soundtrack to the scenery around us. When did this electronic side of you begin to develop? How did you get from Chiodos to this, and how was your new persona as badXchannels a part of this?
CRAIG OWENS: In 2009, I started producing bands and fell in love with the sound design aspect of it. I don't know. I feel like there are only a few routes for musicians who've come from the scene if they are going to continue making music for the rest of their lives, and I've never wanted to go by "Craig Owens" and just stick to playing my acoustic guitar. Like, that's fun to do sometimes, and it's cool if you wanna do it, but I just have a bigger, deeper and darker vision for the music I'm making. The electronic sound design aspects are a pretty crucial part of it. I've set really high standards for myself with the project and have been working really hard to be able to achieve them.
What was the first track like this that you created, and was it any good? 
The first track I made for the project was with my friend Erik. We made a song called "Complicated," and yeah, I think it's pretty dope. It features Tyler Carter from Issues. We sat on the track for almost two years, but it eventually came out on SharpTone Records and was on my first EP, WHYDFML.
As I said, you felt that your vocals had never been stronger, which is amazing to hear. What helped you strengthen them after all of those years of screaming your lungs out?
I'm a health nut now, so I'm sure that has a lot to do with it. But really, I think it's just spending a lot of time trying to master the different aspects and nuances of my craft. I've always loved being a multifaceted vocalist who can do a wide array of things well, and I love challenging myself.
What do you enjoy most about the style of music you're now producing? 
What I enjoy most about the style of music I'm making now is that it sounds like my current experience living in this world. I feel like it's so important as an artist to take a snapshot of things as they currently are without trying to force or make it something that it isn't. I've made all I want to make in rock for the moment, and I am excited to continue down this path with badXchannels. The possibilities are pretty exciting and limitless. I'm planning on releasing music for this project for the rest of my life in at least one way or another. 
How have your scene-years fans been responding to the new style of music you're creating? Do you have to block out those requests to "return back to screaming," so to speak? It's got to be tough at times to grow musically. Telle Smith has gone off on several Twitter rants complaining about fans not letting artists grow and mature.
I think the majority of my older fans really like it and are starting to understand it more and more as I continue to release music with the project. I'm also making a ton of new ones along the way. 
So what led you to end up working with Steve Aoki's Dim Mak label with this new Adventure Club single that you appear on? That's an incredible moment for you.
It's actually a pretty full-circle moment releasing music on Dim Mak. When originally coming up with the idea for [the] project, my team and I spoke about how cool it would be to release music with them at some point, and now here we are, doing it alongside two electronic titans in Adventure Club and Quix. It's pretty awesome. 
[Photo by: Justine Vanderpoool][/caption]
So what's the trajectory now that you're heading in? What sort of projects are you currently working on?
I've got another single and video finished and ready to go after this, along with a few pretty exciting collabs. But I'm hoping to release another EP pretty soon, followed by the debut full-length and will be back to touring again full time.
Are you still producing bands as well? You were producing a good number of young acts each year there for a while.
Yeah! I'm starting to write and produce for some bigger artists now, and I really enjoy it.
We've talked so much about how you're so into healthy living and self-care these days. Describe your health routine now. Was there a baby-steps to it, or did you just jump into the deep end of the pool with fitness and mindfulness?
I'm pretty intense with it all. I love working out, playing sports and just doing anything active really. It helps with creativity and helps me stay in a good, consistent place mentally. 
What was the biggest obstacle you had to overcome on that road to healthy living? 
Definitely my diet, and for me, that's how it all started. [It] helps me maintain my healthy lifestyle. 
QUIX, Adventure Club and badXchannels [Photo via Dim Mak][/caption]
You were a self-described overthinker for years. How have you learned to calm your mind down? What's that process like for you? 
I think that through the years I've found ways to use my overthinking in ways that benefit or bring me closer to my goals as opposed to getting caught up in my pain body and negative thought patterns. I catch them pretty quick these days and can now channel all of that energy into something positive.
For as much as you're moving forward and expanding your music-genre wings, you're still headlining a healthy dose of Emo Nite appearances around the country. As you're stepping further away from your screamo scene roots, how does it make you feel to be playing (and singing) material that must seem almost another world ago? Your first release, The Chiodos Brothers, was released 18 years ago this year. 
It's pretty crazy. Chiodos were my first band that I started when I was 15. So being able to celebrate it at Emo Nite by revisiting some older songs is a pretty cool thing to do every once in a while. It means a lot to my longtime fans and supporters, and that feels really special to me. 
Are there artists from your time with Chiodos who you still stay in touch with? Actually, do you go to shows much anymore? I would think this new direction would have you more behind programming equipment.
I'm definitely working in the studio almost 24/7, but yes, I still keep in touch with a majority of my friends that I've made along the way. I'm also making a ton of new ones, and yeah, I try to go check out my friends shows whenever I get a chance to. 
[Photo by: Bryce Mata][/caption]
Which leads to Chiodos. What is the status of the band, and will there be any future music or performances? 
There's been some conversations recently, but the right moment just hasn't presented itself yet. 
A lot of what you do now are solo gigs—either as badXchannels or even as a DJ. What do you miss and not miss with performing as part of a band?
badXchannels is still just getting started, and I could see tours where I also play with a band behind me for it. The best part about this project is that there are no limitations, and I plan on pushing the boundaries as much as I possibly can. 
It's strange in a way, but one of the most often-asked questions that we receive here at AP is if Destroy Rebuild Until God Shows (D.R.U.G.S.) will ever reunite and perform again. Probably more than the Chiodos questions. It's incredible that this short-lived band have so many fans and such high demand after really only existing for a year-and-a-half, right? What do we tell them?
I loved the project and wouldn't be opposed to working on it at some point again. What we made was very special, and I think that the project had a lot of pressure on it from the get-go to be extremely successful, which added a lot of pressure. Everyone's doing their own thing musically and doing it really well, but I do think the project has stood the test of time so well because what we made was a phenomenal record, and we're definitely capable of doing it again.
Reflecting back, after nearly 20 years growing up and performing in "the scene" at the time, what did that time period ultimately mean to you? If a fan comes up to you someplace and says that Bone Palace Ballet is still their favorite record of all time, how does that make you feel down deep now?
Thankful. I love music. I love making music. I want to make music for the rest of my life. I want my fans to be a part of my life forever. I never want to stop, and I never want them to stop listening.
Check out Quix and Adventure Club's "Life Long After Death" featuring badXchannels below, and stream it here.
You can keep up with all things badXchannels here.

QUIX and Adventure Club are both on a string of shows this year. QUIX hits Atlanta, Georigia July 27 and New York City August 3 with tickets for both dates here. Adventure Club will be playing New York City Aug. 9 and Dallas Sept. 7 with tickets here.