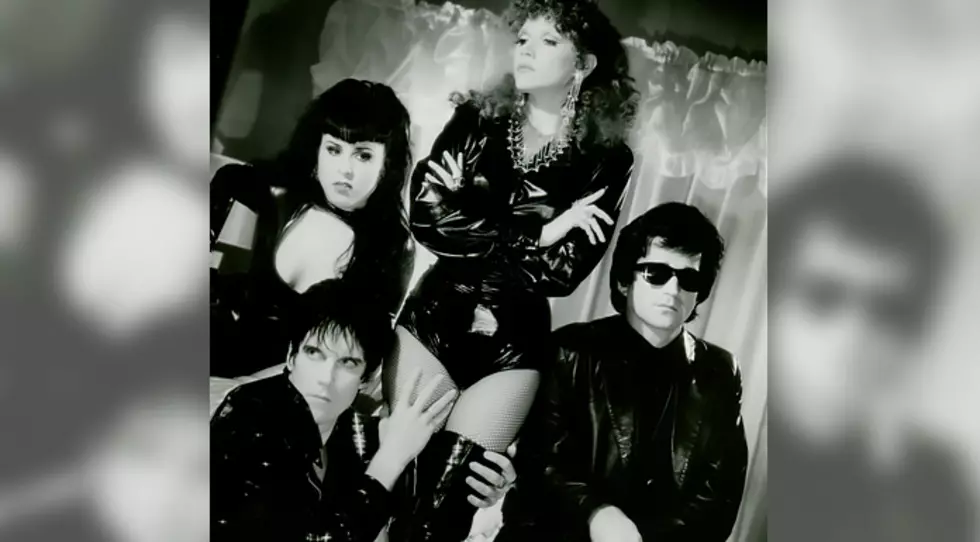 Legendary Cramps drummer Nick Knox dies
Rocky Schenck
Drummer Nick Knox, one of the pillars of cool in the legendary psychobilly band the Cramps, passed away today (June 15). He was 65.
Knox (whose real name was Nicholas Stephanoff) joined the NYC-via Akron, Ohio, outfit in 1977 alongside larger-than-life frontman Lux Interior, tough-chick guitarist Poison Ivy and spooky guitarist Bryan Gregory. Anybody who saw this era of the band knew that Knox's jet-black hair and the sunglasses (at dark) framing his stoic face was another key of cool in the pioneering psycho/goth/rockabilly outfit's chain.
From the period of 1977-1991, Knox toured with the band and appeared on some of the Cramps' most crucial recordings, Songs The Lord Taught Us, Psychedelic Jungle and A Date With Elvis. Prior to joining the Cramps, he was a member of the legendary Cleveland proto-punk outfit the Electric Eels. The Cramps appeared on the cover of AP 28 back in 1986.
In 1991, Knox left the Cramps and the music scene, returning to Garfield Heights, Ohio, and keeping an extremely low profile. In 2013, Knox appeared on Terminal, an album by Cheese Borger And The Cleveland Steamers, playing drums on three tracks. His last live performance was in 2003 with another notorious Cle-punk ensemble, the Pagans, at an event called "Ohio's Punk Past," curated and promoted by the Rock And Roll Hall Of Fame. (Pagans' guitarist Mike Metoff is Knox's cousin. Metoff also had a brief stint in the Cramps under the name Ike Knox.) Recently, Knox returned to the Cleveland music scene as a "senior adviser" to Archie And The Bunkers, the self-proclaimed "hi-fi organ punk" garage-rock duo. Knox would occasionally DJ at Bunkers shows alongside Miriam Linna, whom he replaced in the Cramps.
Listeners unfamiliar with the Cramps' classic work should start with the crucial compilations Off The Bone and Bad Music For Bad People. But if you want to see the real punks, you punk, here's the band in one of their finest hours, from the 1980 movie URGH!, A Music War, throwing down "Tear It Up." (Watch your face on the flying cymbal.) Our condolences go out to Knox's family, friends and legion of fans.
UPDATE: The first posting of this story said Knox was 60. We have since learned that he was born in 1953, making him 65. We regret the error.
The Cramps - "Tear It Up"