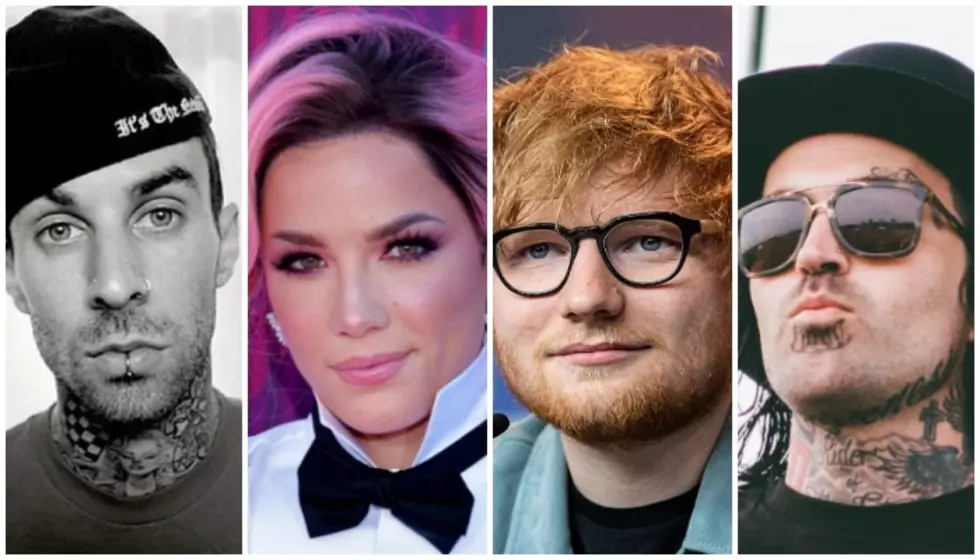 10 of the wildest ways musicians ended up with tattoos
[Photos via Travis Barker/Spotify, Halsey/Glenn Francis via Wikimedia Commons, Ed Sheeran/Herald Krichel via Wikimedia Commons, Yelawolf/Abby Gillardi via Wikimedia Commons]
There are two types of people in this world: those who plan their tattoos at length and those who just go for whatever. Not so surprisingly, the latter tend to walk out with the best stories.
Post Malone turned some heads this past August when he walked out of his dentist's office with a new tattoo. As it turns out, he'd really just seized a convenient opportunity to knock out two appointments in one fell swoop. As surprising (and funny) as the narrative was, though, he's hardly the first artist to spice up his ink routine. Read on for 10 of our favorite wildest stories behind musicians' tattoos.
Maxx Danziger ended up with a Haunter on his leg because he couldn't say no
A lot can go wrong when you engage in what Maxx Danziger calls a "Yes Night." As the term implies, this is an evening spent with friends during which you must agree to any idea proposed. On this particular "Yes Night," it was suggested that everyone go out and get Pokémon tattoos. It could have been worse for the Set It Off drummer, seeing as he ended up with a pretty cool rendition of his kindred spirit, Haunter.
Machine Gun Kelly gave Pete Davidson a real tattoo while filming a movie scene
Granted, we don't quite know what kind of special effects go into faking tattoos on screen. However, we have to imagine actors don't often walk off set with permanent ink. Just leave it to Machine Gun Kelly and Pete Davidson to defy such norms. While filming a scene for their comedy movie Big Time Adolescence, MGK gave his co-star a real shin tattoo. Unfortunately, it looks like the commemorative piece won't be around for too much longer as Davidson is reportedly having all of his tattoos removed.
Travis Barker got inked while live on radio
Many people can't hold conversations with their artist while being tattooed, let alone talk into a microphone. It hardly seemed like a challenge for the heavily inked blink-182 drummer, though. Travis Barker had a forearm piece done as a tribute to XXXTentacion while announcing the 2019 Muskink lineup on KROQ's Kevin & Bean. 
Halsey commemorated her SNL experience before even going onstage
It's hardly a surprise that Halsey wanted to memorialize her 2018 Saturday Night Live appearance. That said, no one expected her to do it then and there. The pop star apparently had this piece hand-drawn by musical guest Lil Wayne and inked just seconds before their performance of the rapper's "Can't Be Broken."
Nick Cageao got a leg tattoo done mid-song
Shins are famously painful spots for tattooing, but Nick Cageao handled his like a champ. In fact, the Mutoid Man bassist continued to perform onstage throughout the entire process. All we've got to say is that it's a good thing artist Dan Bones didn't falter under the pressure.
Pete Wentz tattooed Gabe Saporta's portrait after losing a bet
If there's anything better than Pete Wentz getting a tattoo of Gabe Saporta's face, it's that the process was so well documented. The Fall Out Boy bassist reportedly told Saporta that he'd get a tattoo of his choosing if Cobra Starship's "Good Girls Go Bad" went platinum. Of course, that's not a good bet to be made against someone known for hilarious antics. Saporta went ahead and chose a school photo of himself as a permanent reminder of their friendship.
Yelawolf got a hand piece while in assisted living
 

View this post on Instagram

 
Tattooing isn't a common aspect of assisted living, but Yelawolf wasn't going to let that get in the way of living his best life. The rapperexplained that he had his "Calm Down" tattoo on his left hand done while recovering from a ruptured spleen. He sustained the injury during a stage dive gone wrong, so the piece seems like an appropriate self-reminder.
Frank Iero got a neck tattoo so he couldn't get a job
You can't look at Frank Iero without noticing his scorpion neck tattoo, and that's exactly what he wanted. In the Life On The Murder Scene DVD, the My Chemical Romance guitarist revealed the motivation behind the piece. Apparently, he opted for its location to prevent himself from getting a job. Needless to say, his parents weren't thrilled at the time.
Ed Sheeran's misspelled tattoo wasn't an accident
Fast forward to the 1:45 mark of Ed Sheeran's "Galway Girl" and you'll see him getting a very real misspelled tattoo. According to the video actress Saoirse Ronan, however, she'd intentionally written "Galway Grill" rather than "Galway Girl." Evidently, she and Sheeran had decided on the mistake prior to filming, thinking it would be funny.
VIVIVI got a piece done while performing...on his butt
It's probably not a great idea to make bets with Kaosis, as guitarist VIVIVI demonstrated the hard way. After reportedly losing a bet involving drinking and sniffing a line of shaker salt, he had to get a butt cheek tattoo...in front of a live audience. Fortunately, the crazy, undoubtedly painful experience didn't last too long, clocking in at about four minutes.
What are your favorite wild tattoo stories? Sound off in the comments!