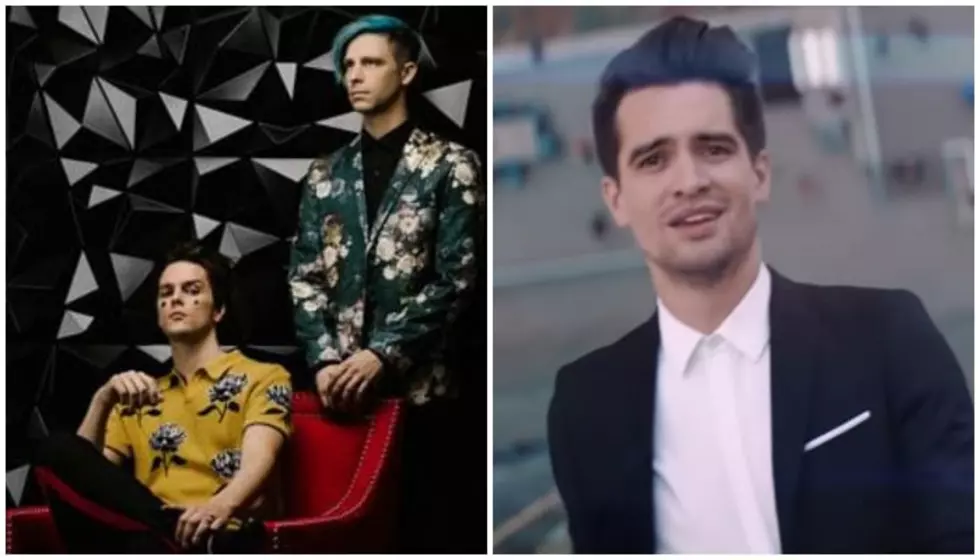 Dallon Weekes ran into P!ATD at Reading, and here's how it went down
[Photos: IDKHow/Lauren Perry; Panic! At The Disco/YouTube]
In late 2017, Dallon Weekes parted ways with Panic! At The Disco as the band's bassist and formally announced his new project I Don't Know How But They Found Me after months of secret shows. Since then, the band—Weekes and drummer Ryan Seaman—have released a handful of singles and recently revealed their signing to Fearless.
Weekes crossed paths with Panic! this past weekend at Reading Festival in the U.K., and there wasn't any bad blood to be spilled between the two parties.

"It's still totally friendly," Weekes says. "We saw each other at catering earlier and said 'hey,' and it was fine."

Urie echoed the sentiment in AP 359 as he discussed all that is Pray For The Wicked, which in turn is the first touring cycle without Weekes as Nicole Row stepped up to take on bass duties.

"I'm stoked for [Dallon]," Urie says. "He'd been focusing on [I Don't Know How But They Found Me] for a number of months, and I had to realize this is all bigger than me. His band wanted to go and do this thing, and if it's important to him, I need to take that into consideration.

"It'd be more selfish for me to keep him around for my own purposes," Urie continues. "It just made sense, and he seems to be way happier doing that. There's no animosity or any of that shit. It's kind of fucked-up, dude, how lucky I've been finding people and able to keep it all on good terms."

Despite the reveal that the two bands are on good terms, Urie thinks it was turned into something bigger than it actually is.

"Maybe that's the biggest misconception of me and Panic!: that people assume the story is way bigger than it is. Maybe the story's just not there. [Dallon leaving] is as boring as your friend hanging out and getting too tired and saying, 'Hey dude, I'm gonna go do this other thing.' You're like, 'All right!' On this side, there's no weirdness."
Now several months removed from his time with Panic!, Weekes only speaks fondly of his days with the band.

"It was a great job that lasted way longer than I ever expected it to, but I'm really excited to be doing my own thing—writing, recording and playing with my pal Ryan," he continues.
Seaman was actually a bandmate of Weekes' over a decade ago in the Brobecks. What effectively started as a solo project morphed into a band when Weekes reached out to Seaman and asked him to lay down drums on the record that he was making.
Weekes soon realized that he missed hanging out and making music with Seaman, and although the two couldn't commit full time because of their other bands, I Don't Know How But They Found Me were born.
"It's a mouthful!" Weekes says, laughing. "But if you're into the whole brevity thing, we accept IDKHow; it's a little more succinct. The name comes from the movie Back To The Future, which was a favorite of mine growing up, and I always loved that phrase. I wanted to use it for a song title or a lyric, but when it came time to start performing, that phrase seemed to fit what we were doing, so we decided to use it."
What IDKHow were doing was covertly playing tiny shows around L.A.; some were so small that they didn't even have a PA and only played to 30 people.
"Our first actual show was Emo Nite's second anniversary [in December 2016], and we were the opening band," Seaman says. "It didn't say 'members of whatever,' just the band name at the very bottom of the flyer."
Word soon got out that IDKHow comprised the drums and bass duo, and as fans of both started to inquire about the new projects to the members directly, the pair would flat-out deny everything.
"They'd send us pictures of us performing. We'd just say, 'Oh those are cool outfits, but that's not us,'" Weekes explains. "Our biggest priority when we started was to build on our own merit."

"It would have been very easy to put out a press release and say, 'Hey, I'm doing this new thing. Come and check it out all you guys' and take advantage of fans that way, but we didn't want to ride on anyone's coattails," he continues. "We wanted to do it as honestly and credibly as possible, so that was the reason for denying everything and doing it in secret. Initially, we started IDKHow to have some fun and create music and art without going through any filters, and it's still that way. Luckily, we've been able to hang on to that ethos."
IDKHow will hit the road this fall for a U.S. tour supporting Waterparks.
Check out their new single, "Do It All The Time" and their upcoming dates below.
11/02 – Lake Park, FL @ The Kelsey Theater
11/03 – Orlando, FL @ The Abbey
11/04 – Columbia, SC @ The Senate
11/06 – Greensboro, NC @ Arizona Petes
11/07 – Richmond, VA @ Broadberry
11/09 – Lancaster, PA @ Chameleon Club
11/10 – Sayreville, NJ @ Starland Ballroom
11/11 – Hartford, CT @ The Webster
11/12 – Rochester, NY @ Anthology
11/14 – Pittsburgh, PA @ Mr. Smalls Theater
11/15 – Cleveland, OH @ Agora Ballroom
11/16 – Bloomington, IL @ Castle Theater
11/17 – Iowa City, IA @ Blue Horse Tap House
11/19 – Omaha, NE @ Waiting Room
11/20 – Denver, CO @ Oriental Theater
11/21 – Grand Junction, CO @ The Mesa Theater
11/23 – Salt Lake City, UT @ The Complex
11/24 – Reno, NV @ Jub Jubs
11/25 – Sacramento, CA @ Ace of Spades
11/27 – Pomona, CA @ The Glasshouse
11/28 – Tucson, AZ @191 Toole
11/30 – San Antonio, TX @ Alamo City Hall
12/01 – Houston, TX @ Warehouse Live