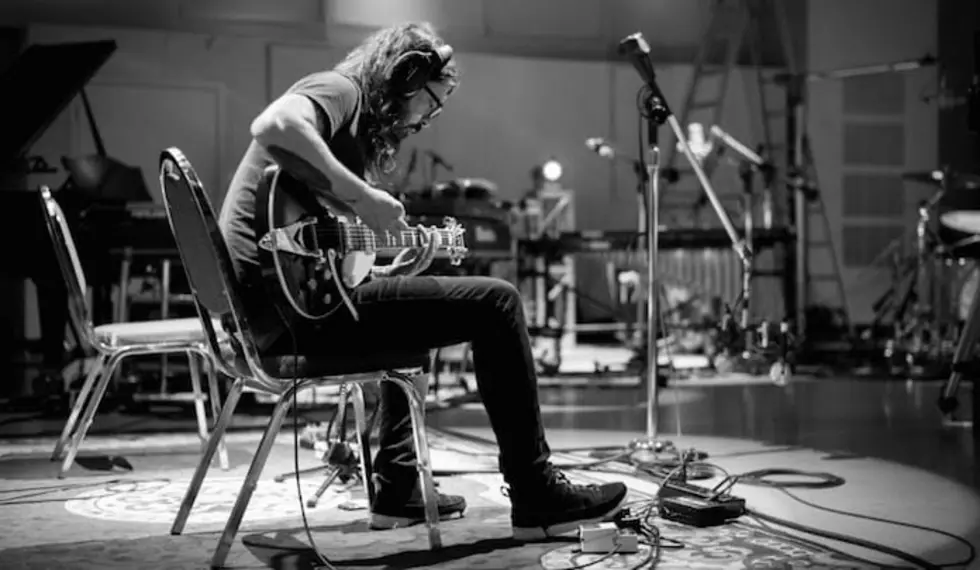 Dave Grohl to release mini-documentary about mastering a musical instrument
[Photo by: Andrew Stuart]
Dave Grohl is releasing a documentary about the challenges of mastering a musical instrument, which includes an original one-man-band composition he wrote and performed.
Foo Fighters frontman and guitarist directed the black-and-white two-part documentary with his Sound City/Sonic Highways collaborator Mark Monroe.
The first part of the film is a behind-the-scenes look at the particular relationship a person develops with a musical instrument when they are attempting to master it.
"Watching my kids start to play music and learn to sing or play drums, it brings me back to the time when I was their age listening to albums, learning from listening…and when I take my kids to the place where they take their lessons, I see these rooms full of children that are really pushing themselves to figure this out," Grohl says.  "And even now, as a 49-year-old man, I'm still trying to figure it out…it's not something that you ever truly master."
Grohl really challenged himself with mastering something new in the second part of "PLAY." It is a 23-minute original composition by Grohl, and he wrote music for seven different instruments.
Grohl played the entire composition on each instrument separately, in full, and the recordings were later edited together. If Grohl made a mistake, he forced himself to start over, whether it be on the drums, guitar, bass, keyboard, etc. He did so to demonstrate the shared obstacles he and music students experience when learning their craft.
Viewers will be able to interact with the composition online by listening to each instrument separately or downloading the "PLAY" sheet music.
"PLAY" was filmed by Brandon Trost (
The Disaster Artist, This Is The End
), and there is currently a teaser for the film, which you can watch below.
The film aims to promote music education, and there will be auctions in the future that will benefit local music education programs. There will also be a list included with the online version of "PLAY" of charities and organizations that promote the cause.
"PLAY" will be released Aug. 10 by Rosewell Records/RCA Records. It is available for preorder now here. A limited-edition vinyl version will also be released Sept. 28.