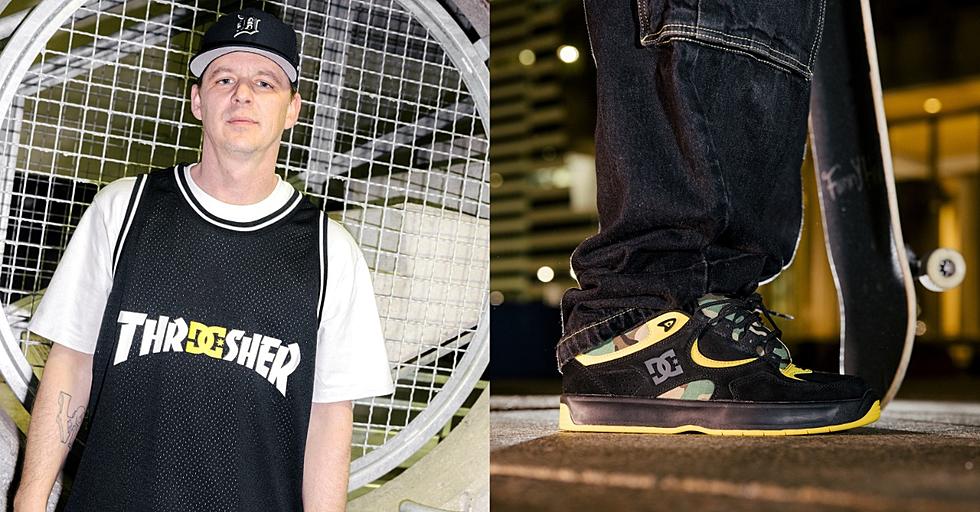 DC Shoes and Thrasher Magazine are teaming up for an epic collaboration honoring pro-skater Josh Kalis
[Courtesy of DC and Thrasher Magazine]
The ultimate skatewear collab is on the way.
DC Shoes and Thrasher Magazine are teaming up for a collaboration that celebrates the 25th anniversary of pro skater Josh Kalis. The limited edition collection, which will be available for purchase on June 3, honors the iconic skater and former Thrasher cover star and marks 25 years since his first-ever pro shoe.
Read more: Through skateboarding, Brooklinn Khoury found joy, resilience, and the will to inspire thousands
The capsule collection features apparel and co-branded shoes, including the new Kalynx Zero S and the Truth. The Kalynx is drawn from two of Kalis' favorite DC shoes, the Kalis Lite and the Lynx Zero S, while the Truth remains a favorite style among fans of early 2000s skate shoes and this particular version features an original camo print. The designs on both products were inspired by Kalis' 2018 cover of Thrasher, as well as his love for camo and Philadelphia, which is where he spent much of his youth.
In a press release, Tony Vitello, President of Thrasher Magazine, said, "I'm honored to help celebrate the 25th anniversary of his pro shoe. I remember getting a pair of his first signature kicks with DC when I was a teenager. I wore them to the SOTY party in SF with my dad and felt like the coolest dude on earth. 25 years later and I'm still hyped to lace up a shoe with his name on it. Big Love."
The entire collaboration will be available online at 
DCshoes.com
starting June 3 and in select DC Shoes stores. You can check out images of the products now below.
[Courtesy of DC and Thrasher Magazine]