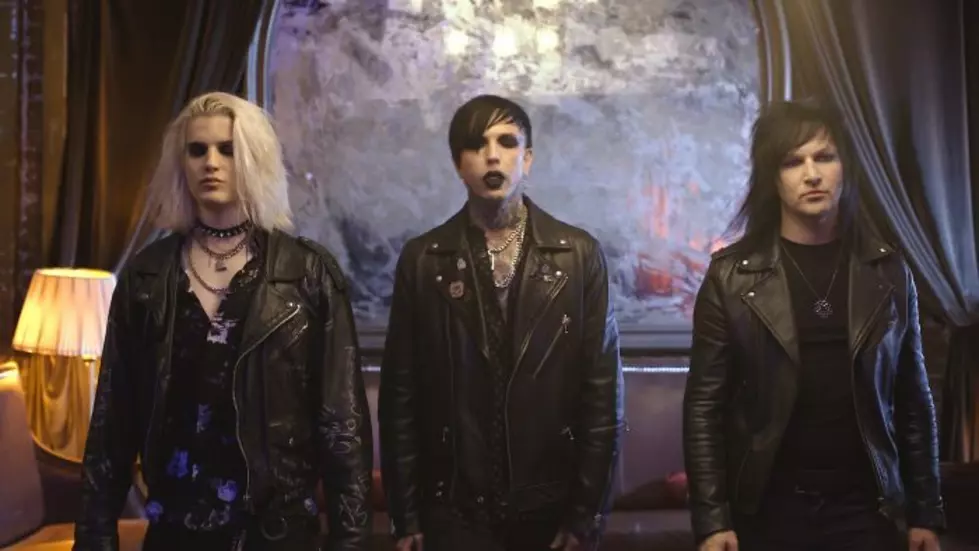 Watch BVB's Jinxx team up with Dead Girls Academy on "Inside Out"
The coronavirus may have stalled the music industry, but it obviously forgot to tell the crypt kickers from Dead Girls Academy. Working themselves into the grave while the rest of us are left reeling, the Vegas goth outfit fueled 2020 with their new album, Doves In Glass Houses, flitting from energized anthems to moving ballads to keep isolation at bay. The most poignant of the latter comes in the form of "Inside Out," a heartfelt serenade to all-consuming love featuring an emotive violin performance from Jinxx of Black Veil Brides.
Bringing out the emotive side to a band usually accustomed to rich gothic excess, the video accompanying this surprisingly touching turn strips back the theatrics and lays Dead Girls Academy bare. To mark the premiere of the "Inside Out" video here on Alternative Press, we caught up with bloodsucker-in-chief Michael Vampire about the deeper meaning behind this fresh perspective on his band, becoming a role model in difficult times and working with a musical icon.
After a crazy year, you're churning out material like nothing's happened. How hard have you worked in quarantine?
It's been a roller coaster. I was fortunate to have been working on an album through all this chaos. It kept me sane. In the beginning, we drove down to Nashville to finish up six songs before we knew how serious the virus actually was. We watched the U.S. close down around us, and it was pretty scary seeing everything change as the trip progressed. I ended up connecting with Tony Brummel at Mission Two Entertainment and signed with the label shortly after. [DGA guitarist] Craig Pirtle and I wrote two more songs over the phone. Then we got together at my home studio to write the lyrics and record while we wore masks and tried to keep socially distanced.
Mission Two requested adding real piano to "Inside Out," and the first person that came to mind was Jinxx from Black Veil Brides. We'd toured together in the past, and I knew he would be perfect for the song. He added the violin at his home studio in L.A. Since this song is very important to me, I decided to shoot a video in L.A. What's crazy is Jinxx became COVID positive two weeks after the video. Luckily, he's recovering fast, and no one was affected at the shoot. Needless to say, "roller coaster" definitely describes my 2020.
"Inside Out" comes from a deeply personal place. What inspired such a lovesick song that could give its actual heart away and it still wouldn't feel like it was enough?
I usually write directly from my life experiences. I tend to bottle up all of my emotions and hide them behind walls. The pandemic unleashed its wrath, and all these new emotions popped up. It also really tested my relationship with my girlfriend. I tend to have extreme OCD and paranoia due to my near-fatal touring accident years prior. But she comes from a family where getting sick isn't a big deal, so we were at extreme odds when the virus hit. We drove each other crazy to the point where things almost ended. Thankfully, we settled our differences by talking them out. But it wasn't easy. You can hear the state of mind I was in on "Inside Out." The house became my tomb, and this song became my personal anthem. The entire song is about my struggle to keep my relationship alive.
What's it like working with Jinxx on violin? Your songwriting has brought out a side to him that we rarely see.
The first time I heard Jinxx's violin on the song, I was blown away. I am a giant Danny Elfman fan, so I'm really into movie soundtracks. I felt like Jinxx really understood the emotion behind the song. Music isn't about how many albums you sell or views you have—it's about the passion and raw emotion you put in. You master your craft first and worry about the details later. Jinxx is a true musician, and that really shines on "Inside Out."
You've spoken on social media recently about important mental health issues such as suicide prevention. How do you feel being a role model to fans struggling right now?
We live in insane times [where] there is so much confusion and chaos. I receive so many messages about bullying, suicide, domestic violence and drugs—I cannot sit there and say nothing. I am certainly not a qualified psychologist, but I figured the best way I could address these issues is [by] using my own life experiences. Being a male that wears makeup and dresses in all black has stigmatized me dramatically throughout my career. People I looked up to chastised me for it, and it nearly broke me.
I grew a very thick skin and learned how to shrug off the attacks, so now I use hate as motivation to become more successful. It took me a very long time to know my own self-worth, so I try to teach my fans that things will eventually get better. The major problem is so many people think the situation they are dealing with is a matter of life and death. Not every case is simple, but I'm discovering a large percentage of people just need to talk and be heard.
Check out Dead Girls Academy with Jinxx on "Inside Out."