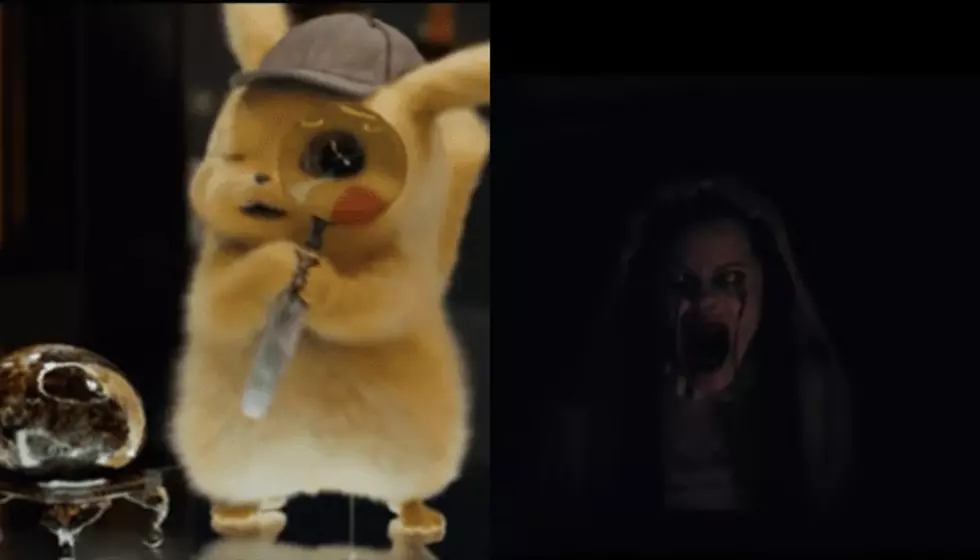 'Detective Pikachu' showing plays horror movie instead, confuses crowd
[photos via YouTube]
Moviegoers who headed to one theater in Montreal this weekend that expected to see Detective Pikachu got a much more terrifying surprise.
One Thursday, one theater accidentally played horror film The Curse of La Llorona. That film is based on a Mexican legend about a ghost of a mother who drowned her children who now wanders the Earth stealing lost kids. So, you can guess the experience was pretty traumatizing.
The mix up led to families leaving the theaters quickly with children in tears who expected to see the Pokemon film.
Ryan George, a video producer for Screen Rant, was in attendance and live tweeted the experience.
It began when the trailer for
Annabelle Comes Home
came on in the theater, and he was suspicious.
This instance reminded us of something that happened earlier this year. A theater in England made an entire audience of children cry by accidentally previewing two horror films ahead of their showing of the new Peppa Pig movie.
According to the BBC, Ipswich's Empire Cinema made parents distressed by promoting the forthcoming Ma and Brightburn. The movie theater has since apologized for the mix-up and says they are investigating the cause.
And who can forget when back in 2015, an Ohio theater accidentally played Insidious: Chapter 3 instead of Disney Pixar's Inside Out, which also freaked out a room of children.
This mix up is pretty bad, but we can't help but laugh a little bit at the mistake.
More Detective Pikachu news
After it was reported by many news outlets that Pokemon: Detective Pikachu made $58 million at the box office this weekend, it's now being said that the figure was not correct.
According to Exhibitor Relations, the updated number for the film is $54.5 million not $58 million as previously stated.
Despite the misinformation, the film still came in second at the weekend box office behind Avengers: Endgame at $63 million.
Also, on  Friday, Detective Pikachu earned $20.7 million while Endgame made $16.060. This was the first day since the Marvel film debuted that it wasn't the highest-grossing film in theaters.
Detective Pikachu had a big debut at the box office but The Pokémon Company was not a big fan of one scene in particular that took place during the film.
Erik Nordby, the visual effects supervisor, and Ravi Bansal, the film's art director revealed how they made that creepy, gross scene with Lickitung work.
"We built that tongue in reality with a big chunk of latex," Nordby explains. "It's completely gross, but we had to have something to wipe Justice Smith's face with [the actor gets licked by Lickitung in one scene]."
He also goes on to share that the Lickitung scene was not one the company was too fond of.
"For something to feel real, it has to have real world grit and texture. But the Pokémon Company would see that and think it was dirty. We had to walk them through a whole series of slides and build the trust that we weren't going to make these things disturbingly dirty.
I wouldn't say that [the scene with Lickitung] was the Pokémon Company's favorite scene in the movie. That's one where we got right up to the edge of what they would be comfortable with."
You can catch a quick glimpse of the scene in the film's trailer, below.
What did you think of this theater's major mix up? Sound off in the comments below!
[envira-gallery id="186668"]