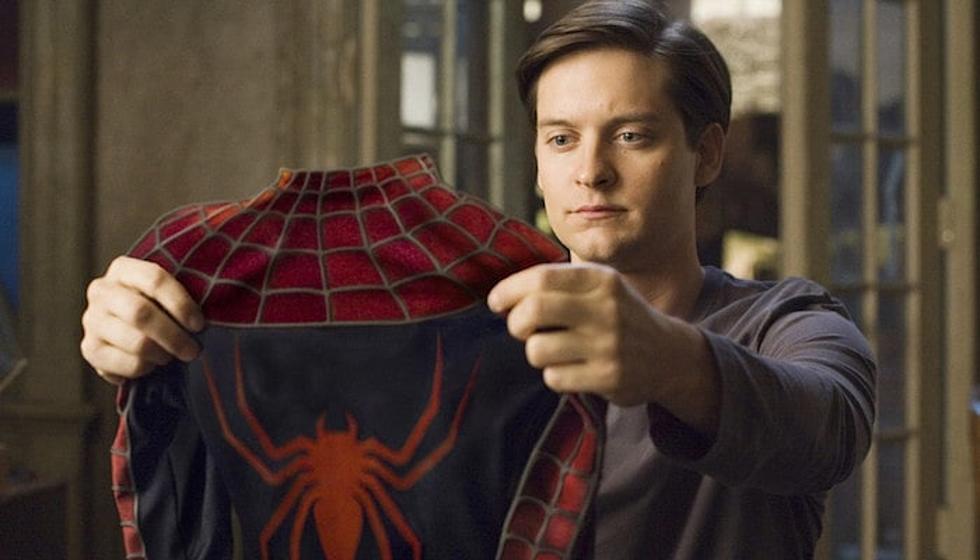 Did Tobey Maguire accidentally confirm he's in 'Spider-Man 3'?
[Photo via Marvel]
There's is a lot going on in the Spider-Man universe right now. Currently, rumors are swirling that Andrew Garfield and Tobey Maguire are set to appear alongside Tom Holland in Spider-Man 3.
Now, these new photos of Tobey Maguire may have revealed that he's returning as one of the Peter Parkers in the Marvel film.
Despite Marvel Studios' efforts to keep some Spider-Man 3 secrets locked up, a lot of information has been revealed recently. Earlier this year, we learned that Jamie Foxx's Electro is back for the new film. The villain originally appeared in Marc Webb's 2014 The Amazing Spider-Man 2 alongside Andrew Garfield.
As well, Benedict Cumberbatch is officially reprising his Doctor Strange role for Spider-Man 3. Doctor Strange is set to become Peter Parker's new mentor following the tragic death of Tony Stark in Avengers: Endgame.
More recently, reports emerged that Alfred Molina is reprising his role as Doctor Octopus in the upcoming Marvel film. Molina originally starred as the villainous character in Sam Raimi's 2004 Spider-Man 2 with Tobey Maguire.
The casting rumors have sparked a lot of theories that all three Spider-Man generations will come together for Spider-Man 3. More specifically, there's a lot of speculation Maguire and Garfield are reprising their Peter Parker roles.
Back in October, Sony first addressed these casting rumors. In a brief statement to ET Canada, the company said that these castings "are not confirmed." However, this could still mean that the actors are in talks to return for the film.
Then, last week, Sony found themselves in some hot water when a teaser seemingly confirming the three Peter Parker theory was shared online. However, the marketing video was swiftly taken down by Sony shortly after it was posted.
Now, new photos of Tobey Maguire may have just confirmed he's really returning for Spider-Man 3. According to Just Jared, the actor arrived for a wardrobe fitting at the Wardrobe Workroom store in North Hollywood this week.
Spider-Man 3
currently underway
Babylon
Brad Pitt
Bullet Train
More on Spider-Man 3:
So far, the cast of Spider-Man 3 has revealed very little about the new film. Back in October, Holland shared that he has read what happens in the new Spider-Man film, but fans shouldn't expect any spoilers from him anytime soon. Shortly after this, Jacob Batalon teased that there's a surprising moment in the film not even the actors were expecting.
Spider-Man 3 is set to arrive on Dec. 17, 2021. However, according to ScreenRant, the first look at the new film may be arriving sooner than you think. Last month, ExpoCine held its annual Latin America-based event virtually. Warner Bros., Disney, Universal, Netflix and Sony all appeared at the convention.
At the event, Camila Pacheco, who is the Executive Marketing Director of Sony Pictures Entertainment in Brazil, revealed that the film has already started production. Additionally, fans can expect a first look to arrive sometime this month, a full year before the film is scheduled to premiere.
Do you think Tobey Maguire will be in Spider-Man 3? What about Andrew Garfield? Let us know in the comments below.