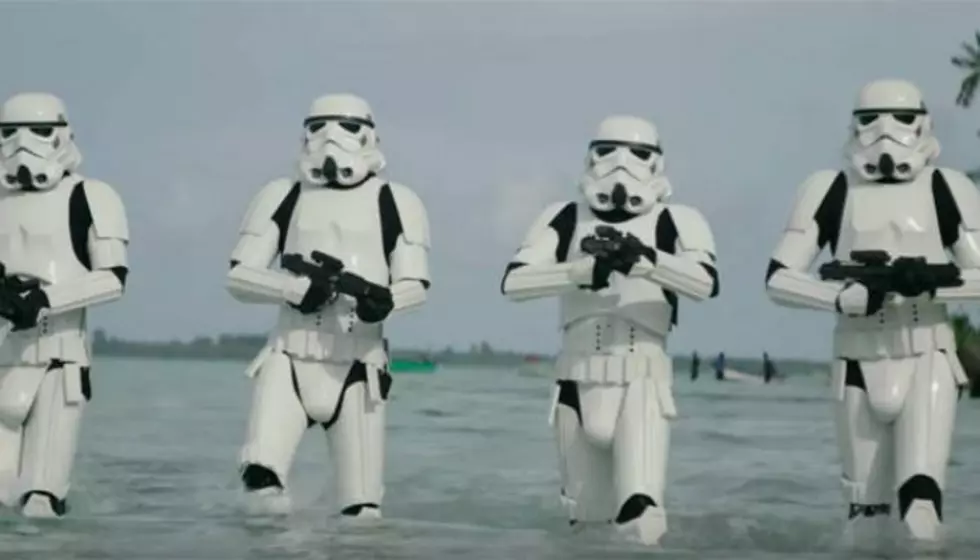 'Star Wars' Disney attraction will use Stormtroopers to enforce time limit
[Photo via YouTube]
If you're looking to visit a galaxy far, far away at the end of this month, you'll want to note that you only have about four hours to do so. Star Wars: Galaxy's Edge is set to open in Disneyland on May 31 and in an effort to avoid overcrowding, the happiest place on earth will use Stormtroopers to enforce the time limit.
This might be the best possible way to get kicked out of an attraction.
The Los Angeles Times reports that the Stormtrooper-enforced time limit is just one of the precautions the park plans to use to avoid potential crowd chaos upon its opening.
Disney engineers and landscapers have widened walkways and improved queuing systems in an attempt to accommodate more visitors.
During the first three weeks of the attraction's opening, guests will be required to make reservations for each member to enter the Star Wars land.
Guests will then receive colored wristbands coordinating with their reserved four-hour time slot. Once that time window expires, park workers dressed as Star Wars characters will patrol the park and politely tell visitors to leave so new visitors may enter.
"Four hours is a long time in the land," Kris Theiler, vice president of the Disneyland Park says. "Most guests are going to find that they're ready to roll after four hours."
So what happens if guests refuse to leave the park after their time slot expiration? Well, Disneyland is keeping pretty quiet on that part (use of "The Force" perhaps?).
[Gif via giphy][/caption] 
Park visitors who booked rooms at any of the three Disneyland Resort hotels automatically received reservations, those who booked a stay elsewhere were required to reserve their slot online.
Each boarding group will have a two-hour window in which guests can enter the Star Wars land, but no time limit once guests are inside.
Park workers are expected to keep an eye on how crowded the land is before decided to accept more boarding groups into the attraction.
Star Wars: Galaxy's Edge is slated to open May 31 in Disneyland (California) and August 29 at Disney World (Florida).
Are you excited for the opening of Disney's Star Wars attraction? Sound off in the comments below!
[envira-gallery id="194744"]