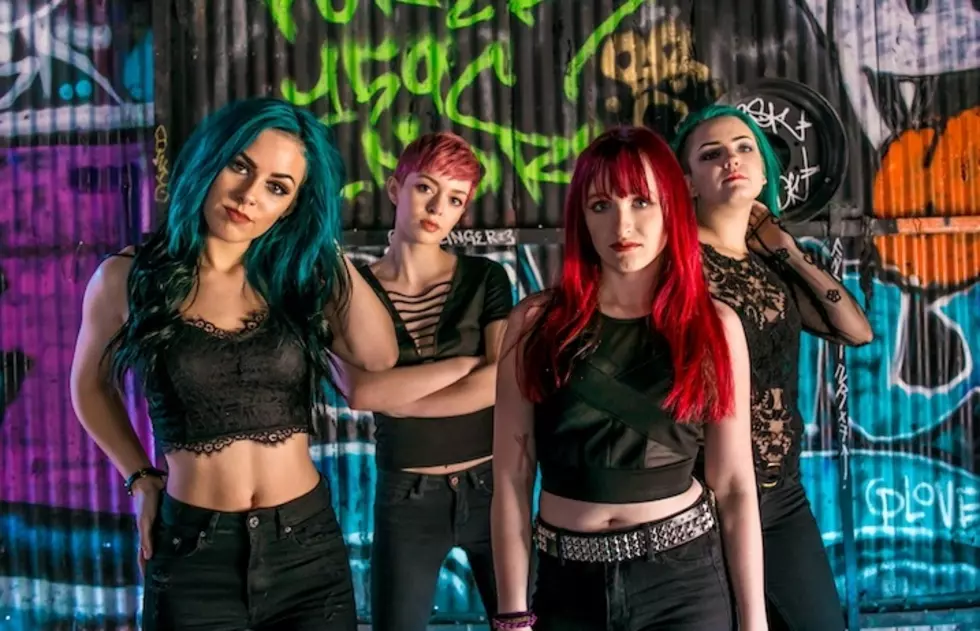 Doll Skin's new music video for "Daughter" is so relatable—watch
[Photo by: K Enegonio]
The main character in Doll Skin's new music video for "Daughter" could be any of us: She rocks out a Slayer T-shirt and carries Green Day and My Chemical Romance CDs around in her backpack. 
The track, off the band's latest album Manic Pixie Dream Girl, is an important one for the Arizona group—singer Sydney Dolezal, guitarist Alex Snowden, bassist Nicole Rich and drummer Meghan Herring. "An interesting aspect of this song is that it has a different meaning to each of us," explains Herring. "The video showcases one of the interpretations for it, which is a toxic relationship between parent and daughter."
"Many of our fans and peers will be able to relate to the lyrics, with the struggles of youth and growing up in today's society," Herring adds.
Watch Doll Skin's relatable music video for "Daughter":
"Daughter" is the second single from the band's sophomore full-length released in June. They had previously released a music video for "Puncha Nazi" that featured live shots of the band.
Doll Skin's debut album In Your Face (Again) landed them a spot on our 2016 list of 7 of the Best Rising Bands Under 21.
The group will be on tour with One-Eyed Doll this fall; check the dates below.
10/13 - Pittsburgh, PA @ The Funhouse at Mr. Smalls

10/14 - Baltimore, MD @ Fish Head Cantina

10/15 - Clifton, NJ @ Dingbatz

10/18 - Richmond, VA @ Canal Club

10/19 - Spartanburg, SC @ Ground Zero

10/20 - Jacksonville, FL @ Jackrabbits Live

10/21 - Tampa, FL @ Brass Mug

10/22 - Tallahassee, FL @ The Warrior *

10/24 - Mobile, AL @ Alchemy Tavern *

10/25 - Lafayette, LA @ The District

10/26 - San Antonio, TX @ The Rock Box ^

10/27 - Austin, TX @ Dirty Dog Bar ^

10/28 - Houston, TX @ BFE Rock Club ^

10/29 - Dallas, TX @ Trees ^

10/31 - Phoenix, AZ @ Club Red ^

11/01 - Hollywood, CA @ Whisky A Go Go ^

12/02 – Los Angeles, CA @ Emo Nite

12/04 – Flagstaff, AZ @ Flagstaff's Green Room
* Doll Skin headline

^ with Co-Op