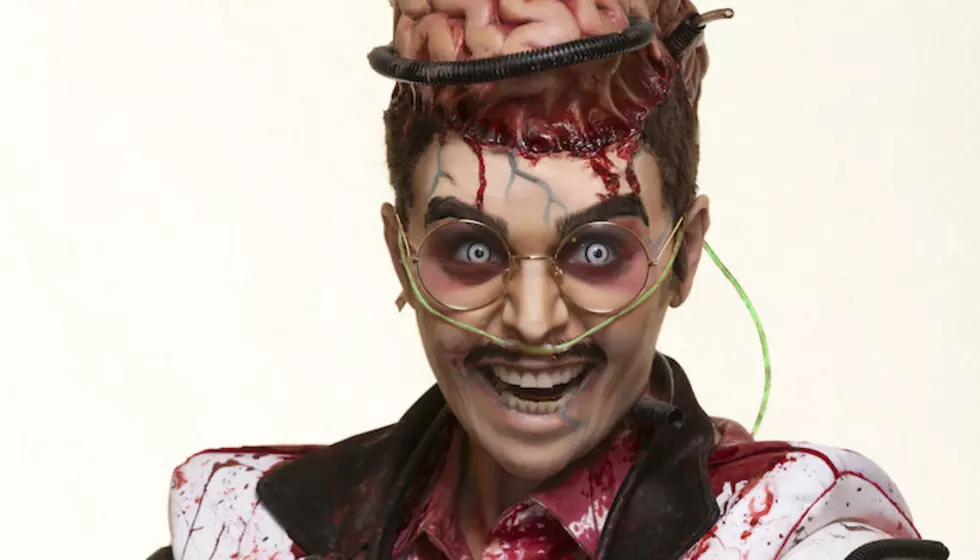 Landon Cider crowned Boulet Brothers' 'Dragula' season 3 winner
Photo by: Brett Saari
When the season debut of the Boulet Brothers' Dragula premiered Oct. 31, 2016, the hosts created a house of horrors for drag performers that didn't quite fit into the mainstream. Rather, these performers tested the limits of being a drag supermonster. Dragula has welcomed monsters of all walks of life to the stage to showcase their fears, strengths and art, including Landon Cider, the first drag king to be cast in a U.S. drag performance contest and to be crowned the winner.
As one of two women on the reality competition this season alongside Hollow Eve, Cider's creator Kristine BellaLuna consistently works her advocacy for equality, individuality and validity for assigned female at birth (AFAB) artists into her performances on what had previously been a male-dominated stage up until this season.
"Kings can reign just as fierce as queens," BellaLuna explains. "We share the same history and community involvement as queens and have since the beginning—and in some cases even longer. AFAB artists have a valid place on stages across the world, and [we] have talent and experiences to showcase beautifully entertaining stories. We are a community full of badass bitches filled with badass talents."
BellaLuna has acknowledged the weight of acting as a spokesperson for the LGBTQ+ and drag communities. "I went into the competition knowing that I had a heavy weight on my shoulders," she says. "[There is] an entire community to represent, and I don't represent the whole community. I could only look at what I do. I truly represent what I do best. [There was] this weight on my shoulders that I was excited about because I felt like I was finally ready. The introduction to the entire community that had been overlooked for centuries and most recently in the mainstream media for the last couple [of] decades."
"I can only do me and do me at my best. That alone is full of its own anxieties," she continues. "I hope that my best can encourage viewers and drag fans to find and support the endless sea of talent found in drag kings that fill our queer spaces across the globe. We are a community filled with so much diversity and talents that in no way can I fully represent [them]. I'm doing my best to represent my little corner of our brotherhood."
In a community that cements its foundation on the acceptance of all forms of life (and in turn, art and creation when it comes to drag performers), BellaLuna has felt the quake of both approval and objection by her peers and booking agents alike.
"Locally, I now enjoy the respect I've worked hard at earning from my peers and producers," she says. "I feel equal to my drag siblings in SoCal and have for quite some time. They saw past my genitalia soon into my entering [of] the drag scene because I think they saw my potential right out [of] the gate. Don't get me wrong: I still hear all about how people think drag kings are 'boring' or [that they] don't work as hard as [drag] queens. I enjoy a certain ego-filled joy in proving those people wrong every time I step onstage. There is also misogyny that is alive in the gay community, particularly in pay scales and stage opportunities. But keeping my [head] held high and work ethic strong, I've seen a slow but steady turn in my favor, and with the opportunity the Boulet Brothers have given me with adding the Dragula logo to my name, [I'm] also seeing a pay increase that more equally reflects what I deserve."
If you haven't taken the time to type the term "drag king" into your Google search bar, you may not fully understand what it entails or have an awareness of the misconceptions that drag kings overcome as performers. Regardless, BellaLuna as Cider faces these misconceptions head on and thrives. "[There are] preconceived concepts of what drag kings bring and don't bring to a drag space," she details. "We're reminding people that a self-aware woman can easily take part in this community. There's no reason only to play with gender on the female side of the spectrum. I know people often think that masculinity is a form in a different direction, but we're on the same spectrum. I think our current social status and awareness of beautiful androgyny and how it exists and nonconforming gender pronouns is a great step. [We're] also reminding people that drag exists in that same place, too. You don't have to be masculine or feminine or follow the rules that have been defined by society. Art is fun, so why not include gender in it?"
Outside of being a drag performer, BellaLuna has had to overcome obstacles, which partially influenced the inception of Cider. "My mom passed away, and I spent a lot of time taking care of her," she explains. "I ended up fighting oral cancer myself and then having a return-of-cancer scare a couple [of] years back that put me in a place where I found myself recording thank you and goodbye messages of love and gratitude because the outcome was so unclear up to the moment I was being wheeled into surgery again. Thankfully, the surgery removed [it], and no further treatment was necessary, so I once again entered remission.
"I have been an artist and performer all [of] my life and a fan of drag long before [it was] in mainstream media," she stresses. "I used to regularly attend weekly drag shows. [I] fell in love with the interactive, cabaret-style performances that combined art, comedy, drama and theater, finding its roots in queer spaces. After a fight with oral cancer, I wanted to get back onstage, and drag just felt like the right fit."
Despite her setbacks, BellaLuna has persevered through various societal issues and misogyny as a woman, but she's stood her ground. "I have to give so much credit of my career to my wife, Gabi," she continues. "She's been with me since before Landon's existence. She has to put up [with] a lot of my bullshit of being an artist. Her journey to put up with all [of] my bullshit is one for the book, so I'm grateful to have her by my side and her support."
To those who may have questioned BellaLuna's drag persona, her retort is simple: "If you doubted me when I began, I honestly don't care what you think of me now." Her successes on and off the Dragula stage have earned her a crown worth wearing and flaunting no matter where Cider leads her next. Landon Cider lives in the spotlight, and Kristine BellaLuna lives everywhere else. 
"I'm proud to represent lesbians outside of some fetishized concept or lesbians as a joke," she discloses. "I'm seeing so many more self-identified lesbians take on responsibilities of being in more mainstream media. Women have been artists, scientists, historians, architects and providers since the beginning of humankind. But traditionally, men write history and have written us out of it. Let's keep driving forward together because we are all we have, and we've done it for long enough. It's our time."
Landon Cider was crowned the first drag king to win a drag reality competition in North America on Oct. 28, 2019 after landing in the finale alongside Dollya Black and Priscilla Chambers. Cider was awarded the title of The World's Next Drag Super Monster and a $25,000 cash prize. You can catch up on the Boulet Brothers' Dragula season 3 on Amazon Prime here.
This feature originally appeared in AP #375 with cover star Melanie Martinez. The issue is available now here or below.