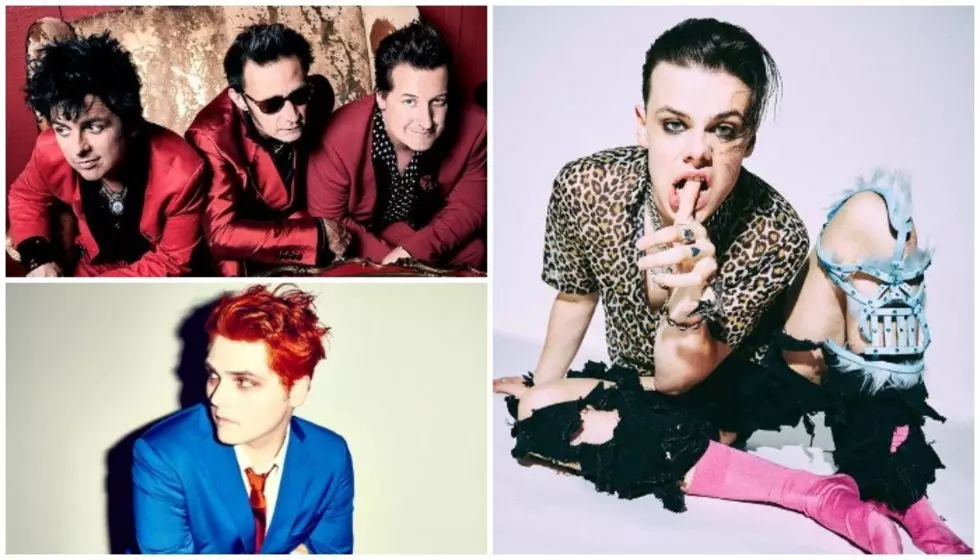 9 YUNGBLUD collabs we would love to see actually happen
[Photos via Green Day/Pamela Littky, YUNGBLUD/Jonathan Weiner, Gerard Way]
From Travis Barker to Imagine Dragon frontman Dan Reynolds, YUNGBLUD has quickly accumulated an impressive list of collaborators. With the "Tongue Tied" collab with blackbear and Marshmello dropping yesterday, we can't help but dream up a few more iconic collabs.
Check out our list of 9 YUNGBLUD collabs we'd love to see below!
1. War On Women
Between War On Women's furious riffs and YUNGBLUD's shared interest in fighting inequality, harassment and general oppression, they would complement each other seamlessly.
2. Gerard Way
Sitting down for an exclusive track by track of his underrated youth EP, YUNGBLUD revealed that it would be a "fuckin' dream" to work with Gerard Way, and we have to 100% agree. However, now that My Chemical Romance have made their triumphant return, we really wouldn't mind seeing a full collab with all of MCR.
3. Slowthai
Up-and-coming British rapper Tyron Frampton, otherwise known as Slowthai, shares the same raw, politically charged lyrics as YUNGBLUD. With the two having pretty similar messages, we'd love to see their combined forces in action.
4. Chase Atlantic
YUNGBLUD and Chase Atlantic both found themselves on the last full cross-country run of  Warped Tour in 2018. After Chase Atlantic revealed that they had worked a bit with YUNGBLUD over the course of that summer, we've been on the edge of our seats waiting for a collab.
5. Green Day
Having previously revealed how he's been influenced by Billie Joe Armstrong and the rest of Green Day, we can only imagine what magic would come from a collaboration of this magnitude. 
6. nothing,nowhere.
Similar to YUNGBLUD, nothing,nowhere. isn't afraid to use shocking lyrics to bring some much-needed attention to dark and often ignored topics. A collab like this would surely shed some light on crucial problems in our world today.
7. Post Malone
Post Malone has collaborated with a massive amount of artists, including Halsey, Ozzy Osbourne and more. We'd love to see what kind of magic YUNGBLUD and Malone could cook up in the studio given the incredible work they both already have under their belts.
8. Palaye Royale 
Could you imagine the theatrics of such a collab? From their similar no-fear approach to fashion and their daring attitudes to be different, bringing together Palaye Royale and YUNGBLUD is simply a must.
9. As It Is
We'd love to see YUNGBLUD and As It Is merge their eyeliner and lipstick powers to break down those gender stereotypes and toss stigmas out the window.