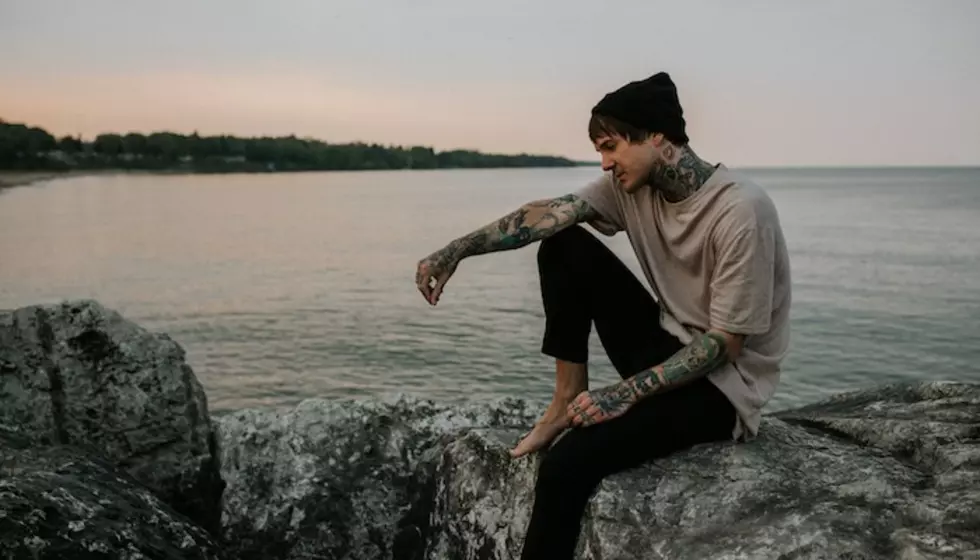 Craig Owens drops first Destroy Rebuild Until God Shows song in 9 years
[Photo by: Wendy Thibodeau]
Craig Owens of Chiodos and Destroy Rebuild Until God Shows (D.R.U.G.S.) has been rather inactive from the scene since the dissolution of the latter band in 2012.
Now, though Owens is back under the D.R.U.G.S moniker with a surprise new single "King I Am." Craig Owens started D.R.U.G.S. as a solo project back in 2009 and has now returned to that concept with this new song.
D.R.U.G.S originally dissolved back in 2012 after releasing just one album and a live EP when bassist Adam Russell left. Owens announced he would be returning to Chiodos. Shortly after Craig Owens' announcement, lead guitarist Matt Good, rhythm guitarist Nick Martin and drummer Aaron Stern all ended up announcing their departures as well.
At the time, they were working on a new album just a year after releasing their debut record.
Then, in 2017, rumors were stirring up that they may get back together. There was a potential reunion date in February 2018 being pushed by the band's Twitter account suggesting as such.
Unfortunately, though, the folks over at Substream did a deep dive into the rumors, and it turned out they were untrue.
Apparently, former members Nick Martin and Craig Owens had no idea who's responsible for the tweets, and didn't even know the account was active. Not only did they not have access to the account, but they were also both blocked by whoever took control of it.
The hacking incident occurred again with a similar rumor that D.R.U.G.S was coming back, but none of it was ever substantiated.
On Feb. 25, a Twitter user discovered a leaked photo of a single titled "King I Am" for the band marked for March 3, 2020 on Russian social media site VK. News made its way to Reddit where even more fans have started discussing the potential of a comeback.
And it seems the leak is correct. Owens has dropped a brand new song titled "King I Am" underneath the name D.R.U.G.S. In an interview with Forbes, Owens discussed his intention with D.R.U.G.S going back to being a solo enterprise but he is keeping his options open to add members in the future.
"Yeah! I do think that I'll introduce members later on, but right now my focus is just like it was when the first album was written," Craig Owens says. "The music matters the most. That's where my focus is at. After that, I'll start to figure out how to present it live. I don't want this to just be about me. It's about the music. That's all I really care about, and that's all I've ever cared about."
Owens also spoke about there being a next D.R.U.G.S album.
"I am writing the next D.R.U.G.S. album. I started writing it in early December. This song["King I Am"] was written in early December. It was produced by my friend Hiram Hernandez. I've been working really hard on the album and that's where my focus is."
"King I Am" is a powerfully aggressive song that Owens' uses to send a message.
"You're good enough, Owens says. "You need to press on, and you need to feel good about yourself in order to do that."
Check it out below.
To add even more clarification that this is Owens' solo project for now, Adam Russel and Matt Good chimed in on their own terms to say that they are not involved with the project.
Russel comments on AltPress' Instagram post regarding yesterday leak.
[Photo via Instagram][/caption]
In addition, former rhythm guitarist Nick Martin's reps have confirmed that he is not associated with the project's revival as well.
Owens also spoke about his mental health and life after Chiodos.
"At the end of Chiodos, I really needed to do things on my own terms. I was really depressed. I was kind of a shell of myself. I was wearing makeup, I was exhausted, and I was so lost. I had to take the last few years to take control of my career and leave the spotlight for a minute."
"King I Am" is an absolute ripper of a track and we're glad Owens is back and doing what he loves. Owens sent a special message to the fans regarding their support since the very beginning.
"Thank you. I feel so grateful for this opportunity in life and all the opportunities I've had leading up to now," Owens says. "I don't take it for granted. I'm forever grateful to be in the position that I'm in. I see you. I hear you. That's why I'm putting this song out. It's for you."
"This isn't about me, or money, or fame. It isn't about anything other than our connection. The support I've had from my fans since I first started... I didn't expect it. I never expect it. I don't expect people to, or demand that they enjoy anything that I do musically. I just feel blessed to be able to continue releasing music and have them continue to listen to what I have to say."
"King I Am" is currently on YouTube and can be purchased on Bandcamp here. It will be available everywhere on March 3.
Tell us what you think about D.R.U.G.S new track "King I Am" in the comments below!
[envira-gallery id="197607"]