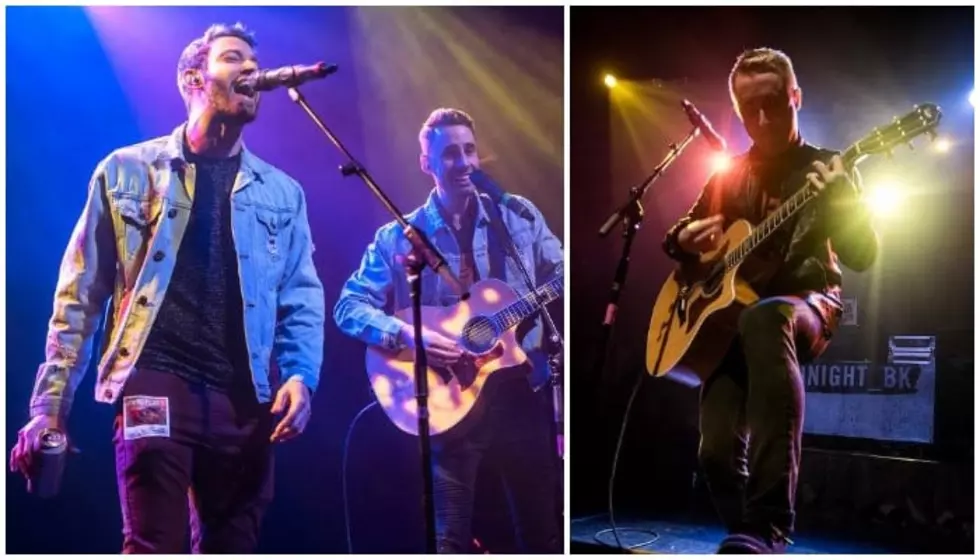 Emo Night Brooklyn release original song produced by Ryan Key—listen
[Photos via Emo Night Brooklyn]
Emo Night Brooklyn launched from a basement bar in Williamsburg, Brooklyn in January 2015, but despite its relatively new formation, the duo behind the brand have known each other for much longer. Their musical beginnings and years of friendship made way for their first original music, "Back In Time."

Alex Badanes and Ethan Maccoby have jammed together since middle school. Both have backgrounds in performing with Badanes playing in bands in high school and college and Maccoby singing on his college's a cappella team.

Fast-forward to present day where Emo Night Brooklyn have booked sold-out shows across New York City at venues such as Irving Plaza and Brooklyn Bowl. They've also expanded beyond the city to more than 40 other locations including Europe.

Having spent the past three years playing some of the scene's favorite tracks and coupled with their own music backgrounds, producing their own song felt like the perfect next step. Partnering up with friend and former Yellowcard frontman Ryan Key to co-write and produce the track was definitely an added bonus.

"It made sense to record some original music inspired by the genre we love," the duo says. "Yellowcard have always been one of our favorite bands, and since Ryan has become such a great friend over the past few years, it was a no brainer for us to ask him to co-write and produce a song with us."

The process of working with Key one-on-one in the studio was a dream come true for the duo.
[Photo via Emo Night Brooklyn][/caption]

"It was pretty unreal because we got a glimpse into Ryan's mind on how he goes about writing and recording a song, coming up with a melody, finding meaningful lyrics," the duo says.

"There were definitely times it was a little bit intimidating, singing and playing guitar in front of Ryan—him being such an amazing musician himself," they continue. "It was definitely cool getting tips from him as to techniques he uses on how to hit high notes, or finishing recording a verse and getting such positive feedback from him."

The feelings were mutual as Key revealed working with Badanes and Maccoby was a pleasure.
"I truly love working with my friends in a creative environment, so when Ethan and Alex approached me about helping them with a song I was just excited to work together in a new direction," Key says. "As always, working with the dudes was a pleasure. I was impressed with their ability in the studio, and the song came together very naturally."

Emo Night Brooklyn have plans to collaborate with other to-be-announced artists on future music, and as always, they'll be taking their party on the road including a first-time stop in Los Angeles.
Check out "Back In Time" and their current list of dates below.
U.S. dates:
08/10 – Detroit, MI @ Saint Andrews Hall
08/17 – Berkeley, CA @ Cornerstone
08/17 – New York, NY @ The Booze Cruise
08/18 – Santa Cruz, CA @ The Catalyst
08/24 – Asbury Park, NJ @ House of Independents
08/25 – Boston, MA @ Brighton Music Hall
08/31 – Philadelphia, PA @ The Fillmore
08/31 – Washington, DC @ Union Stage
09/07 – Long Island, NY @ Amityville Music Hall
09/13 – Los Angeles, CA @ Teragram Ballroom
09/14 – San Diego, CA @ House of Blues
09/29 – Nashville, TN @ Exit/In

Europe dates:
08/10 – Berlin, Germany @ Musik and Frieden
08/23 – London, England @ Koko