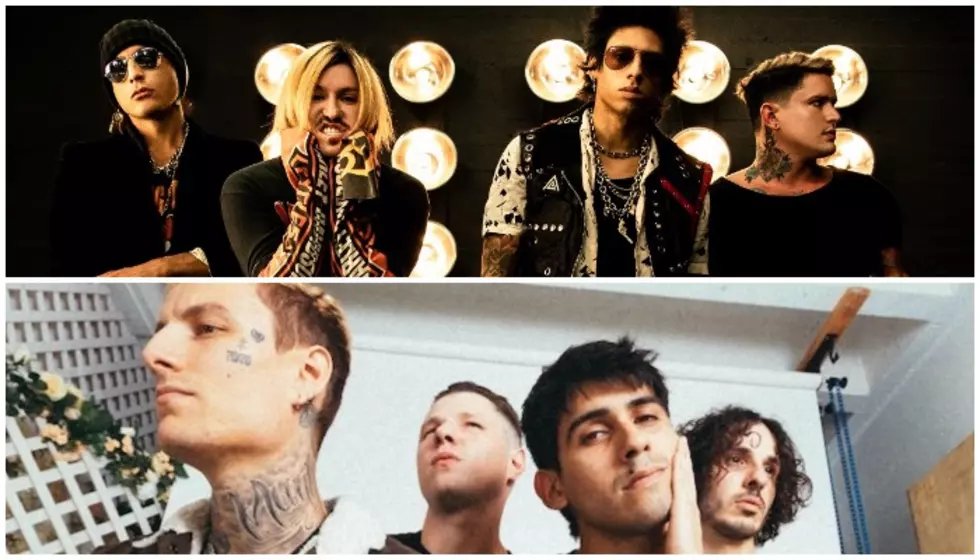 Escape The Fate, Crown The Empire and more join Slam Dunk 2021 lineup
Due to the COVID-19 crisis, a lot of concerts and events have been rescheduled this past year. For Slam Dunk, organizers have pushed back the festival not once, but twice already. Finally, last month, Slam Dunk organizers confirmed that the 2021 festival is now happening this fall.
Now, the official lineup for the new Slam Dunk dates has been revealed. Escape The Fate and Crown The Empire are among the acts joining Slam Dunk 2021. However, a few of the previously confirmed artists are no longer able to play the festival this year.
Just a few weeks ago, Slam Dunk ticketholders learned that the festival is now happening Sept. 4-5. Originally, Slam Dunk was set to take place in Leeds and Hatfield May 23-24, 2020. However, the COVID-19 pandemic quickly impacted those plans. At first, organizers postponed Slam Dunk to Sept. 5-6, 2020. Then, the festival was soon pushed back again to May 29-30, 2021.
Last month, Slam Dunk organizers finally offered an update on the festival's plans for this year. In a statement, they reassured ticketholders they are doing everything they can to make the festival happen this year.
"Currently, we are waiting for more government guidance on when events can return and when we know that we will take the action required," the update read. "We are absolutely determined to not let you go another year without a festival. Please bear with us and we thank you for your patience."
Then, at the end of February, Prime Minister Boris Johnson unveiled England's four-step plan to ease out of COVID-19 restrictions. If all goes according to plan, the country could be completely out of lockdown by late June.
Due to these plans, Slam Dunk 2021 is unable to happen this May. So, organizers have pushed the festival to this fall. Slam Dunk North is happening on Saturday, Sept. 4 at Temple Newsam while Slam Dunk South is scheduled for Sunday, Sept. 5 at Hatfield Park.
Now, Slam Dunk has unveiled the official lineup for the September festival. Sum 41 and Don Broco are still this year's headliners. As well, Escape The Fate, Crown The Empire, Malevolence, Hacktivist and Snuff have joined the Slam Dunk 2021 lineup. However, the change in dates means some bands are no longer able to play at the festival.
The Wonder Years, Billy Talent, the Used, Motion City Soundtrack, 3OH!3, Code Orange and Young Guns are no longer playing Slam Dunk this year. However, We Are The In Crowd still plan to reunite for the festival in September. Before all of the postponements, the band asked fans to help them choose their comeback setlist for Slam Dunk.
here
Slam Dunk's latest announcement follows a slew of changes in the U.K. over the past few weeks. At the end of February, Reading & Leeds Festival confirmed it is still happening this August. In fact, after England's COVID-19 restriction plans were announced, Reading Festival completely sold out with Leeds Festival not too far behind. However, the Reading Borough Council says "nothing has been agreed" in regards to the festival happening this year.
Meanwhile, Glastonbury has already announced it will no longer be happening in 2021. As well, Neck Deep just rescheduled their U.K. and Ireland tour with nothing, nowhere. and Higher Power to January 2022.
What are your reactions to the new 2021 Slam Dunk lineup? Do you already have tickets for the festival? Let us know in the comments below.