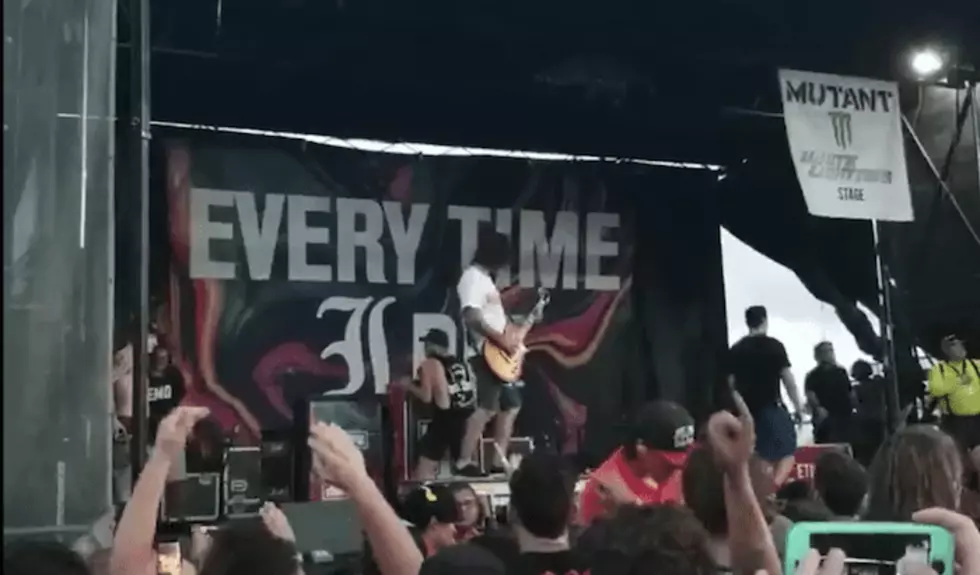 Watch Every Time I Die guitarist play while stage dismantled behind him during final Warped Tour set
Pennywise might have played the last set at the last show of Vans Warped Tour forever, but Every Time I Die weren't going to end their set without kicking and screaming.
Every Time I Die were the last band besides Pennywise to play the final show of the cross-country run. After their set ended, Jordan Buckley returned to the stage to play an extended outro to "Map Change" on guitar. While he was performing, the crew was actually dismantling the stage around him.
Buckley's performance went on for more than 10 minutes, but it wasn't as long as he anticipated to play.
"I wanted to get to 8:31 so I could tell Pennywise that, sorry, but we were actually the last band to make noise at [Vans Warped Tour]," Buckley joked on Twitter. "Stage hands gave me the hook at 8:18."
Buckley later went on to tweet about how much the moment meant to him, also sharing a video of him performing.
"I will think about this on my death bed. And I guarantee I won't not smile," he wrote. We cannot handle all this Warped Tour sadness; it's making us cry.
See how fans and fellow Warped Tour artists reacted to Buckley's touching performance.
The Every Time I Die Twitter account also tweeted a super-sappy post about Warped Tour that is impossible to read without crying.
Warped Tour ending has been emotional for everyone in the scene, and the festival left attendees with a few inspiring words after it was all officially over. The final run of Warped Tour included performances from bands such as Waterparks, Palaye Royale, State Champs and many more.
What did you think of Every Time I Die's final performance? Let us know in the comments.