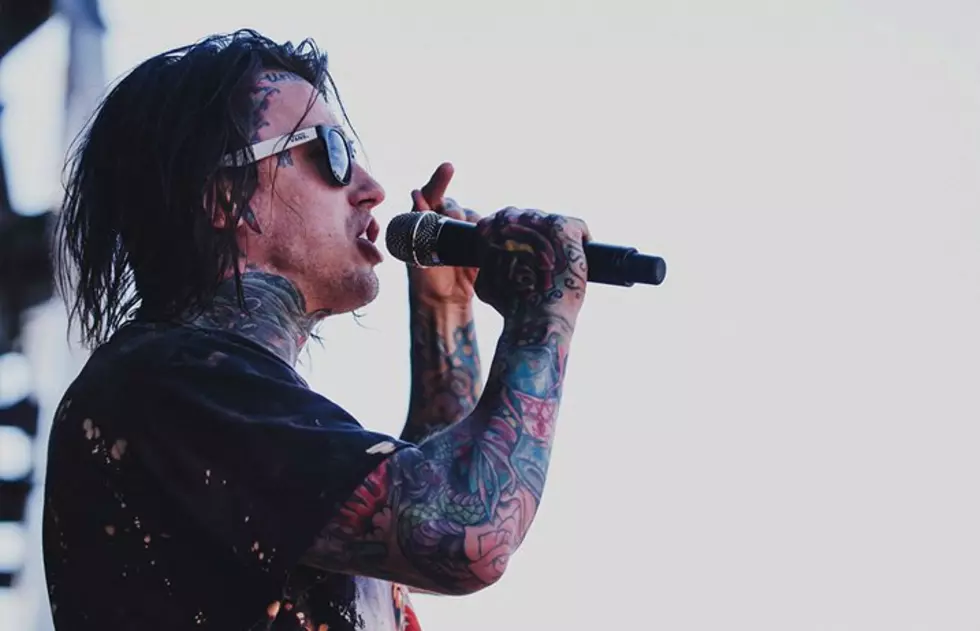 Falling In Reverse and drummer Ryan Seaman appear to have parted ways
It appears Falling In Reverse and drummer Ryan Seaman have parted ways, but neither party has directly confirmed the split.
On March 29, frontman Ronnie Radke tweeted: "@Ryanseaman is a fucking coward." The tweet is no longer available.
On April 6, Seaman announced that he will be filling in on drums for Icon For Hire's upcoming tour.
While none of those dates directly overlap, Falling In Reverse's tour dates are scattered throughout the Icon For Hire tour.
This weekend, Falling In Reverse hosted a meet and greet signing at Hot Topic in Hollywood, Calif. In a photo later posted on the band's Twitter, Seaman is not present.
To promote the band's new album, three Falling In Reverse members (Seaman, Radke and guitarist Christian Thompson) went dark on social media and unfollowed everyone on Twitter. When Radke started following others again, fans pointed out that he and Seaman did follow each other back. They still do not follow each other. Additionally, Seaman has not promoted the band's new album, Coming Home, which released last week via Epitaph Records. 
Read more: Falling In Reverse are up to something - UPDATED
Fans originally thought something was up when Falling In Reverse left Pierce The Veil's Rest In Space tour three dates early. Rumors suspected that Seaman and Radke had a falling out, which caused the band to exit the tour. 
Seaman joined Falling In Reverse in 2011 after he left the Bigger Lights.
Falling In Reverse were just added to select dates of Warped Tour.
AP has reached out to both parties inquiring about the rumors.
Icon For Hire tour dates:
5/3 — Kansas City — The Riot Room

5/4 — Denver — Larimer Lounge

5/5 — Colorado Springs — The Black Sheep

5/6 — Salt Lake City — Liquid Joes

5/9 — Seattle — Funhouse Lounge

5/10 — Portland — Dantes

5/11 — Sacramento — Goldfield Trading Post

5/12 — Anaheim — Chain Reaction

5/13 — San Diego — House of Blues — Voodoo Room

5/15 — Las Vegas — Beauty Bar

5/16 — Mesa, Az — Nile Basement

5/17 — Tucson — The Rock

5/18 — El Paso — Lowbrow Palace

5/19 — San Antonio — Fitzgeralds

5/20 — Dallas — House of Blues — Cambridge Room

5/21 — Houston — House of Blues — Bronze Peacock

5/23 — Baton Rouge — Spanish Moon

5/24 — Birmingham — The Syndicate Lounge

5/25 — Orlando — Backbooth

5/26 — Atlanta — Masquerade — Purgatory

6/8 — Indianapolis — Emerson Theater

6/9 — St Louis — The Duck Room — Blueberry Hill

6/10 — Decatur, Il — Macon County Fairgrounds

6/11 — Pontiac, Mi — Pike Room

6/13 — NYC — Studio — Webster

6/14 — Hamden, Ct — The Space

6/15 — Philadelphia — Voltage Lounge

6/16 — Cambridge, Ma — Out of the Blue

6/17 — Lancaster, Pa — The Chameleon

6/18 — Richmond, Va — Broadberry

6/20 — Pittsburgh — Cattivo

6/21 — Columbus, Oh — Skullys

6/22 — Chicago — Beat Kitchen

6/25 — Minneapolis — Triple Rock 
Falling In Reverse tour dates:
Apr 08    Hot Topic Meet & Greet    Hollywood, CA

May 07    Carolina Rebellion Charlotte, NC

Jun 23    Vans Warped Tour    Las Vegas, NV

Jul 13    ROCK USA Oshkosh, WI         Tickets

Jul 14    Chicago Open Air Festival Bridgeview, IL    

Jul 22    Rise Above Fest Bangor, ME

Aug 06    Vans Warped Tour    Pomona, CA