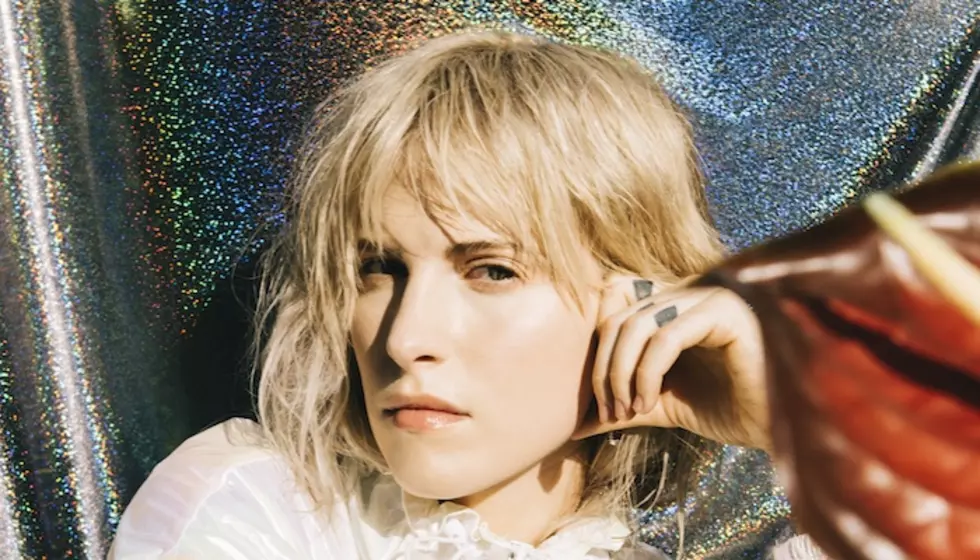 Fans think they've found the release date for Hayley Williams' new album
[Photo by: Lindsey Byrnes]
It looks like the release date for Hayley Williams' rumored new solo album Flowers For Vases may have just been leaked.
This week, eagle-eyed fans spotted one particular clue that has led to theories the speculated new album is arriving sooner than expected.
At the end of last month, various cryptic clues emerged that led to speculation Hayley Williams is planning to release another solo album called Flowers For Vases. Along with her website redirecting to flowersforvases.com, fans began receiving mysterious packages from Williams with doll parts hidden inside.
Then, after debunking one Flowers For Vases Instagram page, Williams posted another cryptic clue that eventually led to the release of her new song "My Limb." The Paramore frontwoman hand-delivered a CD of the song to a fan's Nashville home and asked them to leak the new track to the whole world.
Of course, the release of "My Limb" has caused even more theories that Williams has a new full-length album on the way. This week, Williams shared a few more clues that fans believe confirm she has even more music to release.
On Tuesday, she posted a graphic of a wardrobe with haunting eyes peering through the glass. She captioned the Instagram post with "all my demons on display." Williams has a history of captioning her social media posts with unreleased lyrics. Prior to the release of Petals For Armor's lead single "Simmer," she shared an Instagram photo with lyrics from the song. As well, she did the same thing just before releasing "My Limb" last week.
 

View this post on Instagram

 
Williams has also shared a haunting new black and white video of her playing the piano in a dark room. The caption "whatever it is or whatever it was" has many fans convinced these are more lyrics from her unreleased work. The same music also plays on flowersforvases.com which previously had the audio to "My Limb."
 

View this post on Instagram

 
Flowers For Vases
Twitter
@ode2trees
Additionally, fans think they've found the release date for Flowers For Vases. According to Genius, the album is reportedly going to arrive this Friday, Feb. 5. As well, the website has updated the album listing with the reported tracklisting.
According to one source, which was shared on the r/Paramore Reddit thread, Flowers For Vases has 14 tracks including "My Limb" and "Find Me Here." The latter song appears on Williams' Petals For Armor: Self-Serenades EP which was released last year. As well, some of the other reported tracks on the album are "Asystole," "Just A Lover" and "Good Grief."
Reliable insider on ATRL (pop culture forum)...I believe it tbh from r/Paramore
Do you think Hayley Williams' new solo album will arrive this Friday? What are your reactions to her new song? Let us know in the comments below.