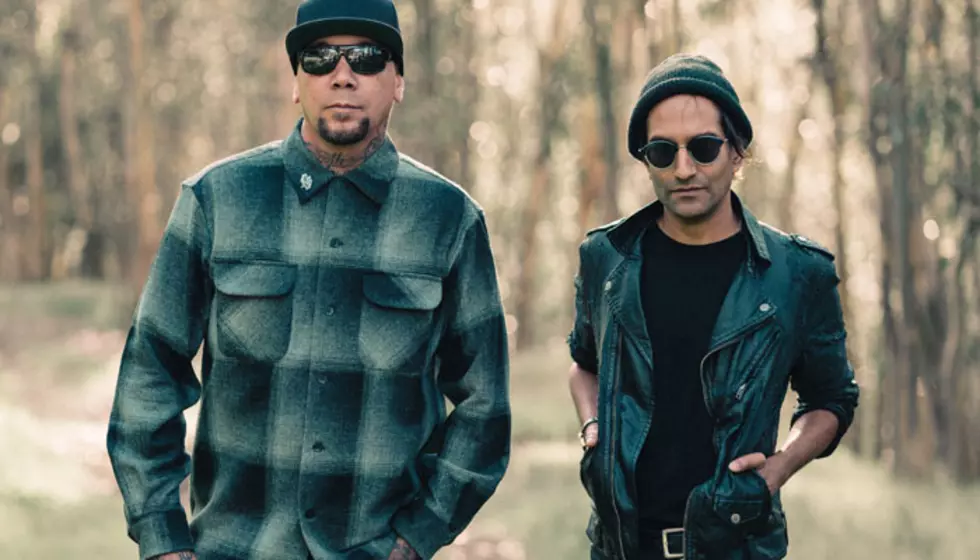 Belle And The Dragon (Flyleaf, P.O.D.) serenade the "Trees" – watch
On their debut record, Birthrights, Belle And The Dragon blade down the boundary between inspired alt-rock and breezy pop. Of course, you might consider this no big deal for any new band. However, at the core of the group are Flyleaf guitarist Sameer Bhattacharya, bassist Pat Seals and P.O.D. drummer Wuv (Noah Bernardo). Please take this moment to delete all those preconceived notions about them, because these two are onto something great.
Today AltPress is premiering an acoustic video for BATD's "Trees." The original recording on Birthrights has some action to it, but this version shows how deftly the band can navigate arrangements. Bhattacharya considers the song as the epicenter of the album. "It addresses feeling the safety and contentment of cultural and ideological blinders," he says, "accepting what is being offered without asking about or exploring what is outside of our comfort zone."
Bhattacharya is crystal clear how Belle And The Dragon's course may confuse fans aligned with the members' other bands. "Understandably, people will develop preconceived ideas of what they think Belle And The Dragon should be," he begins. "But why should we strive to live up to someone else's expectations of what they think is acceptable? Create something interesting. Inspire people. Make them mad. Make them feel. It's impossible to please everybody, so don't try. Make art that moves you, because if you don't feel it, no one else will."
On the other hand, Belle And The Dragon didn't necessarily discuss what they weren't going to do, either. Bhattacharya and producer Dave Hidek (Flyleaf, Zao, Sting) approached every song with the intention of it naturally progressing.
"When writing and recording Birthrights, there wasn't a discussion about what it wouldn't or shouldn't sound like," he says. "Dave Hidek and I approached each track individually, capturing what we thought made each song its best. We both agreed we could take liberty with the instrumentation and sonic texture of each song, because the vocals and lyrical themes would ultimately be the glue. With Belle And The Dragon, I knew I didn't want to be locked into the artificial constructs of a particular sound or genre. I just wanted to write and record songs that I thought were cool."
Listeners coming to Birthrights will be impressed by Belle And The Dragon's breadth. "Wrestle With The Devil" feels like a classic-glam take on biker-bar rock. And "Bravery" is evidence that the modifiers "post-punk" and "sunny" aren't mutually exclusive. It's all part of Bhattacharya's plan: following his muse at all costs.
"I get bored easily," Bhattacharya admits. "On the next Belle And The Dragon album, I'm sure there will be nods to moments on Birthrights, but I'm not sure if that will be intentional or if it's because I like the way something feels. It may be my rebellious spirit or my contempt for expectations, but I hope every album is very different. I'm sure someone somewhere will be furious about that."
Check out the acoustic version of "Trees" below. And get your copy of Birthrights here.