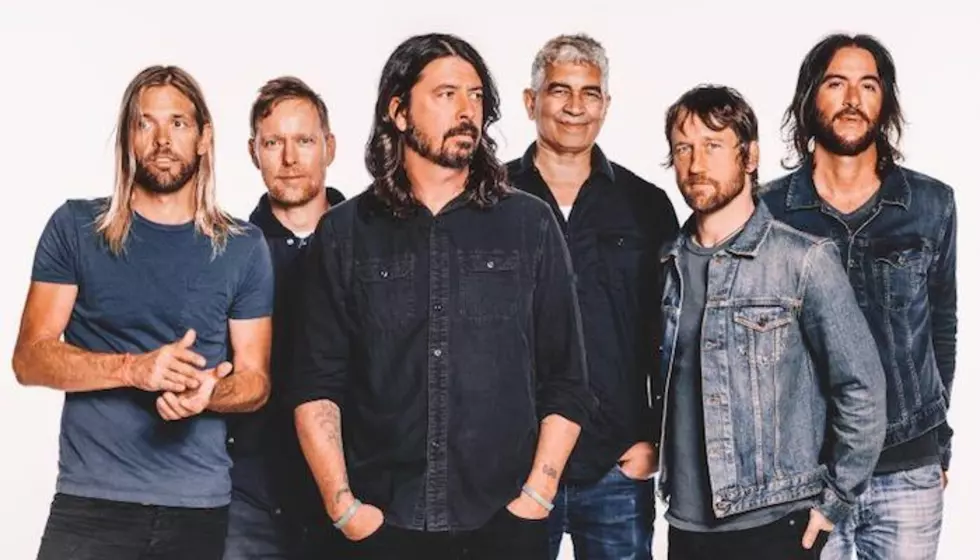 Foo Fighters quietly drop EP featuring Dead Kennedys, Arcade Fire covers
The Foo Fighters have released a surprise EP "01070725" that features a few live recordings, some demo songs and a few covers. 
The new record features five songs in total. 
Foo Fighters released live covers of Arcade Fire's "Keep The Car Running" and Dead Kennedys' "Holiday In Cambodia" on the EP. Both of those were recorded in 2007. 
The band have yet to post on social media about the new EP, so it showed up on streaming services as a surprise. 
You can listen to the new EP "01070725" below. 
While we appreciate the EP, we're really excited about the possibility of getting a new Foo Fighters record next year. The band haven't released an album since September 2017's Concrete and Gold. 
The band's drummer Taylor Hawkins recently  told fans that the band plans to release their tenth studio album next year in an interview with RockSound. 
He said they hope "to have a new record by next year". 
"From what I've heard from our fearless leader Dave Grohl, he has a lot of demos that he's worked on and I think we'll start once this tour is over," he said. "I think not too soon after that we'll start the process of putting the songs together as a band." 
Hawkins also talked about songs he'd like the band to cover, saying "anything by Lil Pump". 
"I just think we could nail that. I feel a connection to his music and I feel like we'd just kill some Lil Pump," he said with a wink, which means he was probably kidding but we'd still like to hear what they'd come up with. 
Check out the full video below. 
More Foo Fighters news
The Foo Fighters just made Anthrax guitarist Scott Ian's son the happiest kid alive as they brought the eight-year-old on stage to perform with them during a gig. 
Ian's son Revel joined the band during their set at the Bourbon & Beyond festival in Louisville, Kentucky. 
Ian shared the moment on Instagram of his son jamming out on guitar to "Everlong" with his "favorite band". 
"Because it's a special occasion, we're going to bring out somebody that's going to play guitar with us on this song," Dave Grohl said to the crowd before introducing Revel. 
Revel was a natural, sporting a sleeveless denim jacket covered with studs and throwing out the bull-horns like a natural. 
"Proudest dad moment ever? How about when your son gets to join his favorite band on stage to play Everlong in front of 40,000 people and NAILS IT! Thank you Dave, Taylor, Pat, Nate, Chris, Rami, Gus, Kerwin, Sean, Patrick, Simone and everyone else on the Foo crew for being the best!!! " Ian captioned his video of the moment. 
You can see Revel kill it with the Foo Fighters in the video below. 
Also at the gig, Grohl joined Squeeze onstage to perform one of the old-school rock band's most iconic hits.
He played percussion during the band's performance of "Black Coffee In Bed" and looked mighty happy doing it. You can see some videos from the show below.
Also, Hall & Oates performed at the festival where Grohl was seen jamming out in the crowd to. He also posed for a photo with the band, which they later posted on Instagram. You can see those posts below.
 

View this post on Instagram

 
What do you think of the surprise Foo Fighters EP? Sound off in the comments down below!
[envira-gallery id="199143"]