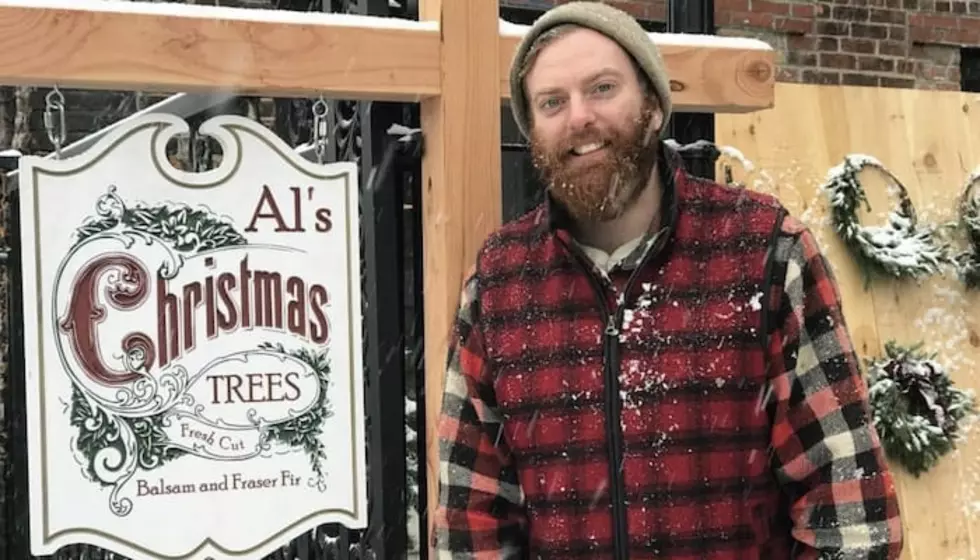 Four Year Strong's Alan Day on how he started a Christmas tree farm
[Photo courtesy of Alan Day]
Alan Day is tending to his horses when he picks up the phone to AP. The Four Year Strong frontman might be best known for bringing the good times with his beloved pop-punk outfit, but over the years Day and his wife have been building a life around something far removed from the alternative music scene: Christmas trees.
"I was at a friend of mine's wedding, and my buddy Goose from Polar Bear Club told me he was getting a job at a place that sold Christmas trees, just for fun," Day begins. "I thought it sounded like the greatest job ever.
"I looked online to see if there were any jobs going selling trees for the season, because I'm always home around Christmas, but it was September at the time, so no one was posting anything. But what I did find was lots of information as to how to sell your own trees. I pitched the idea to my wife, thinking she'd tell me I was crazy, but she loved the idea, so we started up, and we've been doing it ever since."
Initially, Day and his partner just sold Christmas trees retail: They'd buy from a farm, before selling them in parking lots during the holidays. But an unlikely opportunity presented itself to the couple to take their agricultural ambitions to the next level, and they rolled with it, purchasing a farm where they could grow their own trees and flowers to sell.
[Photo courtesy of Alan Day][/caption]"It fell in our laps a couple of years ago, because a friend of a friend was selling their grandparents' farm," Day explains. "It was a lot of land, so we went to check it out not really expecting to go for it, but we did. We planted our first batch of trees last spring, and we'll plant more in the new year. We're not selling our own trees yet—we won't be for another four or five years, because they take that long to grow—so we're still selling retail. But we're building a life around this thing, for some reason, and at its peak, we're hoping the farm will have up to 10,000 trees."
It's a great project for Day, because the vocalist/guitarist has always loved Christmas, and it's a combination of the family feeling, festive music and annual Four Year Strong holiday show that he's most looking forward to this year.

"I'm not religious, so it's about getting together with people, exchanging gifts and eating good food," Day says. "We host a Christmas Day dinner at our farm for our families, and it's all about having a good time and listening to great Christmas music. As for the show, it's gonna be the same as always: It'll be a great hometown show where we'll play some deep cuts and have an awesome time. We've got a super lineup this year—I'm really excited about it. It's a fantastic way to kick off the new year."
Four Year Strong's annual holiday show takes place Dec. 29 at The Palladium in Worcester, Massachusetts. Knocked Loose, A Loss For Words, Keep Flying and Smartbomb will join the band for the festive show. Tickets are available now.
The band's latest record, Some Of You Will Like This, Some Of You Won't, is out now via Pure Noise.