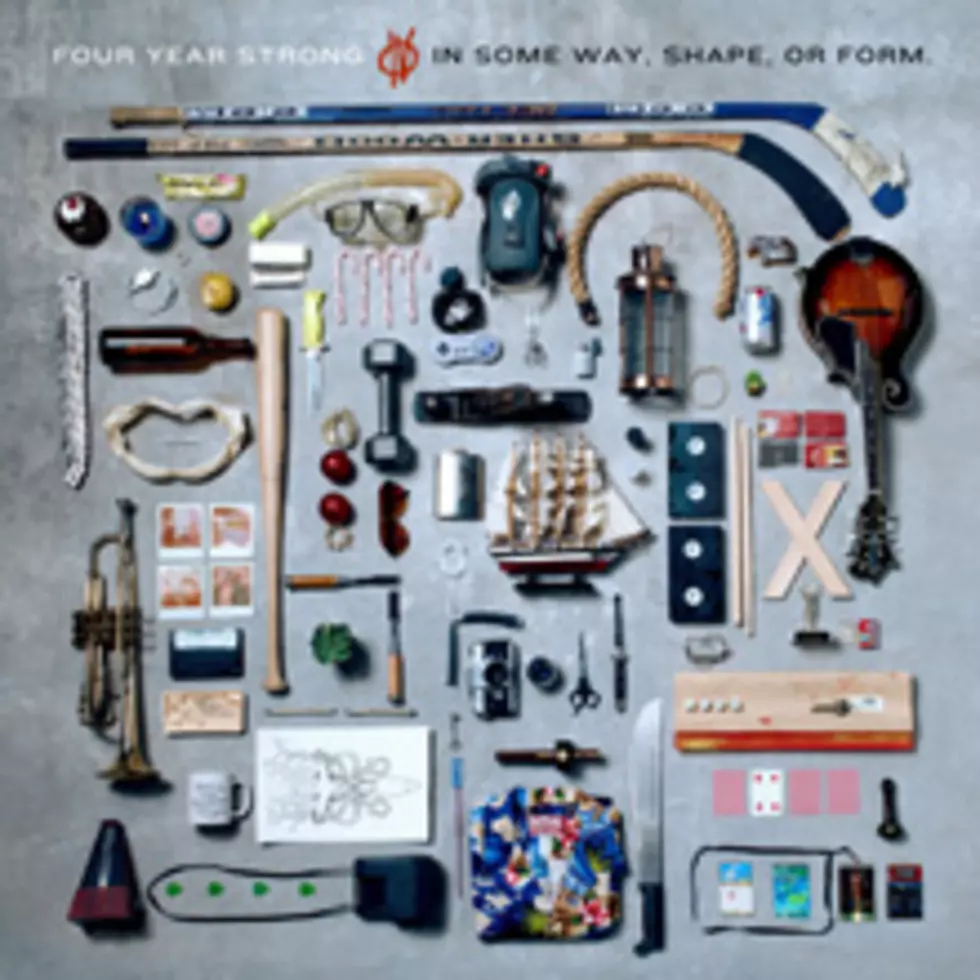 Four Year Strong – In Some Way, Shape, Or Form.
Four Year Strong
In Some Way, Shape, Or Form.
This review originally ran in AP 281.
"We've said it before, and we'll say it again," holler the members of Four Year Strong in a powerful gang vocal, "Rise or die trying." That lyric, from the punky "Fairweather Fan," has been FYS' motto for years, as well as the title of their 2007 breakthrough album. It's also their way of saying, "Either you're with us or you're against us." The surprisingly chameleonic Worcester, Massachusetts, quartet have yet to rest on their laurels or duplicate past successes, and that trend continues with In Some Way, Shape, Or Form., an album sure to turn off as many old FYS fans as it is to attract new ones in their place. Or, as vocalist/guitarist Dan O'Connor bellows in "Falling On You," "Brace yourself for the backlash."
ISWSOF is first and foremost a rock record, tailor-made to get the band rubbing elbows with rock-radio acts. ("Heaven Wasn't Built To Hold Me" would fit neatly on a playlist comprised of Breaking Benjamin and Skillet, which is weirdly disconcerting.) Producer David Bendeth has plenty of experience getting songs ready for radio—his mix credits read like your local active-rock station's playlist (the Red Jumpsuit Apparatus' "Face Down" and Paramore's "Misery Business" are among his many successes). While this ensures an impressively muscular sound, it sucks any nuance out of the record—the goal of every single song seems to be to punch the listener in the head. When a quiet piano and soulful vocals begin the closing track, "Only The Meek Get Pinched. The Bold Survive," you'll probably do a double take the first few times, as it sounds so unlike everything else on the album.
While the guitar interplay between O'Connor and Alan Day is significantly reduced, their vocal exchanges remain plentiful, and they turn in some positively spectacular harmonies on the Foo Fighters-influenced "Stuck In The Middle." The band's popcore roots are still present, too, but they're equally exciting ("Fairweather Fan") as they are pandering ("Unbreakable," with its rhyme scheme-abandoning opening lyric "This is for the losers and the rejects/This is for the cowards and the cynics/You are the reason you're to blame/You're not gonna drag me down with you"). "Fairweather Fan" and Bring On The World" are sonic sore thumbs, having been only mixed by Bendeth; both were recorded by Shep Goodman and Aaron Accetta, a pair of producers who work primarily with pop acts such as Forever The Sickest Kids and He Is We. But ironically, it's these two songs that aren't as polished as the other 10, with more realistic (occasionally even slightly out-of-tune) vocal and guitar sounds.
FYS are still trying to figure out just who they are and who they want to be musically, and ISWSOF accurately represents that struggle. There are ideas that they'll probably regret in six months' time, just as there are songs they'll be playing off this record till the day they die—specifically "Just Drive," an absolutely phenomenal piece of moody alt-rock that seems to be a bit of an homage to Deftones' "Be Quiet And Drive (Far Away)." It's moments like this that make us excited for whatever Four Year Strong will attempt next.
Decaydance/Universal Republic http://universalrepublic.com/home/