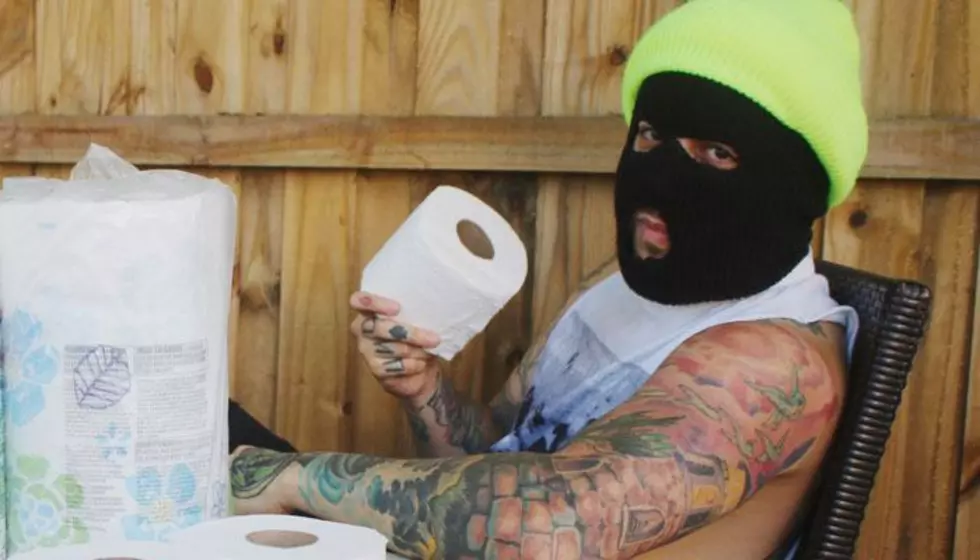 Frank Fanelli starts Nomad Project to offset crew members' lost wages
You probably don't know Frank Fanelli, the man behind the Nomad Project. But you were probably in the same room with him at some point. Maybe you saw him fronting his band, the World We Knew, in the early noughties. Perhaps you bought some merch from him when he was working for bands for five years on Warped Tour. Later on, there's a good chance you saw him in the role of tour manager or lighting director for one of your favorite groups.
What bothers all of us is that we're not going to see him this spring, either. Fanelli was slated to be the tour manager for Black Veil Brides during their planned co-headlining tour with In This Moment. The coronavirus pandemic has brought a moratorium on concert tours of all sizes. Fanelli has no place to be. And because of that, he started the Nomad Fundraiser For The Touring Crew.
"I sat around for two days really depressed," Fanelli says after learning about the ITM/Black Veil tour cancellation. "Then I took a shower one morning after waking up, and I had the realization that, 'Holy shit. I haven't seen anybody do anything about this yet.' Besides laugh and post a meme that says this sucks. We could easily put something together."
The plan was this: For every $20 donated to the Nomad Project, supporters would get a "Merch Daddy" (a nickname given to him by friends on Warped) shirt with an image of Fanelli selling toilet tissue and sanitizer at a 1,000% markup. No part of the donation money would pay for the making of the shirt. As owner of a shirt company (CAT Clothing), he would cover the price out of his own pocket. ("This is me eating the cost of T-shirts to make you want to donate more.") At the end of March, the donations would close, and the process of disbursement will commence.
During Nomad Project's first day on GoFundMe (Monday, March 16), Fanelli made his goal of $10,000 in six hours, topping out around $13,000. He publicly thanked everyone on the site and said he was going to move the goal to $20,000. His "reward" was waking up the next morning, checking his inbox and learning that GoFundMe had shut down his project.
"It was incredible how long the terms were in that email," Fanelli reveals, his tone still feeling the sting. "It wasn't as long as a CVS receipt, but it was long. When I woke up Tuesday morning, GoFundMe had shut it down sometime in the first hour I was awake."
Fanelli knew Nomad was too important to shut down. There were 40 of his friends who were out of work. He couldn't figure out the reason why GoFundMe shut him down. There was no contact person, just a generic email address and more legal fine print than a divorce contract. He reached out to high-profile friends, who took to social media to call out GoFundMe. A business associate of Fanelli's suggested he reach out to Warped Tour founder Kevin Lyman. Maybe he had a contact there or some pertinent advice. Lyman got on the phone and talked to Fanelli. And the next day, Nomad was back in business.
"Kevin gave me some nice words of advice to potentially get a hold of [GoFundMe] or say something in the correct vein to get a hold of them," he explains. "They weren't answering my emails. I CC'd Kevin and his nonprofit organization, Unite The United. I told [GoFundMe] I wished to continue with the benefit. And the next day, I woke up and GoFundMe sent an email basically saying, 'You're fine.' [Laughs.] The first email they sent me that told me I was screwed was bland. The second one saying we were good was equally as bland!"
Fanelli and his partner Tatiana Danielle (who also worked for Warped) are going through all the emails of dozens of people who need help. The duo is sending out a form that asks for a name, what tour they were scheduled to be on and references as to who hired them. As this article was published, music fans and supporters have ponied up over $17,000 in support of Nomad. Fanelli knows he can't fix the situation. But if he can help pay someone's utility bill for a month, it's all worth it.
"I know so many people personally who are affected by this," Fanelli says. "But now we're getting emails from strangers. That shows me that [Nomad] is working in a way that I want it to work. Because everybody's hopefully going to get help. Hypothetically, if I can give everybody $100, they can get groceries for a week, and that was $100 they didn't have. But the sky's the limit. Anything can happen.
"I'm not doing anything else," he says with conviction. "I'm not tour managing anymore, and we're not doing merch because we can't. Until that comes back, this is my job now. And I don't mind doing it because one, I'm helping people. And two, I'm helping people in my same position. And that's why I care."
One thing that Fanelli has marveled at is the support of the musical communities he came up through via the scene and Warped Tour. Warped ending may give pause to the future, but the people who attended and supported their own scenes never forgot what it meant to them.
"I've been going to underground shows since 2001," he says. "Every person I have ever loved and had a solid relationship with in my life has come from this music scene that I have been in for this long. Whether it's heavy metal and hardcore, punk rock, pop punk or any of the subgenres, whatever. Everybody till this day is still part of that same scene I've been with since I was a kid. As we get older, we get closer. We still have that same bond. With [the] Nomad Fund, everybody knows we're trying to make that community easier and better for ourselves."
To donate and learn more about the Nomad Project (and get your own Merch Daddy swag on), point your browser here. And don't forget to wash your hands.