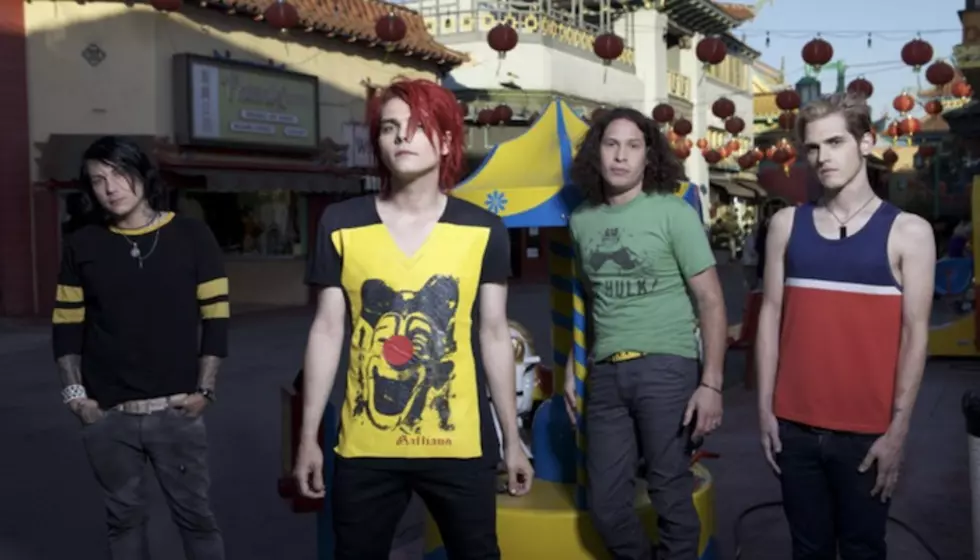 Frank Iero just shared this major MCR 'Danger Days' throwback
[Photo via Spotify]
Frank Iero shared a massive throwback to My Chemical Romance's Danger Days on Friday.
Iero took to social media to post some original sketches of Fun Ghoul's iconic symbol.
Back in 2010, MCR released their fourth studio album Danger Days: The True Lives of the Fabulous Killjoys. Along with the LP, they also introduced the comic series Fabulous Killjoys. Within the comic series, there was a character known as Fun Ghoul who was portrayed by Iero.
Fun Ghoul was recognizable by his green ray gun and long black hair. He was also always clad in a vest, black and yellow striped shirt and a wristband. Throughout the series, the character was known as caring, rebellious and a great shooter. In the end, Fun Ghoul and the rest of the Killjoys died after saving The Girl.
Now, Iero has shared some early sketches of Fun Ghoul's symbol. On July 31, he took to Instagram to reveal he found an old notebook. After flipping through some pages, he discovered some early versions of the character's logo.
Fun Ghoul's symbol ultimately ended up being something similar to the early sketches. However, the horns don't appear on the character's final symbol.
"found an old notebook the other day...," Iero says.
Last week, it was announced that a new Killjoys comic is on its way. The Killjoys are making more noise in a six-part comic book series The True Lives Of The Fabulous Killjoys: National Anthem. The first issue will be released on Oct. 14 through Dark Horse Comics.
The comic series is based on the original idea that inspired the Danger Days album. This time, however, it focuses on former Killjoy member Mike Milligram. Gerard Way and Shaun Simon wrote National Anthem alongside illustrator Leonardo Romero, colorist Jordie Bellaire, and letterer Nate Piekos (The Umbrella Academy).
"There is no dystopian future—no wasteland to hide out in," Way and Simon revealed, exclusively to Alternative Press. "Set in the 1990s and 2000s, National Anthem is a completely different story with a whole different set of rules. Mike Milligram and his gang of teenage exterminators operate in the Unseen where they bend reality to keep the real world's status quo safe. But everything is about to change when the doors of the Unseen are closed and Mike and his Killjoys are thrust into the real world and forced to grow up and get real jobs."
Head here to read more about the forthcoming Killjoys comic series.
What do you think of Fun Ghoul's original symbol sketches? Let us know in the comments below.