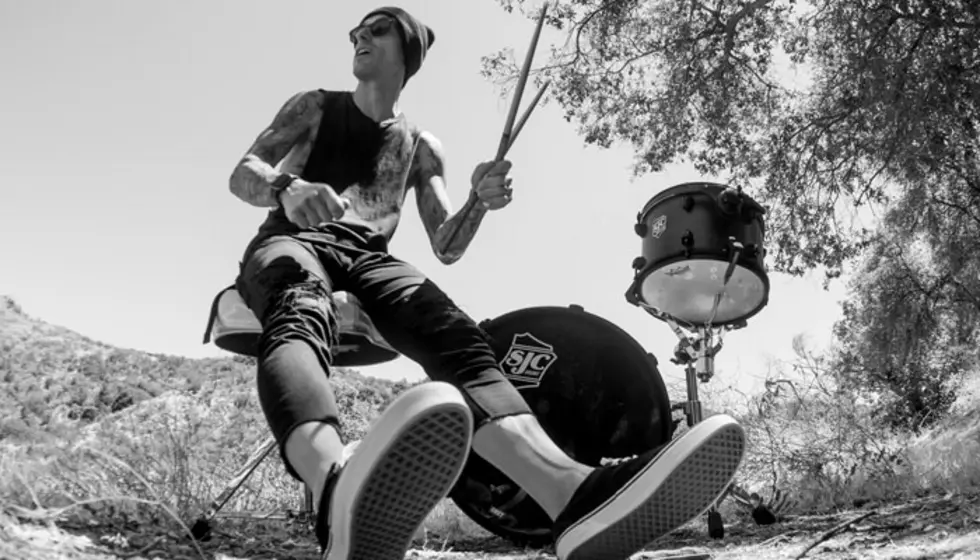 Here's how Frank Zummo knew he had to work with dying in designer
[Photo: Jorge Rivas (@you_look_dope)]
We know you're more than familiar with the seemingly bionic arms of drummer Frank Zummo. He's been the engine room for bands as diverse as Street Drum Corps, theSTART, Mötley Crüe, Dead By Sunrise and Sum 41, making both their shows and records slam and swing. But now you're going to hear Zummo in a whole new context. Today Alternative Press is premiering "E.O.T.E.," the first single from his impending EP, It's My War. Guest vocalist dying in designer articulates Zummo's fighting spirit in the most positive of ways. 
"This project was inspired by me literally doing all these Emo Nites and drum workshops to inspire kids," Zummo says about his impetus. "I'm playing these big Emo Nite festivals and shows, just playing DJ mixes. And I'm like, 'This is so fun. It's working so well. It's connecting the vibe with the audience. I'm not even playing my own music.' It just inspired me to come out of my comfort zone and do something that was going to really push me."
Frank Zummo's foray into brazen beats and EDM soundscapes is another facet of a truly well-rounded career. It's My War will be released Sept. 25 on Bite This, the label founded by acclaimed EDM artist/producer Jauz. He heard "E.O.T.E." and immediately wanted to add him to his roster. (Don't worry: Zummo's still in Sum 41.) Between the power of his productions and the power of positive thinking, Frank Zummo is beyond stoked for his future. He spoke about the EP's piecemeal beginnings, the vocalists involved and the one thing he demanded from all of his contributors. 
How long has It's My War been in the making?
I put out my first single ("The Less We Know") at Coachella last year. That pretty much turned into working with more and more artists, from singers to songwriters to producers. My goal was to go in and make a track with a different singer, a different producer and a different songwriter. I made a wish list and then just started over the course of last summer with [Sum 41's] tour schedule. I'd be home for a day or two, and I'd be in the studio. When I was at [Rockstar Energy] Disrupt Festival in Arizona, I popped into a studio with a producer there and did a song. I was ping-ponging around in a lot of file sharing from the road. It was pretty much the whole summer of writing and tracking. 
This project has no rules. I'm not a punk-rock band where everything has to be "a punk-rock record." I wanted to explore all the things that I'm inspired by and love. Some of my most favorite records have all those moments on them. They have heavy moments. They have more electronic elements, more pop.
One of the things immediately apparent is that it's a drummer's record, but it's not a drumming record. These are fully realized songs with production. As opposed to "Frank Zummo's sickest fills" or wild digital noise with ripping kick drums and paradiddles all over them.
To be completely honest, I feel my job is to [make people] move. They're dancing, they're moshing—whatever they're doing is coming from the drummer. And I don't want to fuck that up and kick them out of that moment, you know? If I could just play kick, snare and hat all day long and just move people? That is my favorite shit. My goal is just to make great music that people are going to bump in their car and feel good. That's just the whole goal. Especially right now.
It's My War has a diverse group of vocalists, from Landon Tewers to dying in designer to the Underclassmen. What were you looking for in singers?
With the way that process worked, we made all the music first with songwriters and producers. Then it was like, "OK, who do we want to have sing on this?" I wanted to find some really amazing undiscovered artists that I was just inspired by their voice. We were on tour with the Plot In You last fall on the Sum 41 headlining American tour. One night, the stage was really close to my dressing room. I never heard of them before, never knew who they were. They literally stopped me from my warm-up. I went upstairs to watch them, and I was blown away by that band.
And then Landon's vocals, they seemed pretty. He can scream, [and he has] all these styles. I had this track "Hit The Ground,'' and I couldn't find the right singer who could sing it. And I literally pulled him into my dressing room and said, "Dude, I've got to play this track for you. Let me know what you think. I love your voice." He freaked out. We ended that tour, he went home, tracked it in a studio in Detroit and sent me back the files. Nailed it.
Eric Tobin from Hopeless Records is a dear friend. I said to him, "Let me know [of] any young up-and-coming singers that are inspiring you right now." He gave me three. And on the list was dying in designer. We had "Edge Of The Earth" and it was such a special song and really needed the right thing on it. Eric connected us, and he tracked all of his stuff in Chicago. It was really amazing to work with him and have him be part of that. And then "Holy Ghost" is [sung by] an up-and-coming pop group called the Underclassmen. They're in the same management company as myself. I got all the moments merging my love of electronic music, rock music, even pop music and putting it all together in this way. 
What is "Edge Of The Earth" about?
I wanted to explore all these different sides that I had. This project was about pushing myself out of my comfort zone and the life that I've led. Everybody sees your good moments on social media, but they don't see the fight and the struggle that you go through. It is an everyday grind to do what we do. But it goes through all walks of life. That's what this project is about. 
When me and dying in designer got on the phone call together, I said, "What are we going to talk about?" I started explaining to him exactly what I just told you. He's like, "Dude, I have a similar story. Everybody wants me to lose. They don't want me to win. You and I are the same. We just want to push through and fucking win. Do our art and be true to what we are." No matter how many times you get knocked down and just gone for it. That's what that song is about. 
Now I know why you chose the title you did. It makes your intention crystal clear.
"Hit The Ground" is similar in that regard. You know, talking about titles and all that, "It's my war" is a lyric that Landon wrote in "Hit The Ground." When I heard that track come back with that phrase, I was like, "God, it's my war." It sums up what this project is to me. I wrote it down as an album title. It's just the war that I've had with myself to do this and to get all this stuff out of my head and actually make it a reality.
And it's coming out in the pandemic. It takes a lot of determination and dedication to see a project through right now.
I was telling my team the other day, I'm so proud of us. We're in a fucking pandemic right now, and we were able to get a record deal. I had other offers on the table, and the pandemic hit, and the offers went away. It was a blow to the momentum and everything we had [been] working [toward]. But everything does happen for a reason because I wouldn't have connected with Jauz and found one of the most amazing homes and perfect places to put out this music. 
Did you give the vocalists direction? Or was it, "OK, what are you going to sing about?" You obviously had control over everything, but you did want collaboration. How did that work? 
The conversation I had with every songwriter, producer and artist is that I'm doing this project to be something positive. It's a feel-good project. I want to help people emotionally. I want everything from the lyric content to be about inspiring, pushing, positivity. These are the things where I'm at in my life. Yes, we can talk about some deep things. But I want the resolution to be where we are. There's a positivity at the end of anything. You go on social media and it's fucking dark now and depressing. I want to make someone smile and brighten their day. With the music. Even the video.
What are you conveying in the video? 
I had a vision of what I wanted it to be. I told the label, and they were on board, and we found a director to do that. It's a beautifully cinematic video that moves you. We put a really special, very scary moment [in there]. Filming the video was literally taking my drums and submerging them under the water. I played underwater in the video. [Laughs.] I've been doing pool training with Laird Hamilton and Gabby Reece, and it fucking changed my life. You're working with weights under the pool. I was like, "Why don't we sink a drum kit and play drums under the pool?" And it actually worked. It was a pretty incredible moment to be able to do that. It's a fear of drowning, being underwater, breathwork, all that shit. It's another moment of trying to push myself. And visually doing something that I haven't really seen before. 
A lot of people pay lip service about being positive. You're really living it through both your life and your art. In a very disconcerting time in history.
You know, people's release was going to concerts. You'd walk into a world where your problems didn't matter. You got to have this freedom. We can't do that now. I'm just trying to do that in my music and anything I put out there for streaming just to give people that feeling. My biggest goal out of this whole project was to let people have that feeling and release when they go to a show that they can't have right now.
Preorder It's My War here. Check out "E.O.T.E." below and presave it here.