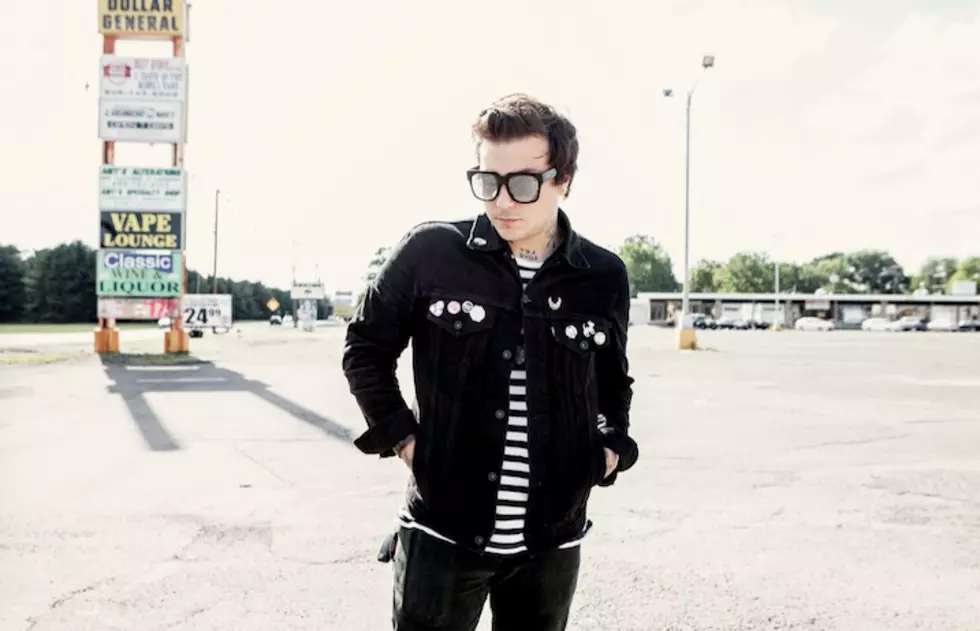 Frank Iero And The Patience announce new EP, and the artwork is so good
Frank Iero And The Patience have dropped a lot of big news today, including word that they'll be releasing a new EP on September 22 on Hassle Records. The EP is called Keep The Coffins Coming, and the artwork is the cutest thing we've ever seen. 
Read more: Frank Iero opens up on 'Parachutes'—"I felt totally emptied but so inspired by the end of it"
The announcement was made in a Tweet via Hassle Records this morning:
The artwork was actually done by Daniel P. Carter of Radio 1, who often debuts Frank Iero And The Patience songs on his show. How cute?! 
Unfortunately the EP is not available for pre-order in the US yet, according to Hassle Records. However, if you're in the UK, you can pre-order it at this link. 
The track list has already been released, and avid Frank followers will recognize most of the songs already. Check it out below. 
1. I'm A Mess

2. BFF

3. No Fun Club

4. You Are My Sunshine
The reason behind the EP release is that Frank and the guys had the opportunity to work with legendary Steve Albini, Iero told Kerrang.
"When we were done touring .STOMACHACHES., I talked to my manager, Paul, about what we should do. I had my bucket list and one of the things on there was to work with Steve Albini. Paul asked how long I'd wanted to work with Steve and I was like, 'Since I was, like, 11!' I wanted to make a Steve Albini record! Paul said he'd call him and I was like, 'You can't do that… that would be weird. Don't do it.' And he was like, 'That's my job!'" Iero told the music source.
"He called him, Steve said he could do it and he had three days. Next phone call I made was U-Haul; I fuckin' packed the U-Haul up and drove the band to Chicago. I got to record an EP with my friends and one of my heroes in this, like, giant firehouse building in Chicago. The EP is this missing link between .STOMACHACHES. and Parachutes. It's everything I wanted it to be. It's fuckin' awesome!"
Frank Iero And The Patience have also just announced a huge UK and European run. Check out the tour poster and dates below! 
Dates: 
9/20 - UK Newcastle @ Uni

9/21 - UK Liverpool @ Arts Club

9/22 - UK Leeds @ Key Club

9/24 - UK Manchester @ Academy 3

9/25 - UK Brighton @ Concorde 2

9/26 - UK Bristol @ Fleece

9/27 - UK London @ Tufnell Park Dome

9/29 - GER Wiesbaden @ Schlatchof

9/30 - GER Lindau @ Club Vaudeville

10/1 - GER Leipzig @ Werk 2

10/3 - CH Zurich @ Dynamo

10/4 - AUS Vienna @ Arena

10/5 - GER Nuremberg @ Hirsch

10/6 - GER Cologne @ Gebaude 9

10/8 - UK Cardiff @ Globe

10/9 - UK Norwich @ Waterfront

10/11 - UK Edinburgh @ La Belle Angele

10/12 - UK Aberdeen @ Garage

10/13 - UK Glasgow @ Garage

10/15 - UK Sheffield @ Plug

10/16 - UK Nottingham @ Rescue Rooms

10/17 - UK Colchester @ Arts Centre *

10/18 - UK Portsmouth @ Wedgwood Rooms *

10/19 - UK Wolverhampton @ Slade Rooms *

10/20 - UK Aldershot @ West End Centre *

(* shows without Dave Hause and The Mermaid)
Are you as psyched for a new release from Frank Iero And The Patience as we are? Sound off in the comments below! 
Watch more: Frank Iero takes us back to the early 2000s, talks symbolism and the Cellabration