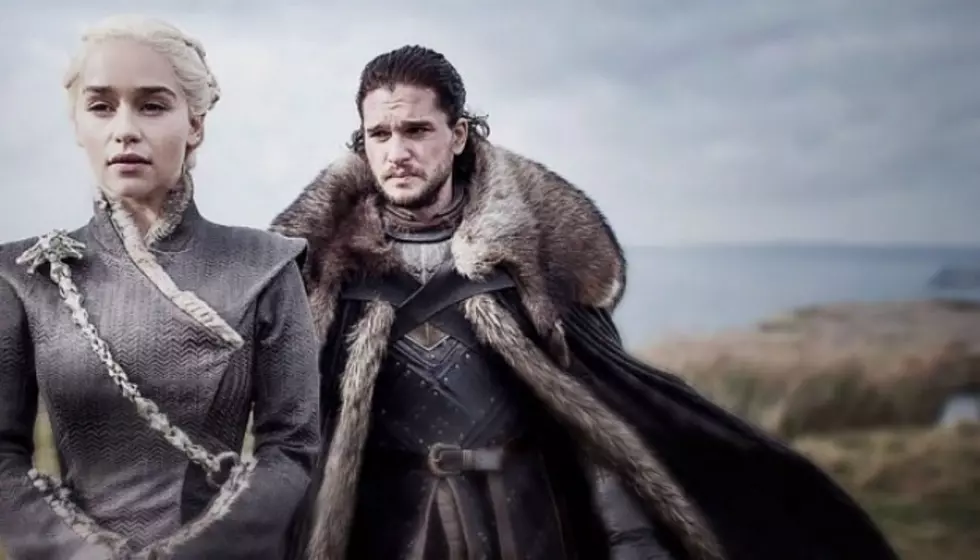 'Game Of Thrones' author says "internet is toxic" in response to finale hate
[Photo by: HBO/'Game of Thrones']
George R. R. Martin has responded to the backlash of the Game Of Thrones series finale after all the online hate. 
The finale and the final season of the popular HBO show faced a lot of hate in general from fans. 
Fans even made a petition urging the series to rewrite its final season. The petition titled "Remake Game of Thrones Season 8 with competent writers" has garnered almost 1 million signatures on Change.org. The petition calls upon viewers to work together to get HBO to remove writers David Benioff and D.B. Weiss and remake the entire season.
"David Benioff and D.B. Weiss have proven themselves to be woefully incompetent writers when they have no source material (i.e. the books) to fall back on," the petition's page says. "This series deserves a final season that makes sense. Subvert my expectations and make it happen, HBO!"
The petition received backlash from many celebrities, including All Time Low's Alex Gaskarth and Riverdale's Lili Reinhart.
In a tweet, Gaskarth says viewers don't get to "dictate" Hollywood. However, Gaskarth further notes that his comments are not Game Of Thrones-specific. Instead, he makes note of viewers' "sense of entitlement."
"Fuck this. As an observer/consumer you don't get to dictate how the creative process develops," Gaskarth says. "You can not like a thing, that's fine… Go create something better. We need this passion for things that matter, not how you want your fav TV show to end."
Additionally, Reinhart's comments were very similar. In an Instagram comment, Reinhart disagrees with the notion that fans can demand "creative change from artists," in regards to television.
"This is not how television works," Reinhart says. "TV shows are not fan service. It's ridiculous of people to think they can demand creative change from artists."
Now, Marin, who is the author of the books the series is based off of, has responded. 
"The Internet is toxic in a way that old fanzine culture and fandoms  — comics fans, science fiction fans — in those days, was not," Martin said on Leonard Maltin's movie podcast. "There were disagreements. There were feuds, but nothing like the madness that you see on the internet."
After the series ended, Martin posted on a blog that the series finale did not dictate the ending of his next two books in the series. 
"How will it all end? I hear people asking," Martin wrote. "The same ending as the show? Different? Well… yes, and no. And yes, and no, and yes and no and yes. I am working in a very different medium than David and Dan [the TV show creators Benioff and Weiss], never forget. They had six hours for this final season. I expect these last two books of mine will fill 3000 manuscript pages between them before I'm done… and if more pages and chapters and scenes are needed, I'll add them."
Other news
After the last episode aired, HBO aired Game of Thrones: The Last Watch to show viewers a behind-the-scenes look at what goes into making the huge show.
The documentary revealed many things, including the monumental budget the eighth and final season had, and all that was at steak.
"All We were doing in seasons 4, 5, 6 and 7 were training for season eight," production designer Deborah Riley said.
We also learned about the emotional weight behind one of the final episode's most insane scene.
Warning: Spoilers Ahead
We saw what happened when Kit Harington (John Snow) learned he'd be stabbing his love Daenerys Targaryen (played by Emilia Clarke).
In documentary, we see both actors shed a few tears over the insanely emotional moment.
Speaking of that moment, did you notice how similar it was to a scene from Buffy The Vampire Slayer? Buffy herself, Sarah Michelle Gellar, sure did and called it out on Instagram.
First of all, you can watch the dramatic GoT clip for reference.
True Buffy fans know that this scene looked a little familiar, not only just visually but the story behind it. Who could forget when the slayer stabbed Angel in a truly twisted scene that made us all emotional? You can watch that go down below.
Gellar noticed the similarities between the two scenes and posted something about it on Instagram. You can check out what she had to say below.
 

View this post on Instagram

 
A few Game Of Thrones episodes ago, fans noticed something unusual in one of the scenes — a Starbucks cup in the background of a shot.
Eagle-eyed fans caught the sneaky cup that was left behind in the shot which left them wondering — if there is Starbucks in the GOT universe, what does Jon Snow order?
Then, HBO has confirmed that it was an accident.
Bernie Caulfield, an executive producer on the show, said it was a mistake and apologized to fans in an interview with WNYC radio today.
"Westeros was the first place to actually, you know, have Starbucks," he said.
He went on to say the a slip up like that is super rare for the show because "prop people and decorators are so, you know, so on it 1,000 percent." He added that, "if that's the worst thing they're finding, then we're in good shape."
HBO also put out a statement, poking fun at the whole ordeal.
"The latte that appeared in the episode was a mistake. Daenerys had ordered an herbal tea," it read.
Then, during the finale,  it seems as if a similar incident has happened again. Fans watching noticed a water bottle in the background of one of the scenes. The moment, in particular, contains spoilers.
You can see the water bottle behind the foot of Samwell Tarley in the scene below.
What do you think of Martin's response? Sound off in the comments down below!
[envira-gallery id="186695"]