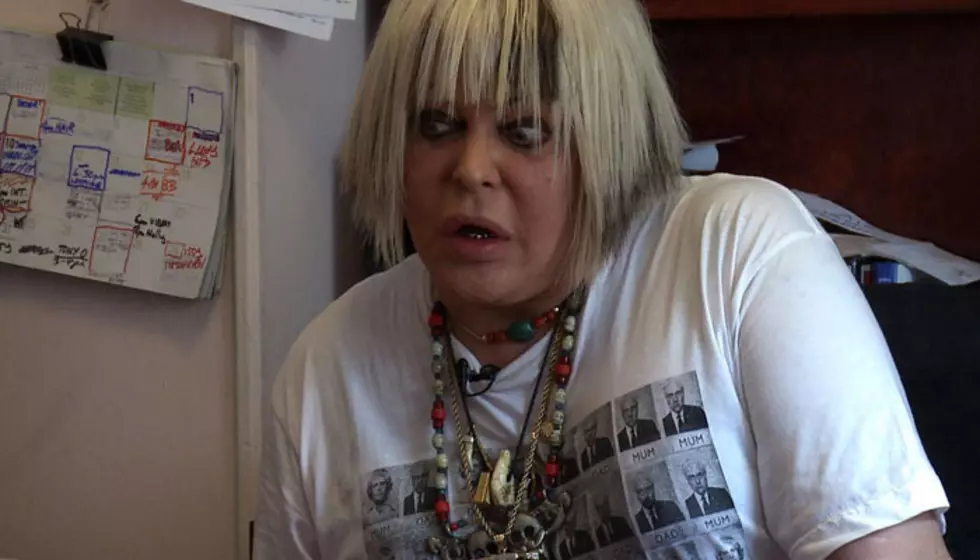 Genesis P-Orridge, Throbbing Gristle founder and industrial icon, dies at 70
[Photo: Christian Gormer/Wikimedia Commons]
Industrial-music visionary and cultural avatar Genesis P-Orridge passed away Saturday morning at he/r home in New York's Lower East Side. P-Orridge was co-founder of the iconic British band Throbbing Gristle who in 1975, used the term "industrial" to describe their atonal, sonically abrasive aesthetic. S/he was 70.
While known primarily for h/er sonic explorations in TG and the band Psychic TV, P-Orridge was a underground cultural icon. S/he was on the forefront of body modification decades before piercings and tattoos infiltrated mainstream culture.
In 1993, P-Orridge and partner Jacqueline "Lady Jaye" Breyer commenced the "Pandrogeny Project." Part cultural experiment, part art project, the duo went through multiple surgeries to mirror each other's looks with the intention of becoming a single "pandrogynous" entity. P-Orridge (birth name: Neil Andrew Megson) began using neutral pronouns and developing the concept of "third gender," paving the way for today's discussions and acceptance of transgender living. Even after Breyer's untimely death in 2007, P-Orridge continued the project as an enduring tribute to her.
In h/er role as the frontman/bassist for TG, P-Orridge actively confronted the status quo with a seething that matched the caustic electronics and disturbing subject matter. The band lasted for six years before breaking up in 1981. P-Orridge then started Psychic TV, exploring avant-electronics, early rave culture and psychedelic pop and rock. A brief reunion of TG occurred in 2007, yielding three albums.
With the advent of industrial rock in the '90s, the term changed significantly. The genre had morphed into a significantly different direction than what Throbbing Gristle originally explored. Nonetheless, P-Orridge remained quite optimistic about the ongoing mutation of what they had first started decades ago.
In the liner notes to Industrial Strength Metal Machine Music, a 1999 collection of tracks issued by Rhino Records and curated by AltPress, P-Orridge was cheerfully forthcoming. "I felt like I was a prospector," s/he said about TG's aesthetic. "And in the mine there were various materials: quartz, gold, lead, mud. I opened the mine, dug it out, did what I wanted in there, but left it to posterity for other people to mine things, too. [Throbbing Gristle] didn't know that when we called it the 'industrial mine,' other people were going to go in.
"How can I not be proud of helping to unleash a living cultural creative entity that has a life of its own and continues to mutate?," s/he asked rhetorically. "It's kind of like saying you invented jazz. There are a million people who say they know what jazz is and they all disagree. And that's a good thing. It's always healthy for people to misinterpret or corrupt the source of what went before. It's the way popular culture works."
In 2017, P-Orridge was diagnosed with chronic myelomonocytic leukemia. S/he is survived by two daughters, Caresse and Genesse. Altpress sends condolences to h/er family, colleagues in all disciplines of subversive art, and the fans who were touched by h/er life's work.