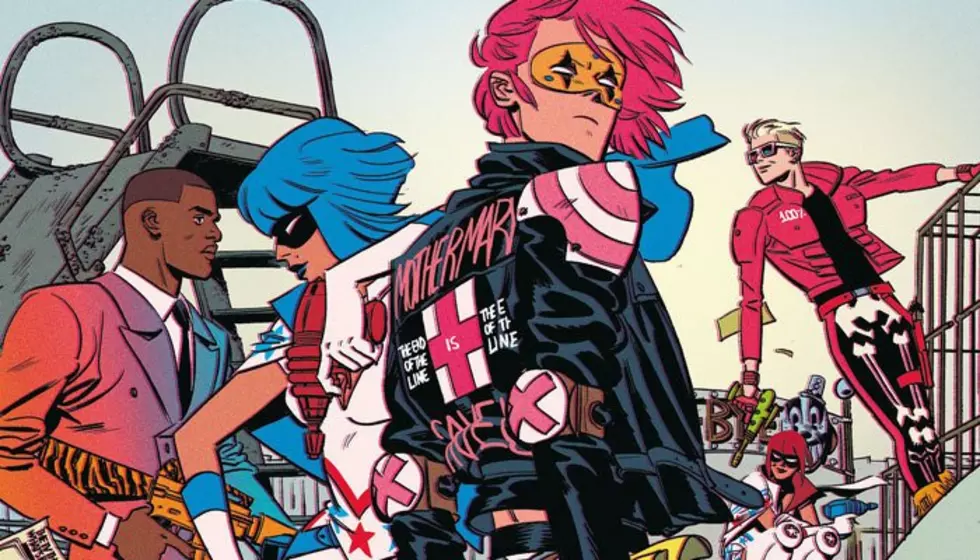 The Killjoys return in Gerard Way and Shaun Simon's 'National Anthem' comic
[Photo via Dark Horse Comics/Leonardo Romero]
My Chemical Romance killed off the Killjoys in spectacular fashion on their Danger Days album. But death didn't stop co-writers Gerard Way and Shaun Simon from returning to Battery City in 2013. The comic book sequel miniseries, The True Lives Of The Fabulous Killjoys, picked up where the MCR record left off. Now, Way and Simon promise to challenge everything you think you know about their beloved band of renegades in an all-new story.
The Killjoys will, once again, make some noise in a six-part comic book series, The True Lives Of The Fabulous Killjoys: National Anthem. The first issue will be released on Oct. 14 through Dark Horse Comics. Based on the original idea that inspired the Danger Days album, it will focus on former Killjoy leader, Mike Milligram.
"In 2010, MCR released a concept record, Danger Days: The True Lives Of The Fabulous Killjoys," Way and Simon revealed, exclusively to Alternative Press. "The record was inspired by a story that only existed in our minds. In 2013, we wrote a comic book series based on that concept record while the original story lay dormant. Now, in 2020, the story that inspired it all will be told: The True Lives Of The Fabulous Killjoys: National Anthem.
"There is no dystopian future—no wasteland to hide out in. Set in the 1990s and 2000s, National Anthem is a completely different story with a whole different set of rules. Mike Milligram and his gang of teenage exterminators operate in the Unseen where they bend reality to keep the real world's status quo safe. But everything is about to change when the doors of the Unseen are closed and Mike and his Killjoys are thrust into the real world and forced to grow up and get real jobs. Screens, phones and a stagnant malaise become the new normal. When Mike's TV breaks and his Ramones records seem to have been erased, he starts to wake up. Mike Milligram sets off on a journey to pull the curtains down on a cover-up that could change the course of history, past, present and future." 
Way and Simon wrote National Anthem alongside illustrator Leonardo Romero, colorist Jordie Bellaire, and letterer Nate Piekos (The Umbrella Academy). Check out the cover of the first issue below.
The first issue will feature a cover by Romero, as seen above, along with two variant covers. One variant will feature an illustration from former Killjoys artist, and longtime Way collaborator, Becky Cloonan. The other alternate cover is by Paul Rentler, whose lo-fi photocopy design work has been previously featured through Way's DC Comics imprint, DC's Young Animal. You can see both variants below with Cloonan's on the left and Rentler's on the right.
Let's face it, 2020 has been bleak. But if there's one thing that can cure our quarantine blues, it's most certainly a return of the Killjoys. Earlier this year, Dark Horse announced the reissue of the original series in a hardcover edition freshly titled Killjoys: California.
Adorned with a stark, blood-dripping Draculoid cover, this forthcoming reissue was everything we thought our little bulletproof hearts needed. But Way and Simon's return to the original concept that inspired MCR's 2010 record promises a fresh take on the material that we have yet to see or can begin to imagine.
The idea of Killjoys sans dystopia, working day jobs and watching their morale decay in the realm of the working stiff as they attempt to unveil a hidden truth feels like The Matrix by way of Descendents lyrics. This is definitely new territory for the Killjoys–and you better believe that we're down for the ride. 
The first 44-page issue with a cover price of $3.99 is available for preorder at your local comic shop now.
Will you be grabbing the first issue of The True Lives of the Fabulous Killjoys: National Anthem? Let us know in the comments below.