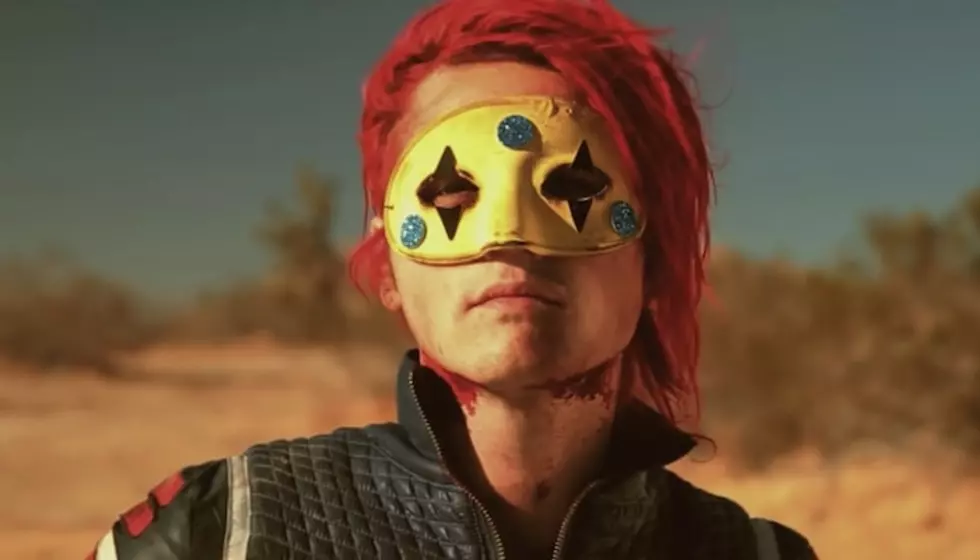 Gerard Way re-releasing Killjoys graphic novel with new cover art, more
[Photo via YouTube]
My Chemical Romance are back together. More people are listening to their music, buying their merch and chatting about the emo warlocks. Thus, it only makes sense to re-release the Gerard Way-penned tie-in comic to their hit album Danger Days: The True Lives Of The Fabulous Killjoys.
If you're a true MCR stan, Gerard Way fan or just love comics you've probably read The True Lives Of The Fabulous Killjoys already since it released between 2013-2014. But Dark Horse is giving the Gerard Way comic a special hardcover. 
The Killjoy comic picks up in the aftermath of the first battle waged during the Danger Days album. The Girl, who remains the sole survivor of the original Killjoys following the events of the album, stands between Better Living Industries and humanity. 
The iconic story was a perfect bridge to help tide the loneliness between what we thought would be My Chemical Romance's fourth and fifth albums. We know how that turned out. But, it also continued the story in a detailed and intriguing futuristic universe that might not be too different from our own. 
Now, Dark Horse, Gerard Way and original artists Shaun Simon and Becky Cloonan have teamed back up. They're giving this graphic novel the attention it deserves. Hey, we can't let The Umbrella Academy hog the entire spotlight. 
"I am beyond excited that my co-creators and I get to release this gorgeous edition of The True Lives of the Fabulous Killjoys: California," Gerard Way said in a statement. "Dark Horse really gives their hardcover presentations a lot of thought, and put a ton of creativity into the design. We also get a new cover by Becky Cloonan, and her work is always spectacular, as it is inside the pages of this volume."
Cloonan echoed the sentiments in her own Instagram post. Read it and check out the new cover below. The never book, subtitled California, gives us a dark and dripping image of one of the antagonistic goons, the Draculoids. 
‪I was working on this cover during hourly comic day and couldn't tell anyone but now THE DRACULOIDS ARE LOOSE AND I CAN FINALLY SHARE ?‍♂️??‬ Hope everyone is staying safe out there!! ... The True Lives of the Fabulous Killjoys will be released in Dark Horse's hardcover Library Edition format - subtitled California. It features the short story Dead Satellites we did for FCBC, and a sketchbook section! Look for it September 2nd!
As you read, the Hardcover Library Format edition will feature the original graphic novel, the short story Dead Satellites and an expansive sketchbook section showing off original designs and concepts. 
The title, unfortunately, does not have a preorder available yet but will debut on Sep. 2. That's just in time to catch Gerard Way and the rest of My Chemical Romance on their U.S. tour. 
Killjoys, make some noise in the comments if you're going to but this sweet comic. 
[envira-gallery id="197607"]