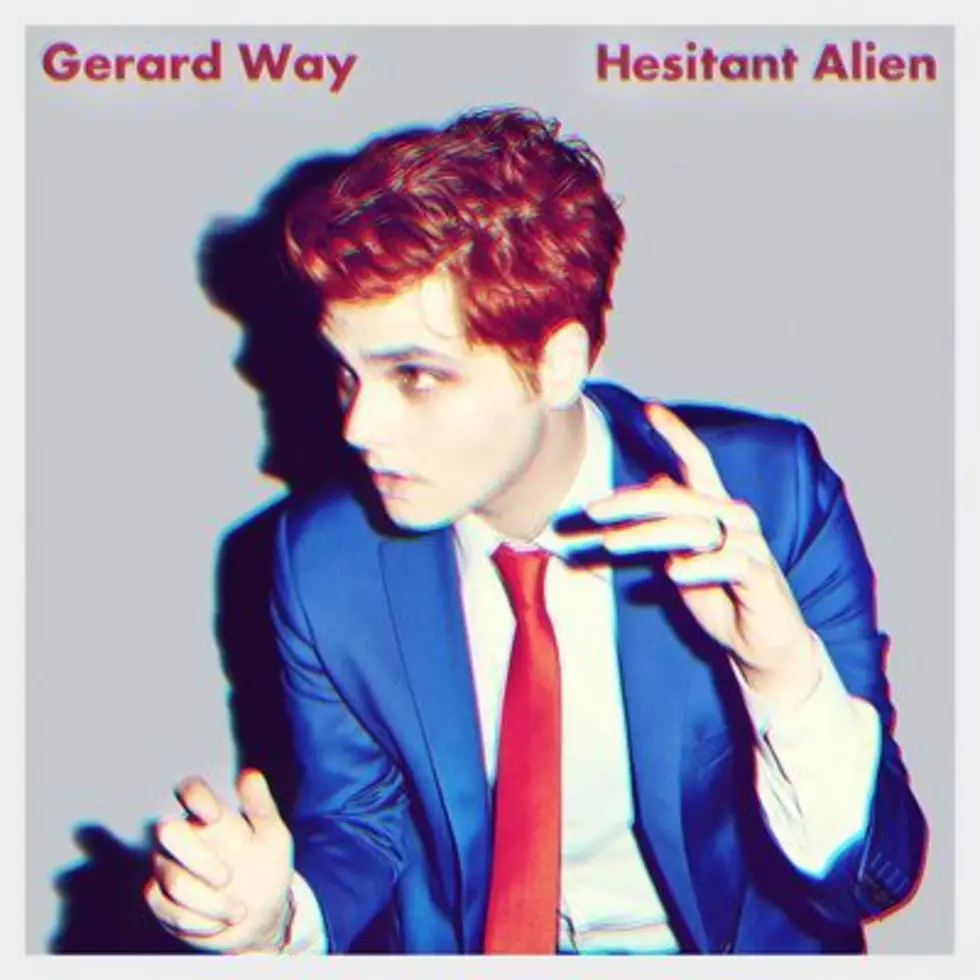 Gerard Way – Hesitant Alien
Gerard Way
Hesitant Alien
Back when My Chemical Romance were still working on their ill-fated fifth album, Gerard Way was working on some songs for his own enjoyment. He referred to those works as "small music," because they fell outside MCR's need to make big gestures with massive production values. With the release of Hesitant Alien, Way will have to upgrade his output to a bigger capacity, considering the stylistic breadth going on across these 11 tracks. In addition to adopting a playlist aesthetic covering decades of his favorite performers (David Bowie, Pixies, the Smiths, the Jesus And Mary Chain, etc.), he's also created an album of standalone songs, freeing him from writing chapters relating to and in service of the overarching concepts he helped construct on MCR's releases.
Those songs are pretty damned great, heavily centered on guitars (of the crunching, stabbing, buzzing and jangling varieties) and Way's trademarked swagger that's remains attitudinal, even at points when his mood turns a bit more melancholy. The proceedings start off with "The Bureau," where the lumbering riff conveys a great sense of menace, as Way reminds his listeners that "everybody's getting on tonight," as recordings of subway trains and U.K. telephone pulses take over the track. The album sports a number of furious rockers ("Zero Zero," "Action Cat"), the best being "Juarez," where Way sounds like he's at the end of his rope trying to navigate the tide pool of charging guitars and manic synthesizers crashing him against the rocks. The upright piano on "Brother" gives a Britpop flavor to the construct of the American FM rock power ballad; it's also the closest antecedent to Way's previous band. The majestic "How It's Going To Be" conveys sentiments of his pre-9/11 life in New Jersey ("You made a promise then you hide/And you said we'd all be dead by 25"), sounding like one-part Paul Simon's Graceland and one-part feel-good Disney movie soundtrack. The closing number, "Maya The Psychic," is a positively jubiliant glam-pop rave-up, steeped in tons of multitracked vocals and buzzing amps while Way discusses a clairvoyant character who doesn't see her mental fragility as a gift, but as a personality trait ("If giving in is pointless/Then get out of bed or this might be the end"). If they ever make that motion-picture version of The Umbrella Academy, this one's going to have to be on the soundtrack.
"Don't ask a lot/And you won't lose a lot/Don't ask for much," Way sings on "Action Cat" like he's managing the expectations of MCR's never-say-die fanbase. Turns out he's just playing with us: Now in his late-30s, he's going back to the things that turned him on, from pretentious '70s glam-rock, fractured '80s post-punk and all the English sonic conventions of '90s Britpop and shoegazer noise. Sure, Way might not get fans to sell their old Black Parade hoodies to drop megabucks on eBay for vintage Pulp tees. But Hesitant Alien has enough requisite cool and clamor to insure he stays both relevant and remarkably vibrant—and, you know, cool as fuck.