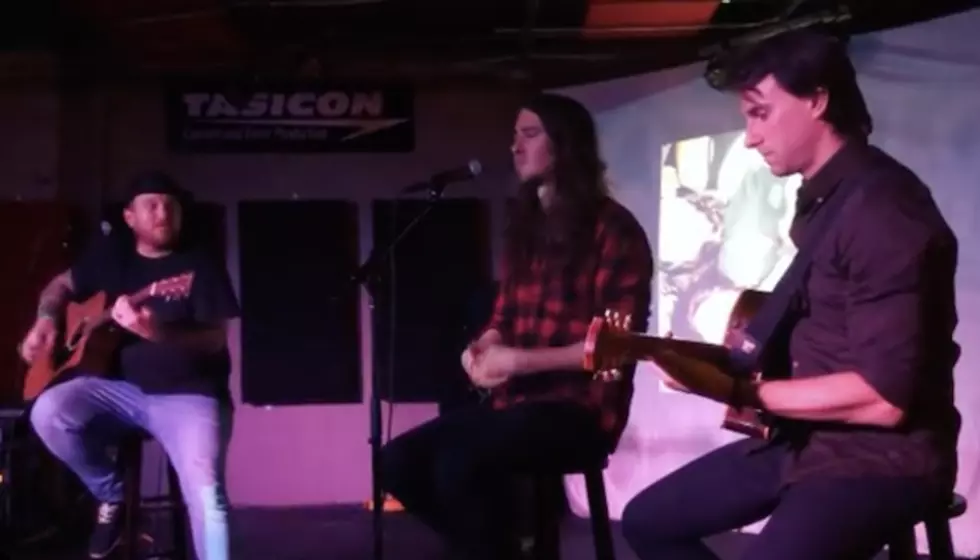 Mayday Parade, Jason Lancaster play "Jamie All Over" at charity gig
With Go Radio announcing their reunion and releasing their first track in seven years, things are going incredibly well. Things just got even better Nov. 29 in Tallahassee during a Defining Moment and Kid Named Chicago charity show. Derek Sanders and Alex Garcia of Mayday Parade performed some classic hits with Jason Lancaster.
For those who don't know, Kid Named Chicago was Lancaster and Garcia's old band, while Defining Moment was Sanders'. Watch the videos below.
When Lancaster left Mayday Parade in 2007 not very amicably, things looked pretty bleak for any sort of reunion. Lancaster went on to form Go Radio and Mayday Parade kept on trucking with Sanders taking on primary vocal duties.
Things got a bot shaken up last night though when Lancaster, Sanders and Garcia reunited on stage to perform "Jamie All Over" by Mayday Parade. The show was for Defining Moment and Kid Named Chicago to benefit charity. The flier is shown below.
We hope this leads to some sort of team-up tour or other chances to be able to see Jason Lancaster's magical vocals perform with Mayday Parade once more. We're sure the oysters at Bird's tasted extra great that night.
More Go Radio
20ninescene may almost be over, but it's the year of reunions and they just keep on coming. Go Radioshared their first single since 2012 with upbeat new track, "Say It Again."
In July, Go Radio fans were sent into a frenzy of hope and pure panic as the band released a photo sparking rumors of their return.
The band took to social media to share a photo of frontman Jason Lancaster, bassist Matt Poulos and guitarist Alex Reed sitting in a room together looking like they were working on music. Meanwhile, drummer Steven Kopacz is in the upper corner of what may be a Facetime call.
In September, they shared a video on Instagram officially announcing the group's return.
"It's been six years. In August of 2013 we played our final show in Houston, Texas. The four of us wouldn't all be in the same place again until July of this year.
Six years is a long time. We each had a long way to go to get to this point, but time has a way of putting things into perspective. For each of us, Go Radio continues to be among our biggest sources of pride. Since 2007, we have loved our Go Radio family, the music we have made, and – whether we acknowledged it or not – each other.
With the Mayday Parade team up fresh in our minds and hearts, maybe this now opens the door to a co-headlining tour for the legends of the scene.
Now, Go Radio have dropped their first single since their hiatus with "Say It Again" via Fearless Records. Before their break, they dropped several albums including two EPs. Their last release, Close The Distance, made it's debut in October of 2012 and was the band's second full length.
They posted the track on Twitter saying they're "incredibly proud to release new music into the world."
The track is available to stream and download here. Check the lyric video out below!
What do you think about this reunion of sorts? Would you like to see a Go Radio and Mayday Parade tour? Let us know below!
[envira-gallery id="186668"]