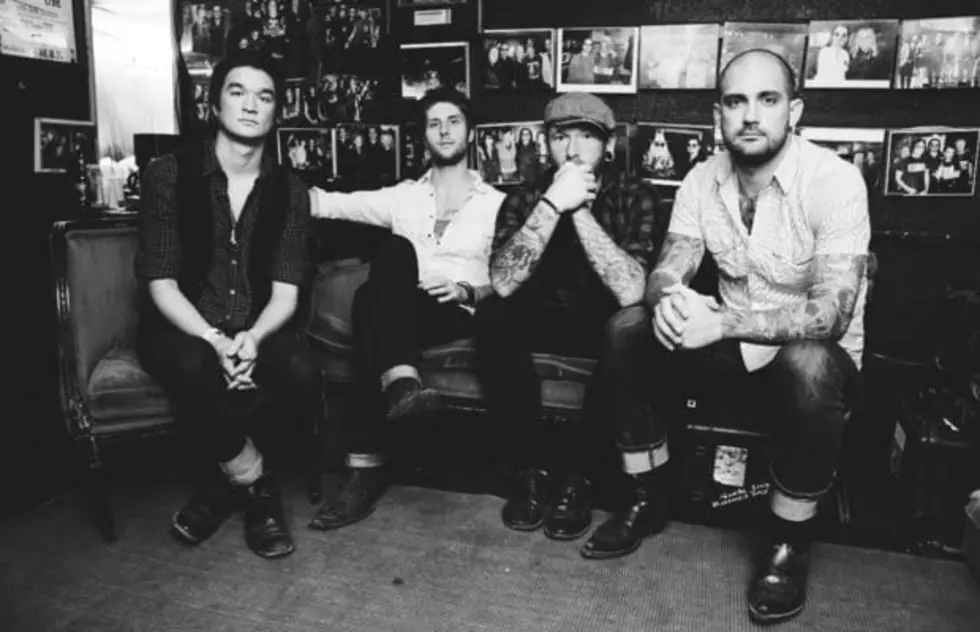 A Father's Day Remembrance: 'Forever My Father'
(Photo by Julia Arielle Cox)
[Editor's note: Go Radio frontman Jason Lancaster--pictured second from right--was kind enough to pen a remembrance about his dad in honor of Father's Day, which is June 19. You can read that below. On Sunday, Amazon will be giving away the band's song "Forever My Father" for free. You can go here and get the band's latest album, Lucky Street, in the meantime. And don't forget: As one of the fan-voted winners of AP's Warped cover contest, Go Radio will grace the front of AP #277, which is out in early July.]
My father was my best friend.
I hate to open this up with such a simple thought, but I've been sitting here at my computer for over an hour just trying to get the first words of this down. I was hoping this would be an "easy A," but no such luck. Instead, I've been trying to piece together thoughts and ideas that I myself haven't exactly figured all the way out, let alone processed enough to put down for someone else to skim.
Harold Alan Lancaster was my father and the reason I love music to this day. From the day I was born, I was submerged into a subculture of Southern living where church was a smoky bar, and the pastor sent to save all our souls was a short, fat, bald man singing "Desperado" into an SM58 microphone he'd had for roughly as long as he'd been alive. Instead of communion wine there was Bud Light, but for three dollars (tip included) it would make you spiritual.
It was here I learned about the music I love so much now. The kind that moves us all with words or rhythms. The kind that if heard right can change lives. It was just as clear to me then as it is now that this was meant to be my calling. This was what I loved, and this was what I could never do without.  So cheers to my father, because I would have never learned that without seeing the look on his face and knowing it was his own path as well.
He taught me so many things I still live and love by to this day. Telling me things like, "Without blood on the sword, it's just a toy" and "Without the bitter, you can never appreciate the sweet." These tiny bits of wisdom have helped me through the worst times in my life, and I will pass [them] down to my children. (I just really hope they listen to me a little bit more than I did to him.)
My dad was a rare breed of gentleman that you had to love. You didn't have a choice: When he would walk into a room, everyone would automatically smile and laugh. Every breath he exhaled seemed to intoxicate all those around him and create this almost euphoric state of awareness. Just hanging out with him at the bar, his friends would have a highly anticipated, almost panicked—if that's not too much of an embellishment—need to hear 'Simple Man.'"
At 50 years and three weeks old, my father left behind 4 children, a cat, 1 Zippo lighter, 3 pictures of himself with his kids and a half-used bottle of cologne. At least those were the things you could hold: Among the things you could not was a legacy of quarter notes and half steps, melodies and counter melodies, and the idea that no matter how far down in life you went, there would always be a song that could bring you back to the surface.
He also left behind four very significant pieces of himself to spread the music he loved so much. My brother, my sister and myself wrote "Forever My Father" as a tribute to a man that made everything possible for us.
The day of his viewing, his casket sat carefully placed in the front of the funeral home. His head placed gently on a satin pillow, showing only his shell from the chest up. He wore a pink shirt because that was his favorite. He always used to say you had to be a real man to wear pink, and I still think of that to this day every time I put one on.
To his left and right were pianos; my sister sat at one, quietly striking notes at a pace that can only be described as somber. Ideas of a forever without him raced through all of our heads, and felt equally as lonely to all of us I'm sure. To this day, I can still remember the smell of the chapel, although it's impossible to describe. I remember realizing that we should probably hurry, because someone else might want time with him, but I also recall not really caring all that much.
Even after my father ceased to breathe, his mere presence inspired music. We wrote the beginnings of "Forever My Father" right there next to his body. Hoping it would bring us some sort of immediate comfort, it flowed almost as easily as the tears we'd shared steadily over the last few days.
He was buried with a copy of the song, and it was released on our first EP. It's something that still brings tears to my eyes, and still makes me feel connected to him somehow. I guess music will always have a way of tying us all together, and keeping us all sane. After it was written, we hoped it would take on a life of its own, and maybe help a little to replace the one we felt robbed of. Hopefully the song will help fill the same void in others.
I hope that on this Father's Day, anyone who has a dad will tell him just what they mean. Life is short, and with everything happening at a breakneck pace, it's far too easy to forget who brought us here, and how lucky we are to be able to tell them "thank you."