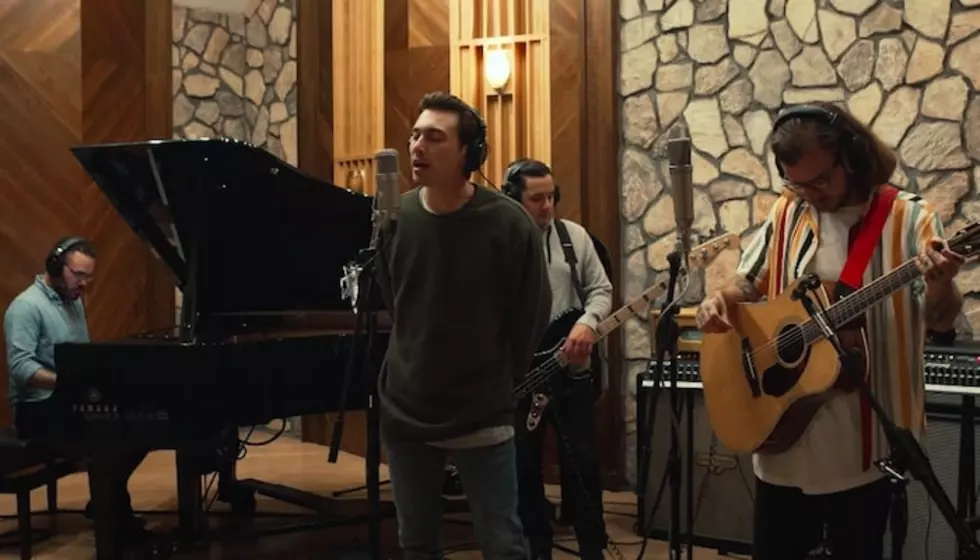 Watch Grayscale rework "Painkiller Weather" as a moving piano ballad
[Photo via YouTube]
Grayscale are preparing to release their forthcoming EP Live From The Barber Shop Studios on July 29. Now, the band have debuted a new reimagined version of their song "Painkiller Weather."
On Wednesday, Grayscale released a video of them performing a new piano version of the Nella Vita song.
Grayscale's last full-length album Nella Vita arrived last September. Although it has been less than a year since the LP's release, Grayscale are clearly itching to release new music.
Live From The Barber Shop Studios is a three-track EP that features reworked songs from Nella Vita. The EP was produced by Grayscale guitarist Dallas Molster. As he shares, each band member incorporated their own musical influences into these reworked tracks.
"Every single member of the band grew up with an incredibly wide musical palette," he says. "We were drawn to everything from jazz, classic rock, hip-hop and anything in between. We saw this as an opportunity to rearrange our songs in totally different styles and to tap into some different musical influences than usual."
Molster further shares that the EP came to be after their Punk Goes Acoustic collaboration with their friend Skyler Patzer.
"It started with our good friend, Skyler Patzer, who had written the piano arrangement previously on our Punk Goes Acoustic 'Atlantic' track," he continues. "I had written the acoustic, bass, and drum loop parts for a reworked version of 'Painkiller Weather,' and then sent it off to Skyler, who then wrote a beautiful piano part to accompany what I had written. The chemistry and workflow that I had developed with Skyler was so enjoyable that I wanted to work on another song with him."
On July 15, Grayscale released a retro version of their song "Baby Blue." Horns and drums take the lead of the reworked track while a lively piano is heard throughout. For the reimagined "Painkiller Weather," however, Grayscale decided to take things down a notch. The band have transformed the fan-favorite song into a moving piano ballad that leaves its personal lyrics at the forefront.
Live From The Barber Shop Studios arrives via Fearless Records on July 29. Head here to pre-save the EP on Spotify and Apple Music.
Earlier this week, Mayday Parade released a cover of the Beatles' "I Want To Hold Your Hand" which features Grayscale's Molster, Collin Walsh and Nick Veno. Knuckle Puck's Joe Taylor, the Maine's John O'Callaghan, We The Kings' Travis Clark and Dan Lambton also took part in the cover.
Grayscale were set to hit the road with Mayday Parade and Sad Summer Festival this year. However, Mayday Parade announced this week that their tour is now canceled. As well, Sad Summer Festival is postponed until 2021 which Grayscale are returning for.
Grayscale's reworked performance of "Painkiller Weather" is available to watch below.
Which version of "Painkiller Weather" do you prefer more? Let us know in the comments below.