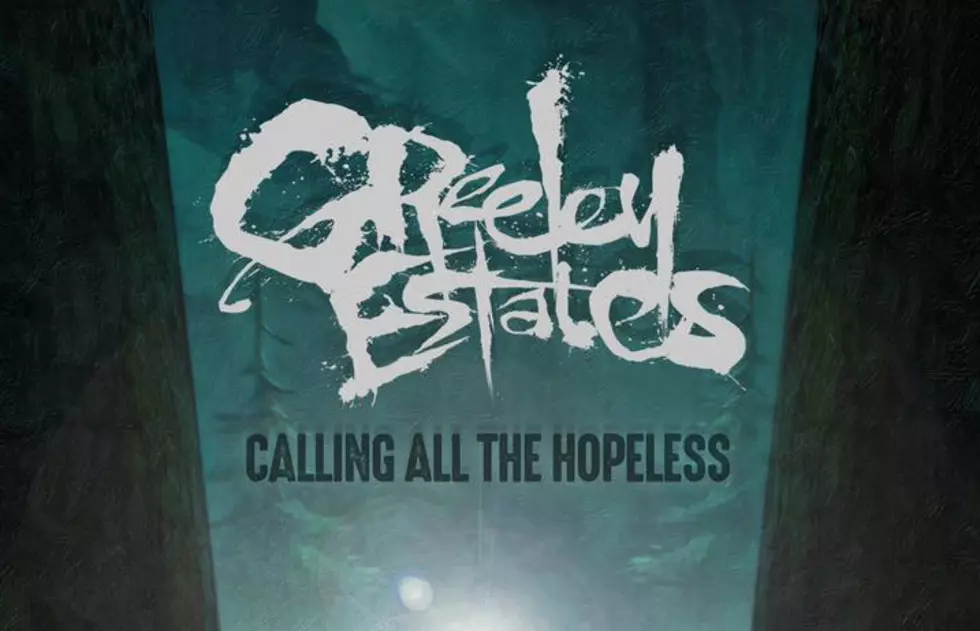 Greeley Estates premiere new song, discuss upcoming EP 'Calling All The Hopeless'—listen
Phoenix, AZ metalcore act Greeley Estates is finally back in the scene after an absence that lasted over four years. Since their formation in 2002, the band has released five full-length studio albums and three EPs. While they initially began as a post-hardcore genre sprinkled with some emo undertones, their sound developed into the heavier metalcore act that was quite active in the scene during the late 2000s through the early 2010s. Despite undergoing several lineup changes (frontman Ryan Zimmerman is the only original member still in the band, which now also consists of David Ludlow on guitar and backing vocals, Chris Julian on drums and Kyle Koelsch on bass guitar) and a four-year-long hiatus that led fans to believe the band broke up, Greeley Estates is finally back — and their upcoming material is certainly packing a punch. The self-released EP, entitled Calling All The Hopeless, is dropping June 27.
Listen to the title track from the new EP, the first Greeley Estates track since 2013:
Frontman Zimmerman chatted with AP about what's been going on in his life for the last couple of years. He discussed the realization that the band might be over, how certain life changes played significant roles as sources of inspiration for Calling All The Hopeless, and Zimmerman fulfilling his passions in a field that is not musical at its core. 
"I kinda thought the last one was the final one for us," he comments on Greeley Estate's The Narrow Road/Devil Son two-part album released in 2012/2013. After just about every release, Zimmerman and the rest of the Greeley Estates guys seemingly questioned how many records they had left in them. The writing and recording processes differed each time, and similarly, so did the toll each release took on the musicians' energy.
"A lot of people thought we broke up and I don't think we really plan on doing that," Zimmerman says. "It's just different. I've got two young daughters now. That changed a lot. I didn't have kids when the last record came out. That makes everything different."
While Ludlow and Koelsch each have priorities of their own (as the guitarist and bassist of nu-metal band Ded, a band doing well with radio hits and large tours), Zimmerman not only focused on his family, but also pursued a profession that fulfilled his childhood dreams: counseling therapist. 
Read more: Metal rockers Ded premiere new video for "Dead To Me" —watch
As a shy kid, before he even considered music, Zimmerman knew he wanted to help young adults. During this break from the music scene, he successfuly completed his Master's Degree and currently works as a therapist at a treatment center. "It's pretty cool," he says. "It's totally different. Not very rock 'n' roll in that sense, but it's pretty awesome, man." He proceeds to describe how much this new profession has influenced the songwriting process, and while it is not necessarily a "recovery album," it does deal with certain themes that might make it seem so. The title track itself was inspired by Zimmerman's buddy who was on his way to rehab for alcohol-related issues. They also collaborated with Chad Moses from the non-profit movement To Write Love On Her Arms on a track called "Liminal Space." 
Zimmerman admits that this is not one of those excessively happy records that bands release years after their angsty stage, after they all grow up and have kids. It is just an honest record that emphasizes the changes he's seen in others, in himself, and in the world, all the while offering hope. "I definitely have a heart for helping people, so you can kind of see that come out in the lyrics," he says.
Musically, the sound has definitely evolved, but simply into what you would expect Greeley Estates to sound like in 2017. Some elements make songs seem like they belong on one of Greeley's first records, however, "the music has definitely taken a different direction," Zimmerman adds, "but it's cool; it's a new thing for us." And they have Ludlow to thank, as he served as not only the primary songwriter for the album, but the whole reason Greeley Estates is even back.
"I give the credit to our guitarist David who really pushed it to get the music going and kinda get us passionate about working on new ones [songs]," confesses Zimmerman. 
At this point in their musical careers, the guys of Greeley Estates do not feel the same pressures they've dealt with in the past. "We could take our time," explains Zimmerman. "We didn't feel like we had to have a certain release date, and in the end, we're kinda doing it for ourselves and for the fans that are still out there."
With new families, new professional careers and new musical side projects, right now simply doesn't make sense for Greeley Estates to go on a world tour, admits Zimmerman. They are keeping an open mind to touring, however, and will keep fans updated on any newsworthy information. 
In the meantime, you can catch Zimmerman jamming out to Every Time I Die's Low Teens (which happens to be nominated for a Skully at this year's APMAs for Album of the Year). "I mean I love Every Time I Die," he says, "so I just killed that record. I love that record."
What do you think of Greeley Estates' new song and how excited for their new album? Sound off in the comments below!