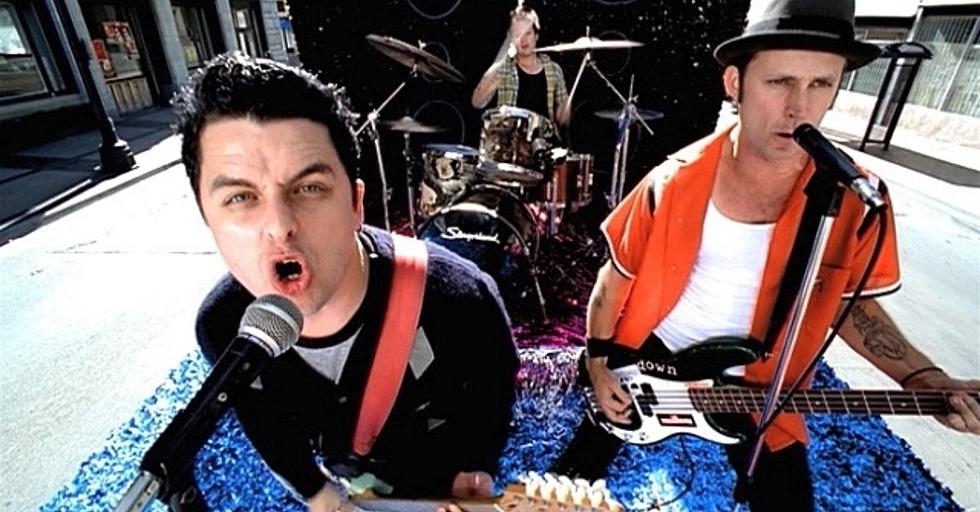 Every Green Day album ranked
Lawrence Livermore, the founder of Lookout! Records, Green Day's first record label, claims that when he first invited the group to make the EP that would become 1989's 1,000 Hours, Billie Joe Armstrong was so young, he didn't recognize the opportunity as being of any great significance. 
More than three decades later, chances are he does now. With 13 studio albums and at least one masterpiece to their name, the blue-collar band from Northern California have long been one of America's great rock bands. The fact that in representing punk rock, the trio were able to find a mainstream audience that had eluded everyone from Ramones to Hüsker Dü, the Replacements to X, made their achievements all the sweeter. 
Donning our battle fatigues, then, without further ado, here are our rankings of Green Day's (mostly) illustrious body of work…
13.
Father Of All Motherfuckers
(2020)
The fact that Green Day have declined to play any of the songs from Father Of All Motherfuckers during concerts undertaken since its release tells you all you need to know about the trio's misjudged and misfiring unlucky-for-some 13th LP. Where to begin? Well, how about making clear that the problem here isn't that the group wandered far from their template sound — from "Macy's Day Parade" to "Restless Heart Syndrome," they've been doing that for years, anyway — but that the songs on this, their most recent outing, sound arch, hurried and contrived.  
12.
¡Dos!
(2012)
The second installment of their can't-see-the-wood-for-the-trees trilogy, ¡Dos! proves the theory that while Armstrong seldom writes songs that are bad (let's forget about the terminally terrible "Fuck Time," shall we?) he can, when not wholly engaged, knock out numbers that aren't particularly interesting. The weakest link in what is a fairly ordinary triumvirate (in not having played any of its songs live for almost a decade, Green Day would seem to agree with this assessment), only the lovely "Amy" and the typically propulsive "Stop When The Red Lights Flash" suggest life in the old Gods yet. ¡Dos! would also suffer the ignominy of being the first of their major-label albums not to sell 100,000 copies in its first week of release. 
11.
¡Uno!
(2012)
In a similar but different way to 21st Century Breakdown, ¡Uno! was Green Day's attempt to outrun the vast shadow cast by American Idiot. The first of three albums released in quick succession – there was barely four months between the lot of 'em — Armstrong would later claim less than perfect recall when it came to recording the songs on a needlessly expansive body of work that these days is not so much unloved, but overlooked. That being said, when the LP hits its mark, as it does on "Let Yourself Go" and "Angel Blue," the group sound almost as good as their old selves. 
10.
39/Smooth
(1990)
Recorded for just $700 — and for a record company (Lookout!) that signed the band on a handshake, no less — Green Day's debut album marked its authors as ones to watch right from the start. Scratchy and underproduced as 39/Smooth may be, when Armstrong announces "Here we go again" at the outset of the world-class-before-its-time "Going To Pasalacqua," he was announcing the arrival of a major new talent in a punk-rock scene that had been sprung from the mortuary by the release of Bad Religion's pivotal Suffer and the opening of a bespoke punk club, 924 Gilman St., at which Green Day would appear so often as to become its de facto house band. 
9.
¡Tré!
(2012)
When ¡Tré! manages to snap into focus, it is truly a thing of beauty. The main body of opening track "Brutal Love" is as good as anything to which Green Day have placed their name. Elsewhere, the insouciant patience of "Drama Queen" shows just how expert this group are at taking their time with careful and thoughtful arrangements. For those interested in material that gives it some power, "99 Revolutions" and "Missing You" motor along nicely. By some distance, ¡Tré! is the best of the three albums released by the trio in 2012. 
8.
Kerplunk!
(1991)
The favorite album of many of the group's constituents, Kerplunk! was the last time Green Day were an independent punk-rock group of a kind typical of the hyper-ideological Bay Area scene from which they had sprung. But with songs of the quality of "2000 Light Years Away," "Christie Road" and an early day version of "Welcome To Paradise," the group were about to burst the banks of underground popularity. On the tour in support of their second album, audiences were fast becoming larger than the venues they played in. Fans complained about not being able to find Kerplunk! in the stores. Green Day needed to improve their operation. Change was coming. 
7.
Warning
(2000)
At the turn of the century, the commercial profile of Green Day appeared to be a matter of managed decline. But despite receiving only a hesitant thumbs-up from the trio's core members, the gold-certified Warning was only a commercial failure when compared to the towering omnipresence of Dookie. This isn't to say that the group's sixth album is perfect; its production is sometimes undercooked, and its tracks don't always nest well together. Make no mistake, though: Its finest moments — "Church On Sunday," "Waiting" and "Macy's Day Parade," to name three — are the sound of a group unafraid to grow and, sometimes, to confound expectations. 
6.
Revolution Radio
(2016)
Given that there's no such thing as "The Difficult 12th Album," Revolution Radio is the sound of Green Day taking pains to make good music at the point at which they're no longer required to do so. While occasionally sounding perhaps a little too effortful, when the self-produced set lands its punches, it does so to great effect. Expansive and complex, "Forever Now" could well be an adjunct to the progressivism of American Idiot. Even the LP's less immediately ear-catching moments — the biographical "Outlaws," "Youngblood" and "Too Dumb To Die," for example — are exquisite creations. A return to form, then, for a group who were beginning to lose their way.
5.
21st Century Breakdown
(2009)
For Green Day, the task of following up a masterpiece that will forever be remembered as the last true blockbuster of the rock age involved crafting an album that was more elaborate, even, than what had come before. Such are the grand themes of 21st Century Breakdown that, in Britain, Q magazine was moved to describe the trio "as America's most adventurous rock band," an assessment that might well have been true even if they were no longer quite its most fluent.
At times, the trio's eighth album shines with flop-sweat – "East Jesus Nowhere" is at least twice as long as it ought to be, while the album's denouement stumbles straight off a cliff — and certainly it could well stand a haircut. But noisy detractors who claim this three-act LP is a dud have got it wrong. "Know Your Enemy," "Last Night On Earth," "Last Of The American Girls," "Restless Heart Syndrome" and "The Static Age," to name five, are the equal of any song in Green Day's remarkable canon. 
4.
Dookie
(1994)
Oh, be quiet. While Dookie is doubtless one of two truly monumental Green Day albums, it isn't their best. It's not even all that close to being so, either. Recorded under the tutelage of the then-novice producer Rob Cavallo, the band's third album, and major-label debut, looked at first like it might flop. But the refusal of Warner promotions department to allow lead-off single "Longview" to die a lonely death meant that by the warmer months of 1994, Armstrong, Mike Dirnt and Tré Cool had become the first domestic punk-rock group to break the mainstream. Hey ho, let's go, indeed. 
3.
Nimrod
(1997)
As well as being the point at which the modern Green Day were born, Nimrod is the single greatest leap of the group's career. Without it, there would be no American Idiot. Attentive listeners will marvel at the distance the trio traveled in the two years that elapsed between this and its predecessor, Insomniac. Throughout, the fluency — a quality that sounds downright effortless, in fact — of songs such as "Nice Guys Finish Last," "Hitchin' A Ride," "Redundant" and "Uptight," are the work of a band who suddenly look like a long-term prospect. Not just this, but with the bittersweet ballad "Good Riddance (Time Of Your Life)," a track written during the Dookie sessions, they issued a song for the ages. 
2. Insomniac
(1995)
Walking on the Haight, in San Francisco, in the early months of 1995, the suddenly rich and successful Armstrong was accosted by a punk who told him he was a sellout. Over in Berkeley, on account of having signed to a major label, his group were no longer welcome to play at the all-ages punk club 924 Gilman St. where they had made their name. Transported (if not transformed) by the all-conquering success of Dookie, Green Day were discovering that it can sometimes be as much of a shock to receive more than one expects as it is to harvest less. As much as anything, the coiled, agitated and startlingly economical Insomniac should be seen as the group's defiant response to their bewildering new circumstances.
At its best, it is a remarkable and fearsome retaliation. "No Pride" sounds as if it might choke on its own self-loathing. The opening section of "Panic Song" sounds like a panic attack put to music. "Brain Stew" is a song for people for whom peace and rest have become unobtainable. No longer cute, and not in the least bit loveable, this is the point at which Green Day proved they were tougher than the rest. 
1.
American Idiot
(2004)
Eighteen years after its release, what is left to be said about American Idiot? With 14 million worldwide sales to its name, no rock album will ever again touch the vertiginous heights it so easily ascended. This being so, at least its artistic worth is the equal of its last-of-a-kind commercial standing. Containing what Armstrong believes to be his finest song — "Homecoming," about which he might just be right — the expansive, fluent and, more often than not, downright magical thematic masterpiece is not only its authors' best album; it's one of the most adventurous and authoritative LPs of any era.
From the propulsive punk rock of its title track to the piercing poignancy of "Whatsername" — by way, lest we forget, of "Jesus Of Suburbia," "Holiday," "Boulevard Of Broken Dreams," "St. Jimmy" and many more — barely a moment is wasted. More, even, than the sum of its parts, American Idiot stands at the diamond-encrusted apex of innate ability and hard-won execution. A triumph in every sense.