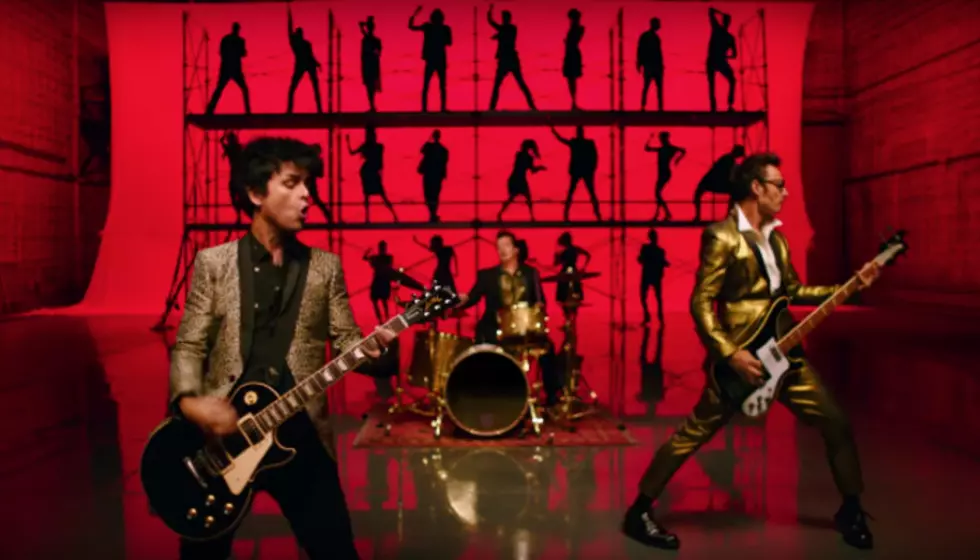 Green Day auction guitar in memory of the Muffs' singer Kim Shattuck
[Photo via YouTube]
roGreen Day are auctioning a guitar via musical instrument resale site Reverb to raise funds for ALS research. The gift is in memory of Kim Shattuck, the leader of heroic '90s punk outfit, the Muffs.
The guitar–an Epiphone Les Paul Special listed yesterday by Billie Joe Armstrong's guitar tech, Hans Buscher–was played by the Green Day leader and "over 100 die hard fans" on the Revolution Radio Tour, during the audience-participation cover of Operation Ivy's "Knowledge." It was signed by Armstrong, bassist Mike Dirnt and drummer Tre' Cool on Feb. 20th.
The Muffs were formed by ex-Pandoras members Shattuck and Melanie Vammen with bassist Ronnie Barnett in 1991. Their early indie singles were an alloy of Shattuck's catchy, '60s-pop-inflected songwriting, tonsil-shredding vocals and grimy guitar work. Green Day, then signed to Lookout Records, paid close attention when the Muffs inked with Warner Bros.
"Part of the reason Green Day let me sign them was because I'd worked with the Muffs," said Rob Cavallo, the Warners A&R man who signed and produced both bands. "Billie said, 'We don't know of anybody else who's signed and produced a band like that on a major label. We like that.'"
Shattuck died at her Los Angeles home on October 2, 2019, age 56. She was privately battling ALS, even as she worked on what was ultimately the Muffs' final album, No Holiday.
The guitar sale–listed at a firm $5000 on Buscher's Hansblooey's Gear Outlet Reverb sub-site–coincides with the Celebrate the Life Of Kim Shattuck benefit at L.A.'s El Rey Theater on March 15. Among the acts rocking for Shattuck and ALS research are Redd Kross, Veruca Salt, Kathy Valentine (formerly of the Go-Go's) and the Pandoras.
Check out Shattuck and the Muffs' classic track, "Lucky Guy" below.