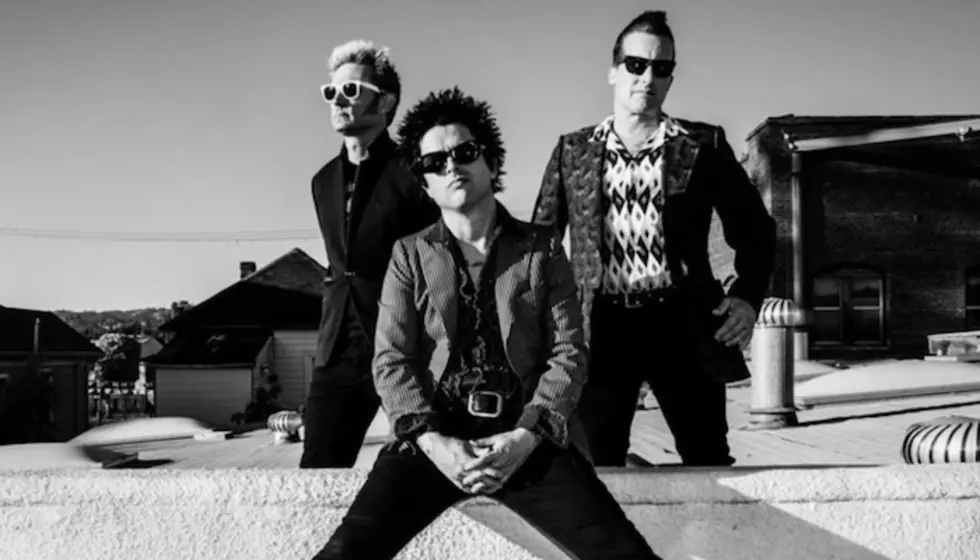 Past Green Day songs get a modified sound with a freshly mixed EP
[Photo via Spotify]
Green Day dropped a special little surprise on us this glorious Friday. The trio of Billie Joe Armstrong, Mike Dirnt and Tre Cool released an EP of sorts containing new mixes of songs from their 2012 albums ¡UNO! and ¡DOS!. The EP is lovingly called the Otis Big Guitar Mix. 
The three songs on the record are "Oh Love" from ¡UNO! and "Lazy Bones" and "Wild One" from ¡DOS!.
Back in February, Green Day released their newest album Father Of All... that was preceded by a bevy of rip-roaring singles. "Father of All...," Fire, Ready, Aim," "Oh Yeah!" and "Meet Me On The Roof" all got the music video treatment and built excitement for the new Green Day era. 
Now, we get even more new songs. Well, not new songs but new versions of old songs. Overall, the songs sound cleaner, yet dirtier at the same time. The guitar tone is absolutely spot on, and we'd love to see Green Day release some more mixes in the fashion. 
Stream all three of the new mixes below. 
More Green Day
We all know Post Malone has a huge passion for beer pong and while we got to see Green Day frontman Billie Joe Armstrong playing the game with the rapper last year, it was apparently Armstrong's first time playing.
Post's tour photographer, Adam Degross, shared a clip of them playing the game while hosting Cartoon Network's late-night programming Adult Swim when the Green Day legend commented saying he played for the first time against the rapper.
Back in November, the pair were hanging out at Posty's headlining show at the Oakland Arena with some pre-drinking going on.
Photographer Grady Brannan shared a photo of the group playing beer pong praising the surreal situation. "Green Day literally raised me and I'm still star struck," he wrote.
There were, of course, plenty of photos taken of the hangout for social media which you can see below.
Now, Degross' video is revealing some new information about Armstrong's experience playing beer pong.
The guitarist and vocalist commented on the video saying "I played my first game of beer pong with [Post Malone]."
This sparked a brief exchange between the two where they discuss setting up a rematch.
Armstrong replied, saying "Social distancing beer pong… beer tennis."
Who knows if we'll ever get to see another beer pong game between the two musicians but hopes are high that we do when COVID-19 is contained and we're past the pandemic.
For his part, Post Malone is using beer pong to spread some goodwill soon.
He's set up a virtual celebrity beer pong tournament along with Machine Gun Kelly and a ton of sports celebrities to raise money for first-line workers helping put a stop to the COVID-19 coronavirus.
The eight-day tournament is happening over video chat with two matches happening per night starting this week.
Beyond Post Malone and MGK, it will also include Kansas City Chiefs receiver Travis Kelce, WWE spokesman Rob Gronkowski along with Gronkowski's girlfriend, Sports Illustrated Swim model Camille Kostek, former quarterback Johnny Manziel, Kane Brown and MLB pitchers Trevor Bauer and Mlke Clevinger.
What's your favorite Green Day track from the Otis Big Guitar Mix? Tell us in the comments below!
[envira-gallery id="199143"]