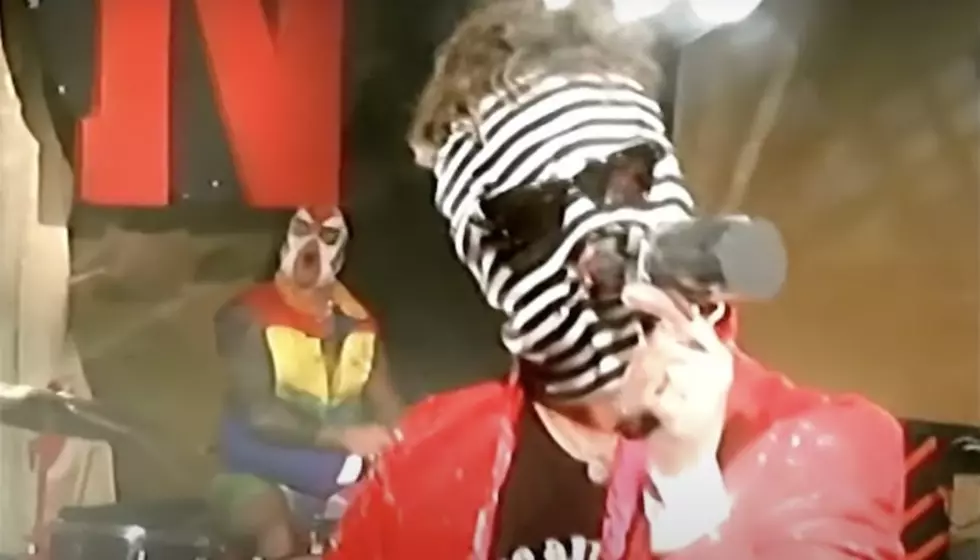 Green Day's rivals the Network return with first live set in 16 years—watch
[Photo via YouTube]
Last year, Green Day's music rivals the Network resurface after almost 15 years to release a brand new full-length album.
Now, the mysterious group are back and just delivered their first live performance in nearly two decades on the Tonight Show With Jimmy Fallon.
Late last year, Green Day revived their side project the Network. Despite numerous theories and obvious facts that Billie Joe Armstrong, Tre Cool and Mike Dirnt are part of the Network, the trio playfully continues to deny these claims.
Soon after the release of their new song "Trans Am," the Network went on to release their staggering 25-track album Money Money 2020 Pt II: We Told Ya So!. The LP marks the band's first full-length release since 2003's Money Money 2020.
Now, the Network are treating fans to their first live performance in nearly 16 years. Over the weekend, the band appeared on The Tonight Show With Jimmy Fallon and performed their new song "Threat Level Midnight."
Of course, if you're a big fan of the American version of The Office, which NBC's Peacock really wants you to watch, the song title will sound familiar to you. Threat Level Midnight is the official name of the movie Michael Scott (Steve Carell) and his Dunder Mifflin employees filmed and debuted in season 7.
For the Network's Tonight Show performance, however, John Krasinski's Goldenface and Michael Scarn were nowhere in sight. Instead, the Network transported listeners back in time with their chaotic late-night TV appearance as they performed in front of a 1970s talk show-inspired backdrop.
As their "Threat Level Midnight" performance progressed, however, things got more out of hand and the band soon destroyed the entire set right in front of the talk show's presenter. The wild performance marks the Network's first live set since 2005. Shortly after, the mysterious group disappeared before their resurfacing last year.
While the Network continue to smash talk show sets with their wild performances, their rivals Green Day are working on new projects of their own. Last week, the trio debuted their new single "Here Comes The Shock." After the single's premiere during a recent NHL game, Green Day unleashed a "Here Comes The Shock" video that will truly make fans break a sweat with the ultimate punk rock aerobics routine.
What are your reactions to the Network's "Threat Level Midnight" performance? Let us know in the comments below.