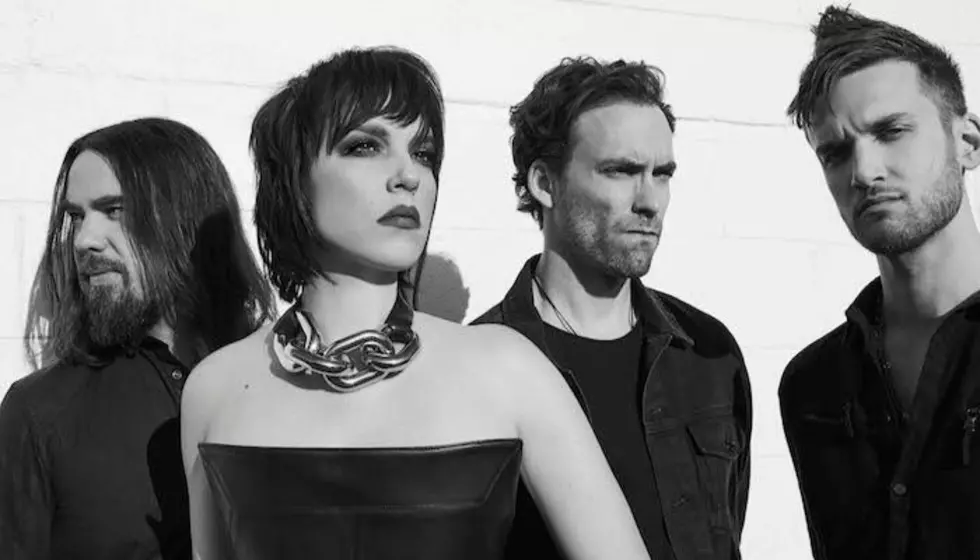 Halestorm's Lzzy Hale weighs in on Ronnie James Dio hologram
[Photo by: Halestorm/Jimmy Fontaine]
Halestorm vocalist Lzzy Hale sat down with Jaxon of 93.3 WMMR Rocks! to share her thoughts on the Ronnie James Dio hologram that is currently being prepped for a world tour.
Check out what she has to say about this touring hologram below.
Ronnie James Dio was the former vocalist in Black Sabbath and Rainbow who passed away in 2010 at the age of 67.
Dio is now touring again in holographic form, created by a company called Eyeillusion. The hologram made its debut at the Wacken Open Air festival in 2016, and even completed a seven-day tour run in 2017.
The production uses audio from the former vocalist's live performances with the DIO band playing live. The band consists of Craig Goldy on guitar, Simon Wright on drums, Scott Warren on keyboards, and Bjorn Englen on bass.
Former Judas Priest vocalist Tim "Ripper" Owens and ex-Lynch Mob's Oni Logan also make appearances with them.
Currently, Ronnie's hologram is undergoing some changes in order to prep for their 2019 "Dio Returns" world tour.
During her interview with WMMR, Lzzy Hale shared how she felt about the whole ordeal.
"All of my friends are split down the middle with this. The tried-and-true person in me is, like, 'Ah, screw this hologram. It's a fake Dio.' But at the same time, to introduce your music to a whole new generation and an audience, and maybe people get to experience the gift that he bestowed on the world, that didn't get to see him when he was alive, that's kind of cool too. I think I would err on the side of as long as his family is cool with it and his wife thinks it's something that Ronnie would have wanted, then cool — I'm down with it."
Former Dio members have a more critical view of the hologram.
Doug Aldrich, former Dio guitarist, said Ronnie would be "pissed" that a holographic version of himself is continuing to tour the country.
"Ronnie would be, like, C'mon, let me be dead in peace!'" he said.
Former Dio keyboardist Claude Schnell called the project a "travesty" and "disrespectful" of the former singer's memory.
You can listen to the full interview with Lzzy Hale, here.
Would you go to a show with a holographic performer? Let us know in the comments below!
[envira-gallery id="194483"]