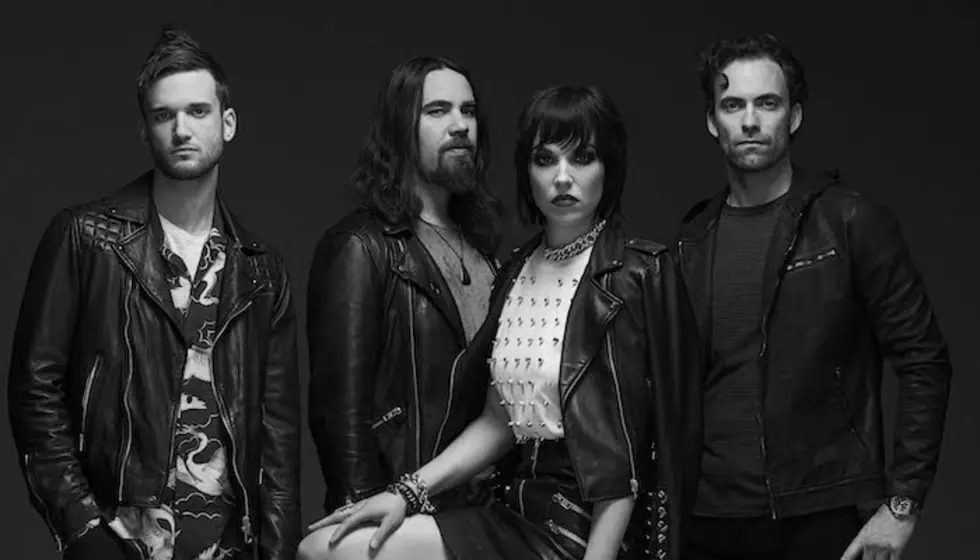 Halestorm highlight how concerts couldn't happen without touring crew
[Photo by: Jimmy Fontaine]
Fans of Halestorm know better than to expect the Grammy-winning band to take time off, even in the midst of a pandemic. Despite having dedicated the spring to write and record their next album, vocalist Lzzy Hale and guitarist Joe Hottinger have risen to the task of bringing entertainment to their homebound followers through concert streams, Q&As and acoustic sets. Now, the self-proclaimed "road dogs" are issuing a call to action to aid road crews across the world through their #RoadieStrong campaign. 
What started as a fundraising stint for their own "Road Family" has evolved into a far-reaching initiative that's garnered the support of many scene favorites, including Avenged Sevenfold and Shinedown. Benefitting the Live Nation Crew Nation global relief fund, which provides financial assistance to crews put out of work by the COVID-19 pandemic, the campaign rallies fans to donate either directly or by purchasing #RoadieStrong merchandise—face masks included. 
Alternative Press spoke with Halestorm's Hale and Hottinger on the context and development of the #RoadieStrong campaign as well as the production of their upcoming EP, Reimagined, which features a duet with Evanescence's Amy Lee that can only be described as "magical."
Halestorm have seemed really busy since the quarantine period started. Not that it's out of character for you, but you've kept the content flowing. What's been going on in your head through all of this? Is there a novelty to this particular grind, or are you dying to get back to regular programming?
LZZY HALE: We've been road dogs forever, so the hustle doesn't really stop. I think without that schedule, we'd lose our minds a little bit. It is crazy because I think we've been busier since quarantine than we would have been if everything had stayed normal.
JOE HOTTINGER: Yeah, we were going to spend this time writing a record anyway, which we're doing now. But that first two-and-a-half months was just intense, and we realized we weren't getting much done. It was like every day we were doing stuff, and we had to tell our manager, "Hey, can we just take a break for a second and work on some music?"
What have you been doing "behind the scenes" to keep yourself at peace during these uncertain times? It must be difficult to compartmentalize your "off" hours, or has that been a welcome change of pace?

HALE: This is probably the longest that we've actually been home in days or months in a row in probably over 15 years. We've never spent this kind of time in one spot.
HOTTINGER: That's been cool, but it's a little bit of both. It's like, "Wow, this is great. We're actually home and get to enjoy the house." But then it's like, "All right, I'm ready to travel. I really want to go travel."
Halestorm began fundraising for your own crew fairly early on—in early April. At this point, did you recognize that the live entertainment industry was facing a crisis?

HOTTINGER: We hoped that it was just a short thing, but I think it's pretty obvious now [that] it's not.

HALE: We just wanted to be sure, you know? Because we love our crew, and they're like family, so we just wanted to make sure we were doing something just in case.

HOTTINGER: And we had some shows planned for this year just to keep the bankroll flowing and just to play because we love to play so much. But a lot of [them] go and tour with other bands when there's an off year for us, and they can't do that now. It's a bummer, man. It's been a bummer for everyone in the entertainment business, and our crew is our family. The least we can do is try to raise some funds.
We have some great fans—the best, as far as I'm concerned—and I know they bought up a ton of the shirts that we made for our crew. We were thinking, "We've sold a bunch of shirts for our crew and are doing what we can, but there are so many crew people that you just know on the road. You go to a festival, walk up on the stage and there's like 10 bands set up, and we know most of the [people] working there." So that's where the #RoadieStrong idea came from. Just like, "Man, wouldn't it be cool if all the bands got together to help out everybody with Live Nation as the coordination fund?" I know we have some friends that have been working on getting benefits from that, which is awesome, so [we want to do] anything we can do to help fund that.
What in particular drew you to the Live Nation Crew Nation fund as the recipient of #RoadieStrong funds?
HALE: They're really organized, and we knew that they would put it in the right direction. 
HOTTINGER: They do a better job than us. We'd rather donate to someone better organized. We're going to try to write a record and do our thing, so let's hand it off.
HALE: And plus, it gave everybody the central location as to where to go. Because in all the noise and everybody trying to do their own thing, we wanted this to be a little something bigger, so we reached out to a lot of our roster buddies, our fans and our crew buddies, just asking them to spread the word. A lot of them made videos, just talking about their crew and how they're so much more than a crew. These people are the first to arrive and last to leave, and somehow they still manage to drink us under the table. They're superheroes. So, we're just making sure that everybody has this incredible awareness that the rock show that you know and love, the lights, the sound, the guitars staying in tune, the fact that there's a stage to play on… These are [the people responsible]. Most of our crew, I know from personal experience, wake up at like 7 a.m., and then we don't get done with the show until 1 a.m.
It seems that everybody on the public-facing side of it is in agreement there. The #RoadieStrong campaign is already backed by a number of other notable artists—Avenged Sevenfold, Shinedown and New Years Day, to name a few. What went into outreach behind the scenes here? Was it relatively easy to garner support within the community?
HALE: Yeah, it was funny because it was a series of late-night text messages with everybody, just all the people that we know personally, and then just asking them to spread the word. It was actually really heartwarming because I sent it out to anybody that I could think of. I just started sending out all this information, and we were like, "OK, there's gonna be a handful of people that get back, and a lot of people just want to be left alone." And everybody was like, "I'm in. Just let me know when you're gonna launch it. I'll have a video ready." So it was really cool.
When you announced the campaign in May, did you have any specific goals established? Have they been met, or are you projected to meet them in the near future?
HOTTINGER: No, other than just raising the awareness of it and letting people know that these guys and girls are people, and none of these awesome live shows would happen without them. Let's give them a hand because they're not working this year, and it's a total bummer, you know? And, yeah, we're already [been] hearing some crazy horror stories. Some people that we know personally have applied for unemployment, and they got like a month or two worth of checks, but then the government audited them and decided that they owe it all back. This one girl we know owes the government like $7,500, and she was like, "I don't even have a job."
HALE: It's a real issue still, and it's becoming even more complicated the further that this keeps up. To me, it's about drawing back that curtain. I know that a lot of these behind-the-scenes cats don't want to be in the spotlight, but we're just trying to put a spotlight on that. The future is unknown for everybody, but if all of you really want this live show thing to happen again, it's going to take more than just, "OK, the pandemic goes away." We've got to figure out how to rebuild now and how to protect these people, or the rock shows aren't necessarily going to happen for a lot of bands.
And for us, these live shows are so much more than just something that we do for our career. It actually has nothing to do with our career. The fact that we have a career doing it is a perk. On a very selfish level, we want to have gigs, and we want to go back to normal. Or not even necessarily go back to normal, but to just have some type of outlet. And everybody's got to be all hands on deck if we're going to do that. So, we're asking people to create awareness, but also, if you can donate anything, donate anything you can. Let's fix this, people.
Do you plan on continuing the #RoadieStrong campaign even after tours are running again? 
HALE: I think so. I think that even after there's a cure for the virus, even after the pandemic and everybody opens up the gates, it's going to be an extremely different world full of all of these uncertainties.
HOTTINGER: As long as they still have the Crew Nation thing going, we'll do what we can.
HALE: If not, we'll find some other way.
On a more positive note, Halestorm have a new EP, Reimagined, due for release as early as August. What can you tell us about that? Did the pandemic influence the production process?
HOTTINGER: It's been done since probably September or October of last year, and we've just been sitting on it. Especially with the pandemic, we want to be able to put it out on vinyl and get everything right. It just takes a long time to press a record these days. I mean, if you're Jack White, you can probably just blast one out because you own some record plants. But yeah, it takes a while, and we're in no rush, right? 
HALE: Well yeah, nowhere to be. [Laughs.] But I'm excited. We're gonna release it in August, and there's a duet with Amy Lee on there. She was nice enough to do this. We recorded it as a performance in the studio. It's a really unique way to do this. We recorded with Nick Raskulinecz [Foo Fighters, Deftones, Alice In Chains] in Nashville.
We ended up redoing a song that we recorded on our second record called "Break In." Years and years ago, when we toured with Evanescence, Amy loved the song and would come out and sing it with me live onstage. When we decided to redo this song, I was like, "Hey, I wonder if Amy would want to do it?" And without even hesitating, she said yes. We set up this studio. Basically, it was two microphones in the same room, so there's a lot bleed. We literally had to record at the same time, front to back, as a performance and get it right. It was such a magical moment because she has such an amazing voice, and we've always had this mutual respect for each other's voices, but to actually do it in that way… It was an experience I'd never had before with any other singer, and I'm just so glad that we got it on tape.
HOTTINGER: It was magical.
HALE: It was magical. It was really cool because "Break In" started out as a love song. But the perspective has changed with the song by having Amy on. We had this whole discussion like, "Hey, you know, it's not really a love song anymore.  It's more like we have each other's backs, and we support each other. We're friends no matter what happens in this world." We both got really misty about that, like, "This is gonna be really cool to put out, girl. This is gonna be awesome." We're excited about that.
It sounds like that theme would be perfect for an August release given everything that's going on in the world. Do you feel that it transcends over the entire EP, or do you have different things going on there?
HALE: It's kind of a melting pot, you know?
HOTTINGER: We haven't announced the whole concept of it, but we will.
HALE: It's really fun. We just had a blast doing it. I think it's going to be something that people who haven't heard us before will be able to dig their teeth into, but our die-hard fans who have literally heard everything that we have ever possibly done are really excited about this one.
HOTTINGER: Because we always put out a covers EP between records for whatever reason, and we just wanted to turn that idea on its head a little bit. 
HALE: We literally screwed with that idea, hardcore.
Stylistically, is it more traditional, or do you feel that it's a divergence from what you've done so far?
HOTTINGER: It's different.
HALE: It's definitely a divergence, I think, but still with the core of who we are. We didn't test out other genres or anything. 
HOTTINGER: We can only be us.
HALE: Of course. There's no Lzzy rapping going on, as of yet. [Laughs.] No fresh rhymes... But yeah, it'll be fun. I'm excited for everyone to hear [it].