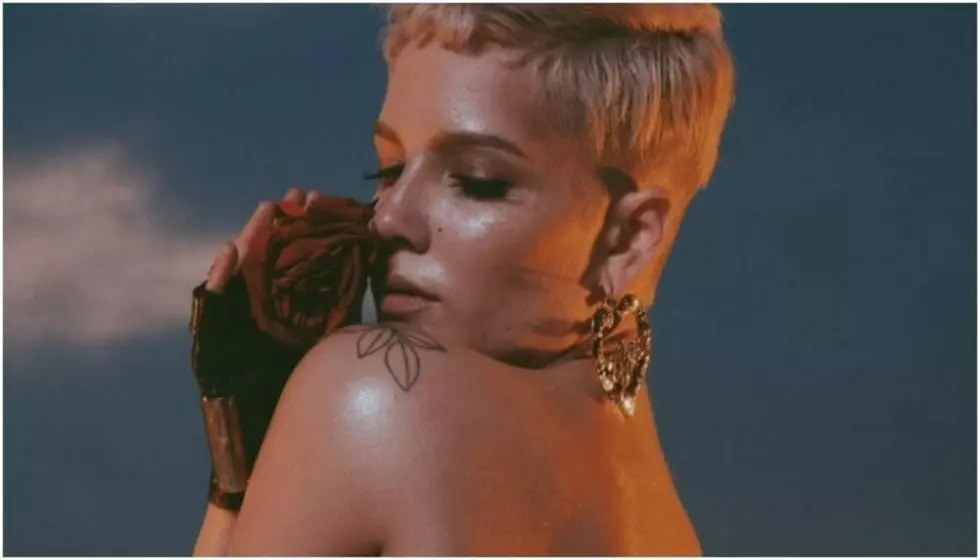 Halsey defends emo upbringing after Bring Me The Horizon praise
Halsey has a wide appeal across many genres with No. 1 singles, a collab with Juice WRLD and performing in countless late night shows—just to name a few. She's also a fan of a bunch of scene bands, talks about her love for emo and pop punk (almost) on the daily and reps her favorite artists as much as she can.
Still, people keep calling her out for "lying" about her emo upbringing. Can we stop that, like, right now? Please and thank you.
Halsey probably watched Bring Me The Horizon's new music video for their latest single, "Medicine," as one does. And she was pretty impressed with them—nothing new here, it really is great.
However, one Twitter user wasn't really happy about the singer's tweet proclaiming her love for BMTH.
The singer, as usual, didn't keep quiet and decided to clarify some things.
It shouldn't be news to anyone that Halsey has been emo since, in her own words, "the dawn of time."
This is not the first time (and, sadly, probably not the last) the singer has had to defend her emo upbringing, but we honestly think it's time to put all the doubts to rest.
Let's recap a little bit of Halsey's history with the scene.
Only ten days ago, Halsey took to Twitter to debate what 2019 could hold in store for her next creative color—with some possible help from My Chemical Romance.
"My brain arguing with me over whether I should grow my hair, cut it, or dye it a bright color" she posted on Twitter, sending fans into a frenzy with suggestions over what the singer's next look should be. "What's the new wave. Slime green? Gerard Way red? Lilac?"
Halsey created a poll, narrowing the choices down to three: Lilac, Gerard Way red, and pink (again), allowing fans to vote for a color on her Twitter. The lilac ended up winning, but you know, the option was there.
A month prior to that, the musician went so hard in the pit for a The Story So Far show, she lost both earrings and scratched up her face in the process.
When Halsey told fans via Twitter to catch her in the pit at The Story So Far's gig last night, there were a few that didn't think she was being serious. The doubters were soon put in their place as Halsey gave fans a play-by-play of her evening, revealing that both of her earrings had flown off at some point during "Roam".
Plus, in November, she shared she was listening to the Maine's holiday EP …And a Happy New Year. Even though she was a few days early, we were obviously happy with the nod to the iconic record.
None of this came as a shock. The singer had already proved her ties with the scene over and over again. She's obviously Panic! At The Disco's No. 1 fan, and even joined Brendon Urie & co. onstage for an iconic performance of "I Write Sins Not Tragedies."
Halsey, who has also performed with All Time Low before, hangs out with State Champs and goes to see Mayday Parade live.
Last but not least, there was the time she bonded with Pete Wentz over a Rise Against song, so we hope this settles any further questions or doubts.
[envira-gallery id="186695"]